Safra launches hydrogen-powered retrofitted coach thanks to H2-PACK kit
Safra is presenting a hydrogen retrofitted coach at UITP Summit 2023 in Barcelona. The coach has been equipped with a H2-PACK kit, a retrofit kit that transforms a combustion-powered intercity coach into a zero-emission vehicle. Safra presents hydrogen retrofit for coaches at UITP Summit The H2-PACK retrofit kit presented at the UITP show is entirely […]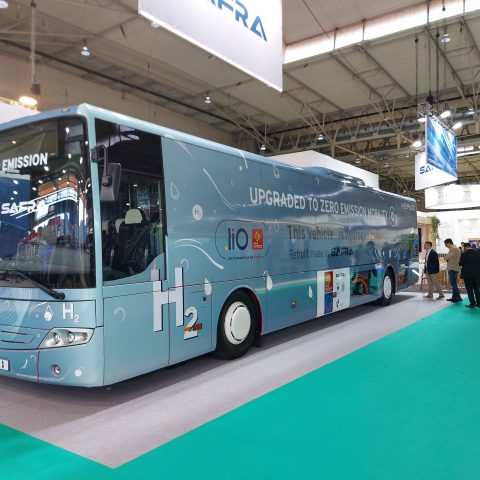 Safra is presenting a hydrogen retrofitted coach at UITP Summit 2023 in Barcelona. The coach has been equipped with a H2-PACK kit, a retrofit kit that transforms a combustion-powered intercity coach into a zero-emission vehicle.
Safra presents hydrogen retrofit for coaches at UITP Summit
The H2-PACK retrofit kit presented at the UITP show is entirely designed and assembled by Safra itself. The kit enables the vehicle's diesel engine to be converted to a zero-emission hydrogen-electric powertrain. The diesel engine is replaced by a 350 kW Dana electric motor, powered by a 100 kW (70 kw useful) Plastic Omnium fuel cell. Hydrogen is stored in 6 tanks, enabling 35 kg of hydrogen to be carried on board, for a range of up to 500 km, according to Safra. The tanks have been integrated into an area separated from the passengers by a watertight, ventilated and secure partition, in order to comply with vehicle size regulations.
The vehicle presented on the Safra booth belongs to the Occitanie Region in France, which has entrusted the company with the retrofitting of 15 of its intercity coaches.
To date, Safra points out that the H2-PACK homologation phase is well underway: "Operational safety studies have already been carried out during the design phase. The completion of all safety tests, including passenger safety tests, is Safra's guarantee of quality and safety for its customers. As soon as approval is granted, Safra will be able to carry out the hydrogen retrofit of the first series of vehicles in industrial mode".
Safra Hycity: we'll see it at Busworld
On the manufacturer front, the Hycity, Safra full-hydrogen bus, is available in a 12m version with a full flat floor, meets the growing demand from our customers to set up hydrogen ecosystems. Around twenty vehicles are on order, the company is continuing to grow in order to ramp up production, by expanding its facilities and continuing to recruit this year.
This zero-emission bus will be presented for the first time at the Busworld trade show in Brussels from October 6 to 12, 2023, followed by the RNTP trade show in Clermont-Ferrand in France from October 17 to 19.