In 2024 a self-conditioning bus shelter will be operational in Seville (powered by solar energy)
Next summer in Seville a thermal conditioned bus stop will become operational. A team of scientists from the University of Seville's School of Engineering (ETSI) has indeed developed a kind of 'self-conditioning' bus shelter thanks to the use of water and photovoltaic panels, which aims at mitigating the sweltering heat experienced by bus passengers while […]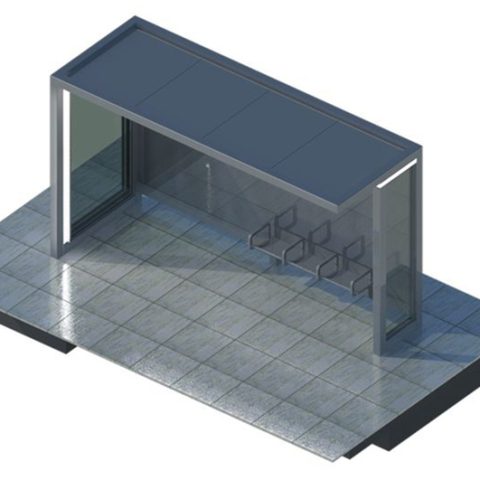 Next summer in Seville a thermal conditioned bus stop will become operational. A team of scientists from the University of Seville's School of Engineering (ETSI) has indeed developed a kind of 'self-conditioning' bus shelter thanks to the use of water and photovoltaic panels, which aims at mitigating the sweltering heat experienced by bus passengers while waiting at stops.
Even in the face of scorching 42°C air and blistering 50°C ground temperatures, which are typical for the region during this time of year, the shelter will maintain a cooler environment. Commuters can expect temperatures inside the shelter to be lowered to a range between 22 to 28°C, according to project's delegates.
Cool bus shelter in Seville, with smart technology
The magic of this innovative bus shelter lies in its smart technology. It possesses the capability to detect when a user is waiting, instantly triggering the activation of its thermal conditioning system. As soon as a passenger steps into the shelter's vicinity, they will be greeted by a refreshing oasis of comfort.
With the endorsement of the Seville City Council, the research team is poised to install a prototype in 2024, offering hope for a cooler and more bearable waiting experience for commuters.
Photovoltaic panels powering the bus shelter
Yes, but how does it works? The proposal is to create a shelter connected with an underground tank where waste water is stored. The tank is connected to the shelter's roof. Photovoltaic panel would generate the energy necessary to cool this water during the day, which would allow the temperature of the outside air to be reduced to the structure during hot hours, between 1:00 p.m. and 7:00 p.m.
The engineer José Sánchez Ramos, among the responsibles for the project, is quoted as saying to the local media El Confidential, that these canopies have a cost similar to the real ones, which is around 26,000 euros per unit. The media adds: "The first of these bus stops will be installed on Avenida de la Cruz Roja, an artery recently redeveloped according to bioclimatic parameters. "That is why a 50-cubic-meter cistern and the network of pipes to bring water to the canopy have already been installed," says the engineer about a project that goes beyond the bus stop".
José Sánchez, an industrial engineer from the Energy Engineering department of the ETSI, is also quoted as saying that the system "is not like an air conditioner, which produces cold air; rather, the structure of the bus stop itself emits coolness, as happens with refrigerators (…). It only consumes ten per cent of the energy it produces and the water tank will only have to be changed once in the whole summer".
Source of opening image: Surinenglish.com