Skoda Group ready to deliver ten trains to Estonian operator Elron
This is not the first time that Estonian railway operator Eesti Liinirongid (Elron) has turned to the Skoda Group for the supply of trains. And so Elron has ordered ten more trainsets of the winged arrow, which will also serve the new electrified rail route between the capital Tallinn and Tartu, which is expected to […]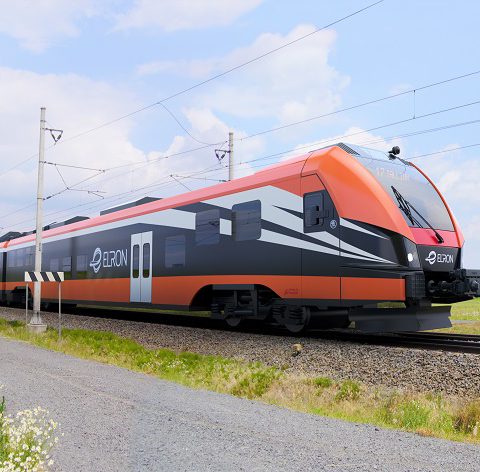 This is not the first time that Estonian railway operator Eesti Liinirongid (Elron) has turned to the Skoda Group for the supply of trains. And so Elron has ordered ten more trainsets of the winged arrow, which will also serve the new electrified rail route between the capital Tallinn and Tartu, which is expected to be completed by the end of 2024.
The first of the electric units in this order, which now consists of 16 vehicles, is already in production. Production takes place at the Škoda Group's production site in Ostrava. The contract with Elron has a total value of more than 3.5 billion kroner (nearly 147 million euros).
In addition to the wider gauge, the trains are designed as dual-system trains for 3 kV and 25 kV 50Hz power systems, so that they can serve both recently electrified rail routes and those with older catenary lines. Estonia is located in a colder climate than is typical in other parts of Europe. Trains must therefore be able to withstand more difficult temperature conditions, especially in winter.
The Elron-Skoda partnership
"Our single-deck electric units are proving very well in regional transport in the Czech Republic and Slovakia, where they are very popular and achieve the highest standards for modern and safe transport. The first units have already been delivered to Latvia, which has similar characteristics to Estonia. This experience has enabled us to offer Elron a unique tailor-made solution. The client's trust in our products is the greatest reward for us, so we are glad that the customer decided to use the entire order and modern Škoda trains will be running in Estonia for decades to come," says Zdeněk Sváta, President Region Central East at Škoda Group.
"The new trains place great emphasis on passenger comfort. They have a low-floor entrance, space for two wheelchairs and four prams. Some of the seats are removable so that the train can be adapted to the current situation – in summer there will be more space for bicycles, in winter more space for passengers. Of course, there is air conditioning, a modern information system, WIFI, 230 V and USB sockets," describes the train features Ivo Gurňák, Sales Area Director Mainline at Škoda Group.
"In 2022, Elron served 7.1 million passengers. The need for new trains is great, and last summer, the Government of Estonia approved the order for an additional ten trains. With this decision, Elron's train fleet will get a significant addition over the next few years, growing by over 40%, which will significantly expand our opportunities to better serve passengers and intensify the timetables," announced Lauri Betlem, chairman of the board of Elron.