Smart technologies help finding the best charging strategy. ChargeSim's tips for a successful approach
This content is produced by Sustainable Bus in commercial partnership with ChargeSim The market share of electric vehicles is fast increasing, from initial test installations of a few vehicles and early adopters' significant component of some fleets, including some installations that are going all-electric. Focusing on buses for public transport, 2,062 e-buses were registered in 2020 in Western […]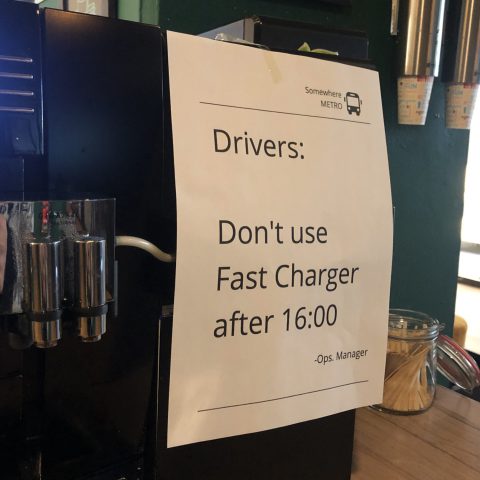 This content is produced by Sustainable Bus
in commercial partnership with ChargeSim
The market share of electric vehicles is fast increasing, from initial test installations of a few vehicles and early adopters' significant component of some fleets, including some installations that are going all-electric. Focusing on buses for public transport, 2,062 e-buses were registered in 2020 in Western Europe vs the 1,685 that debuted in 2019 (that, it is worth remembering, it has been a truly record year with tripling figures on 2018).
EVs require a change in the approach, now vehicle-based, and an increased focus on infrastructures, as electric vehicles and electric buses need costly chargers to function and demand an increasing amount of electric utility capacity, driving utility grid modifications.
Finding the right combination of chargers and the best charging strategy in accordance with the operator's needs is key to avoid expensive peaks and cut unnecessary costs.
This is the segment where ChargeSim is active. Based in Eindhoven, Netherlands, the company strives to accelerate the transition to electric vehicles by empowering better charging infrastructure design and planning. To this extent ChargeSim introduced on the market its EV Fleet Charging Infrastructure Planning Software.
ChargeSim helps design and find the best charging strategy
ChargeSim CEO, Andrew Rutgers, says that the company was founded «after seeing that fleets transitioning to electric vehicles were over-installing their chargers and electricity connections, sometimes with substantial delays and cost, simply because they did not have the tools to better calculate their needs. ChargeSim was developed to help design and find the right chargers, utility capacity and workflow for any electric vehicle facility. It simulates and analyses fleet charging – letting customers explore options and find the right solution before starting construction».
EVs can be a comparably flexible electric load in terms of time, ChargeSim says: they require energy to be delivered before they travel but are flexible about when it is delivered if it is within the power limit of their charging. This enables smart charging, in which charging power is scheduled for periods when electricity costs are lower.
Electric vehicles, smart charging is key
Smart Charging, and smart parking with a charging management system, allow fleets to reduce their utility costs and potentially the number of chargers needed, reducing capital costs. However, there are varying complexities in smart charging systems – from a quite simple system such as an agreed parking sequence to complex software integrated real-time with vehicle positions and utility rates. The added complexity of smart charging adds cost and impacts related processes and IT systems, though the electricity cost savings are usually worthwhile ChargeSim underlines.
It is certain that the transition to electric vehicles will bring many benefits to both society and environment. However, this can lead to massive consequence over our electricity systems, and if they will be able to handle such power flows. For example, if many buses are being charged between 5pm and 8pm, this adds load to the electricity grid when it is already busiest. Furthermore, to meet this demand, «additional investments would be needed to provide both the fleet operator as well as the network that provides the electricity – ChargeSim adds -. In the end, all of this will lead to higher electricity costs».
Tips for Smart Charging, according to ChargeSim
As the development of e-mobility is rapidly growing, this can lead to different directions. Hence it is important be able to adapt to innovative technologies and be in line with future trends and demands in the market.
To this extent, these are the tips for smarter charging as explained by ChargeSim:
Slower charging is usually better – As nowadays EVs are using lithium-ion batteries, which when charged or discharged, the internal resistance in their cells generates heat. If we do it quickly, then there will be more heat and higher temperatures. This has the potential to reduce the life of your EV battery, therefore charging slowly results in less heat and a healthier battery life. Sometimes to meet schedules though, you need to charge faster, but that is often only during day time. Charging too slow though can mean the battery and vehicle systems are operating longer.
Charging late at night is usually better– Electricity will become a substantial cost (displacing fuel) for fleet operators, so understanding how it is priced can help cut costs. Unlike diesel, electricity usually has the time of day and peak use components. A difference of 30% or more between peak period and off-peak period electricity price is not unusual. This means applying operating strategies to defer charging until cheaper off-peak periods or to minimize peak demand can dramatically cut utility costs – in some cases saving tens of thousands a month.
Avoid charging too many vehicles at the same time causing high peaks – Electricity tariffs usually charge a premium for the highest peak demand in a month. Keeping the peak demand lower by using slower charging, planning when vehicles charge, or using charge management software can help you reduce electricity costs.
Smarter charging can be simple – even just avoiding the use of fast chargers at night, or adjusting which chargers to park at first, can be a big benefit for smart charging. Complex software systems which can control charging power and even allocate parking locations for a fleet can provide further benefits (check out ChargeSim whitepaper to learn more).
Sustainable – Sun and wind energy are instances of discontinuous sustainable sources, which means their output changes during the day dependent on the accessibility of daylight and wind resources. For people to be able to use this together with charging, they can benefit from cheaper energy when it is plentiful. Instead of cutting excess solar energy during peak generation hours, it can be stored in EV batteries.