Record year 2019. The big leap forward of e-bus market in Western Europe
Nearly 12 per cent of city buses registered in 2019 were battery-electric. In the only 2019, there were more e-bus registration than in the period 2012 – 2018. In Western Europe and Poland, as already anticipated, 2019 was a record year with regards to the transition to zero emission buses. The thresold of 1,000 electric […]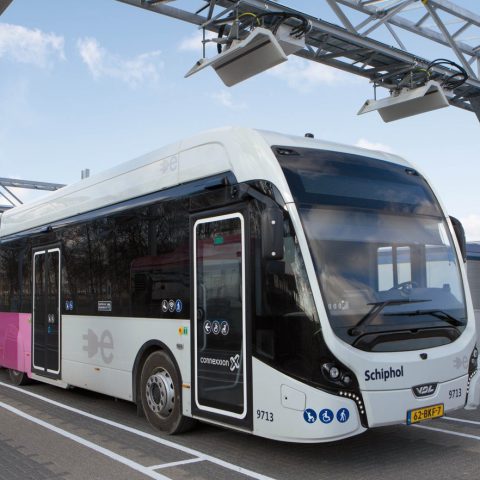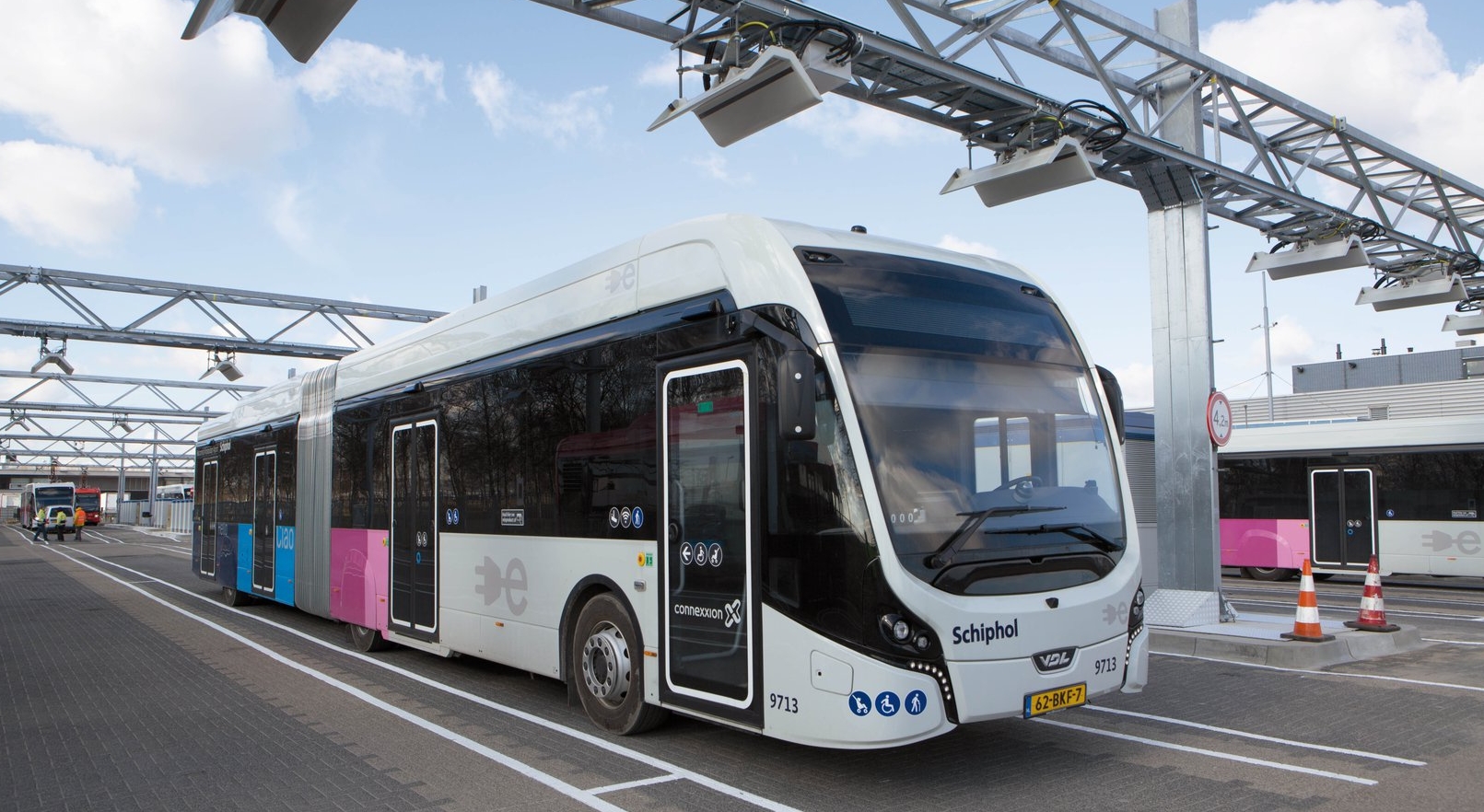 Nearly 12 per cent of city buses registered in 2019 were battery-electric. In the only 2019, there were more e-bus registration than in the period 2012 – 2018.
In Western Europe and Poland, as already anticipated, 2019 was a record year with regards to the transition to zero emission buses. The thresold of 1,000 electric bus units was already exceeded in September, and the year ended with as many as 1,687 e-buses registered on a total market of 14,392 citybuses. In 2018 they had been 548. That is to say: between 2018 and 2019 the number of zero emission buses (excluding trolleybuses) registered in Europe has tripled.
The figures are provided by Chatrou CME Solutions.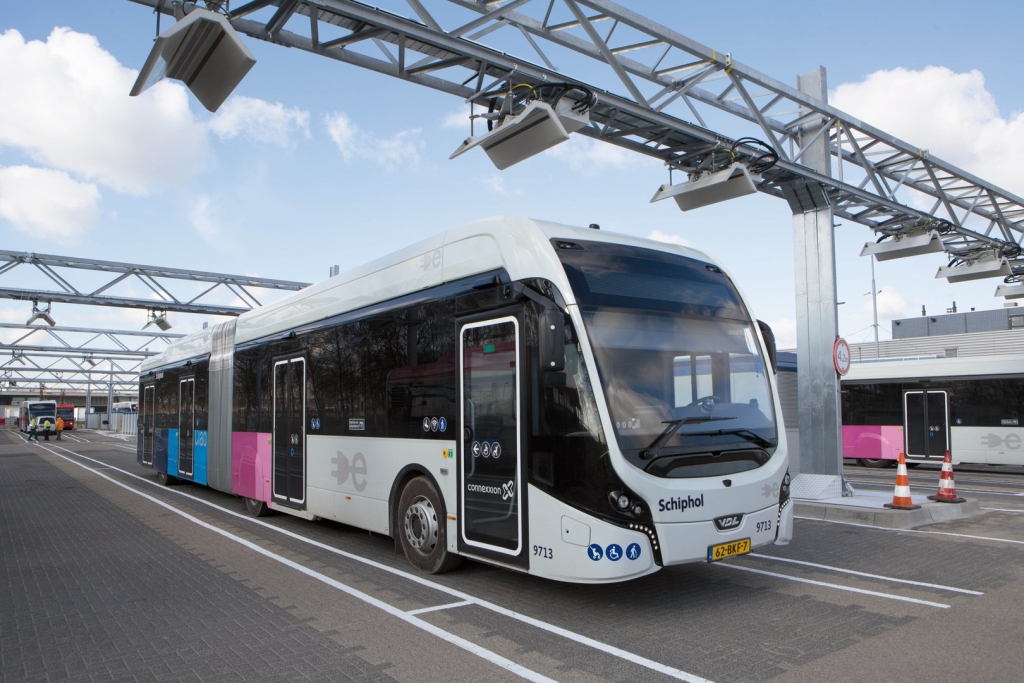 European e-bus market, the record year 2019
What is also interesting in the report, looking at the wider picture of alternative drive buses registered in Europe (so battery-electric, hybrid, CNG-powered and fuel cell vehicles) is that all the categories are growing. CNG buses increased of 70 per cent between 2018 and 2019, while hybrid vehicles got a + 20 per cent (the figure takes into account also mild hybrids).
At the end of the day, «39% of the city buses in 2019 had an alternative driveline. In 2018 this was 28% (3.340 buses with an alternative driveline on a total of 11.845 city buses)», as Chatrou CME Solutions highlights. It should also be mentioned that the 14,392 city buses registered in 2019 represent a record, as in the previous years the number was usually slightly below 12,000.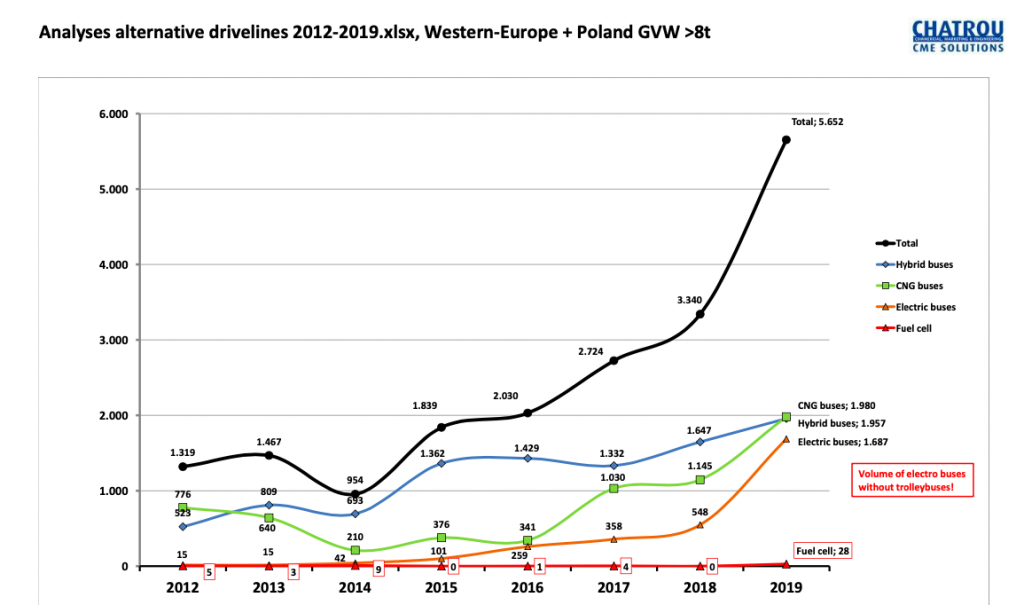 VDL is e-bus market leader
What about market shares (here the situation at September 2019)? At the end of 2019, VDL is market leader with a total of 386 e-buses registered and a 22,5 per cent of share. 232 vehicles have been sold in the Netherlands, the country which is at the forehead of Europe in electric bus deployment 726 registered between 2012 and 2019.
BYD places second with 236 buses (including also the 79 vehicles realized jointly with ADL for UK market, the total would be 315, still behind the Dutch company. Solaris is third with a total of 145 registrations, Volvo fourth with 135 registrations.
VDL is at the head of the chart also also if we take into account all the e-buses delivered between 2012 and 2019 (3,025 in total) in Western Europe and Poland. 668 of them carry VDL logo (22,1 per cent of market share). Very close is BYD (considering also BYD-ADL buses) with 645 e-buses (21,4 per cent). Then Solaris, with 326 buses and a 10,8% share.