1,500 vehicles sold, 400 e-buses, with leadership in the zero emission bus market EU. Solaris shares results 2021
Solaris sold a total of 1,492 vehicles in 2021 (a slight 4% less than in 2020) and ranked first in the European zero-emission bus market with a 15.1% market share. From 2012 to 2021 Solaris was the leading manufacturer of zero-emission buses in the European market with a market share of 15.5% (source of the figures: Chatrou/CME Solutions) Low- and zero-emission vehicles (i.e. electric, hydrogen, and hybrid buses as well […]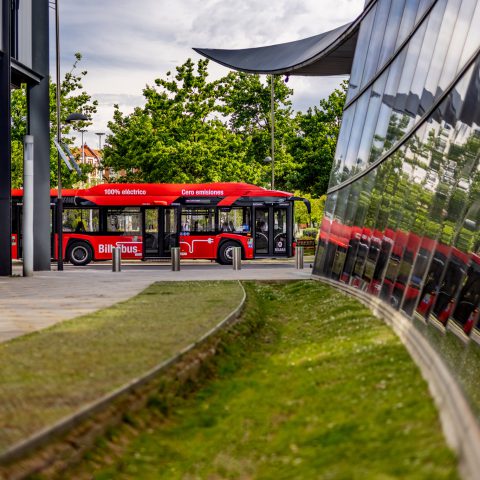 Low- and zero-emission vehicles (i.e. electric, hydrogen, and hybrid buses as well as trolleybuses) accounted for a 41% share of total sales.
At the end of 2021 Solaris' order book contained 1260 vehicles.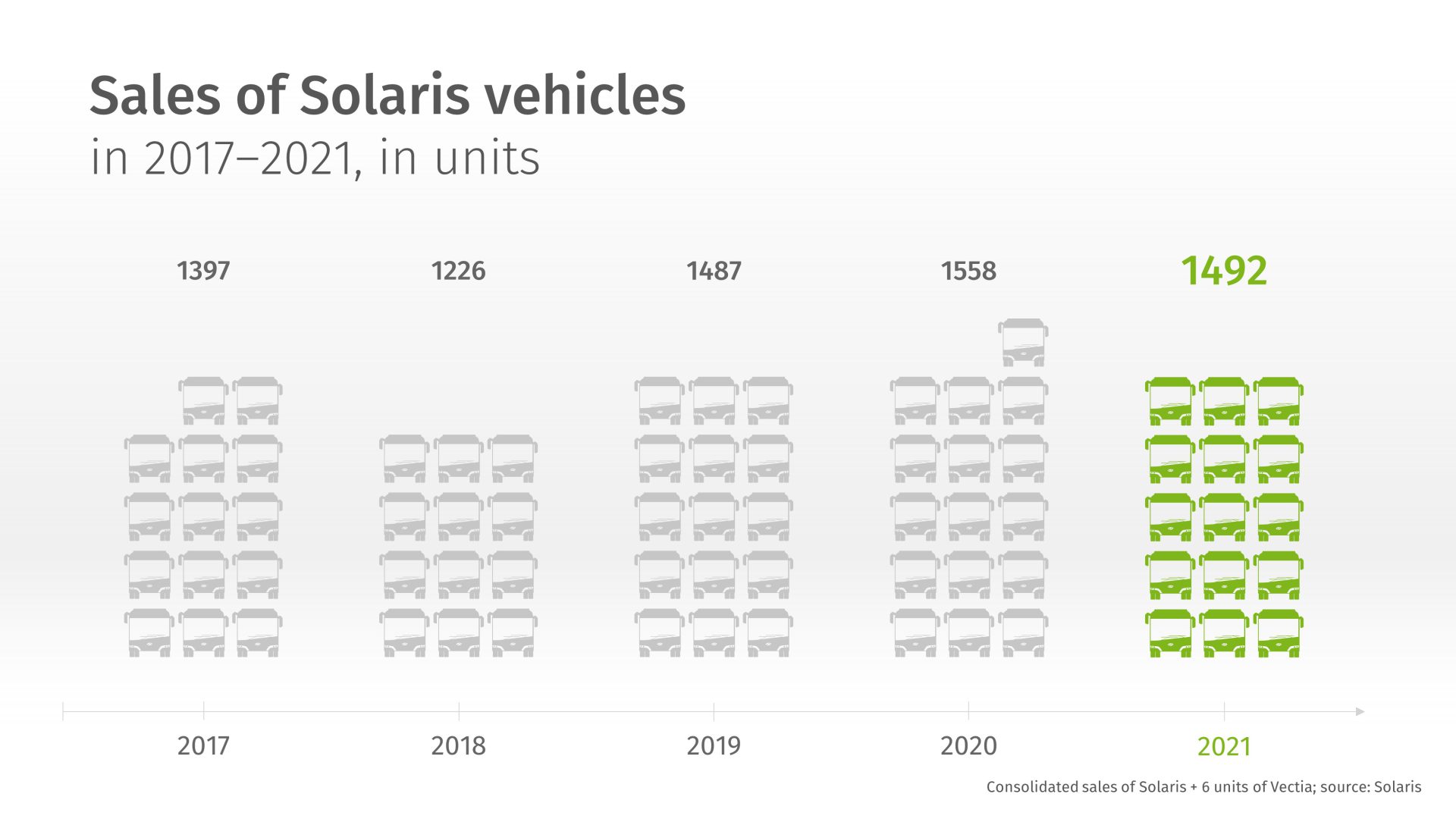 Solaris leading European e-bus market
Despite the ongoing pandemic, which has had a significant impact on many sectors of the economy, including the automotive industry, Solaris generated revenues of €721 million.
In 2021 Solaris strengthened its leading position in the zero-emission bus market in Europe. It delivered a total of 400 zero-emission buses, which means that in the period from 2012 to the end of 2021 Solaris was Europe's largest supplier of zero-emission buses with a cumulative share in this segment that amounted to 15.5%.
All in all, the company sold 1,492 units in 2021; of these, low- and zero-emission vehicles (i.e. electric, hydrogen, and hybrid buses as well as trolleybuses) accounted for a 41% share of total sales, with a 3% decrease from 2020.
Solaris stresses the point that it is also the largest European supplier of trolleybuses. In 2021, the company sold 119 Solaris Trollino 12 and 18 trolleybuses in total, and they made their way to operators in Germany, France, the Czech Republic, Romania, Poland and Hungary.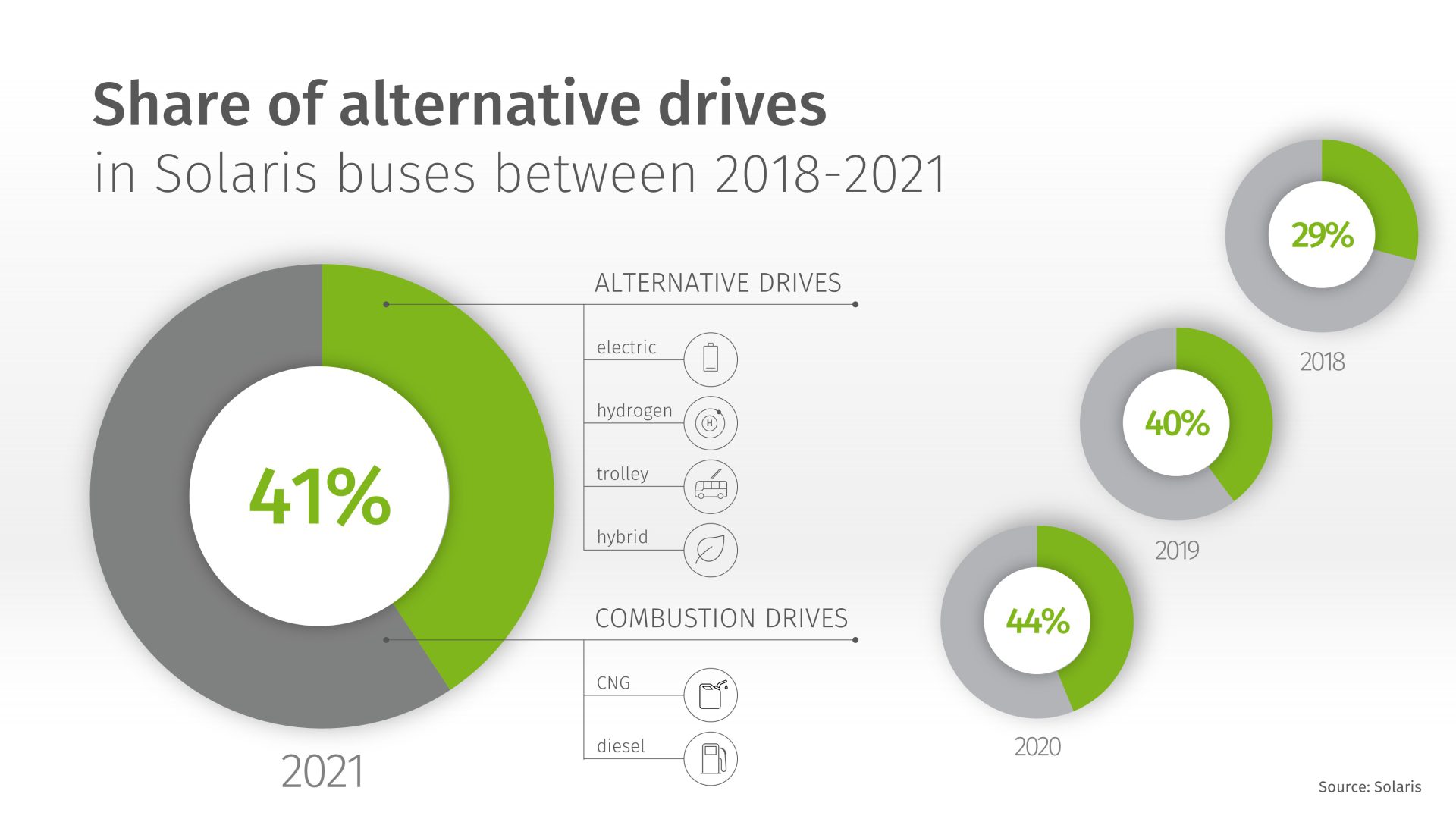 Solaris results 2021: sales in 18 countries
In 2021, Solaris delivered its products to customers from 18 countries. Major recipients of Solaris vehicles included, among other carriers, operators from Poland, Germany, Spain, Estonia, Italy, Romania, the Czech Republic, Israel and Switzerland. For the 19th year in a row, Solaris claimed the leading position in the low-floor city bus market in Poland with a share of 63.7 %.
Also worthy of note is the fact that Solaris sold a whopping 54 hydrogen buses in 2021, to the Italian, German, Dutch and Swedish markets. The Solaris Urbino 12 hydrogen bus was launched in 2019. Since then, interest in this technology has soared, a fact which is reflected in the number of orders for this type of vehicle in 2021 and in units commissioned for 2022 and later.
At the beginning of 2021, Solaris joined the European Clean Hydrogen Alliance. This is an initiative led by the European Commission. Its aim is to scale-up, by 2030, the production and deployment of hydrogen as a fuel produced by means of low-emission technologies and renewable energy sources. The European Clean Hydrogen Alliance is one of the many measures taken by the European Union to bolster its position as a world leader in the production and deployment of hydrogen in industry and the energy grid. It is also one of a host of actions intended to support the EU's goal to reach carbon neutrality by 2050.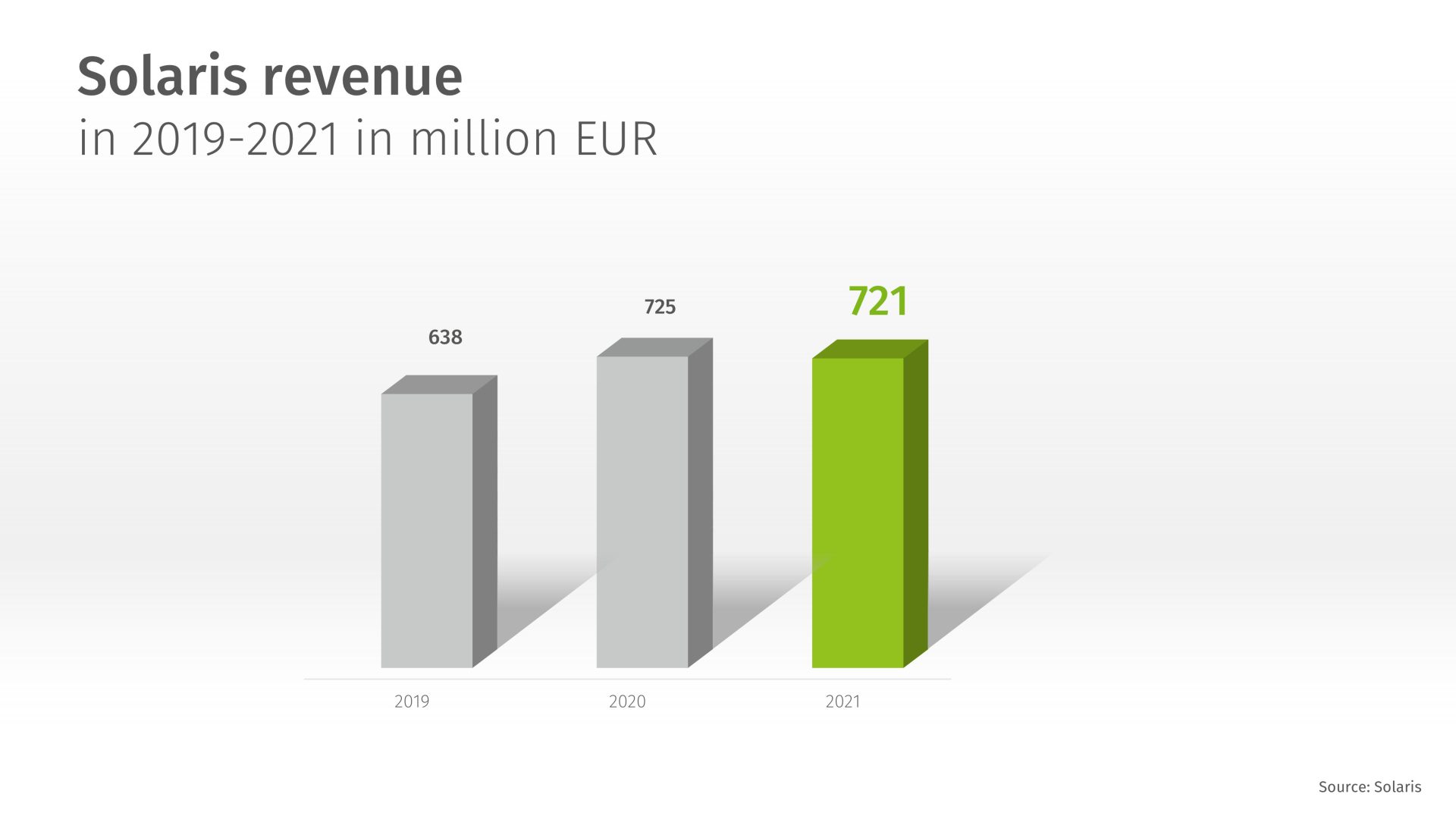 Solaris Sustainability Report
In 2021 Solaris published its first Sustainability Report. It was drawn up in accordance with the GRI Standards guidelines, which are an international standard for reporting on both responsible business and sustainable development issues.
The report is the first publication to present the full range of data and information on the company's ESG-related initiatives in such a comprehensive manner. It is an extensive description of the company's impact on the economy, environment, and society. Its three main chapters correspond to the pillars of the company's activities: "Responsibility along the value chain", "People – the greatest value", and a "Zero-emission future". The topics addressed in the document were selected during internal workshops as well as suggested by stakeholders.
The document was awarded a prize for the best debut at the Sustainability Reports competition. As emphasised by the jury, the prize was awarded "for a report that contains a lot of well-prepared information, with a clear layout, a concrete set of ESG actions and an interesting description of the company's role in the 'zero-emission' future".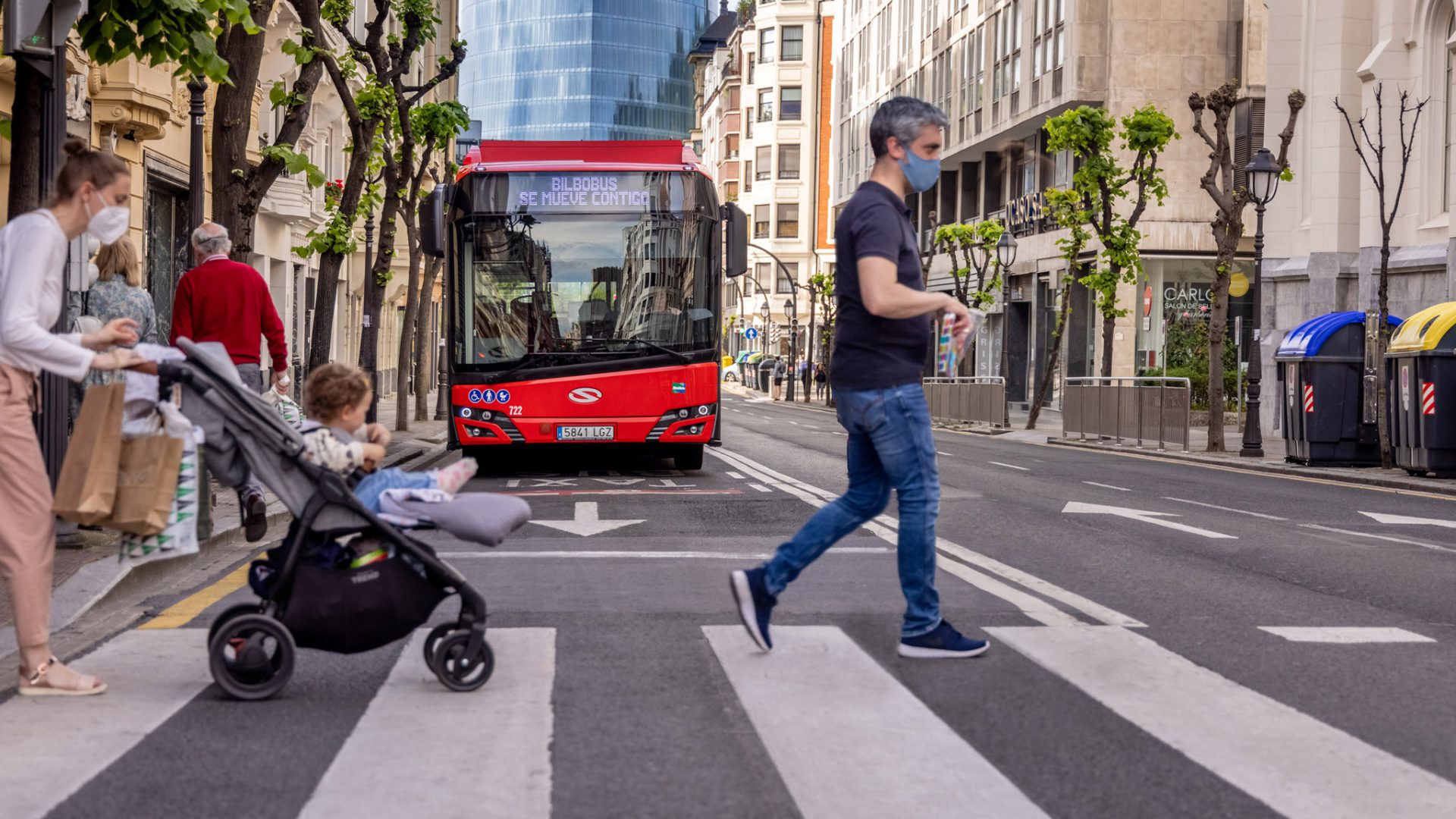 Solaris working on 18-meter fuel cell bus
Not being able to take part in conventional trade fairs or other promotional events, in 2021 Solaris decided to introduce its latest product to hit the market online. The Internet launch of the Solaris Urbino 9 LE electric bus took place on 30 September 2021.
In 2021, in addition to the launch of its new midi class e-bus, Solaris continued its work on the development and introduction of an 18-meter e-bus, which will use a new generation hydrogen fuel cell for propulsion. Moreover, apart from the new cell, the bus will be equipped with cutting-edge advances and dedicated solutions related to the use of hydrogen as a fuel. In 2021, work started on the construction of two prototypes, which are scheduled to be completed in the second quarter of 2022. As a result, Solaris in 2022 will offer hydrogen buses in the most common lengths in urban transport, i.e. 12 and 18 metres (articulated).
Furthermore, in 2021, the development of a 24-meter double-articulated electric bus continued. This project is being implemented in particular due to a successful tender for the delivery of 14 units of this model to Aalborg, Denmark.