Solaris, MAN, BYD-ADL: here's the podium of the European electric bus market for the first half of 2023
With 2,567 battery-electric buses registered in the fist half of 2023, the European e-bus market is growing 45%. Over a third of the city bus market (37.5%), on a European level, is covered by zero-emission buses (battery-electric and fuel cell). Main news, MAN is for the first time taking a primary share of the market: […]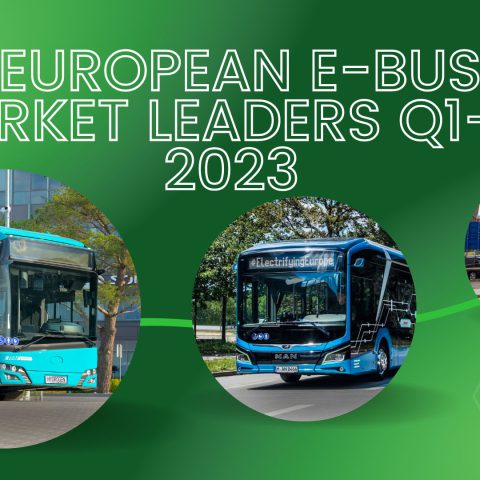 With 2,567 battery-electric buses registered in the fist half of 2023, the European e-bus market is growing 45%. Over a third of the city bus market (37.5%), on a European level, is covered by zero-emission buses (battery-electric and fuel cell).
Main news, MAN is for the first time taking a primary share of the market: with 260 registrations, the German group is the second top seller behind Solaris, that lead the e-bus market in first half of 2023 with 421 registrations and a market share of 16%. Interestingly enough, MAN placed ninth in 2022, with 230 deliveries in the whole year, while Solaris ended last year with 342 units delivered, in sixth position.
The increase of the share of alternative drive city buses (battery-electric, CNG, fuel cell, hybrid) looks unstoppable: 73.5%, up from 64.5 last year.
The electric bus market in the first half of 2023
Behind Solaris and MAN, we find BYD – ADL, BYD, Yutong (leader in 2022) and Volvo. Lagging behind, Iveco Bus and Mercedes had 131 and 105 e-buses registered respectively, for a market share of 5 and 4 per cent. Surprisingly enough, CaetanoBus took the first place in the (small) fuel cell market with 28 units delivered.
These figures are based on data collected and analyzed by Chatrou CME Solutions. Considered countries: EU27 + UK + ICE + NO + CH (excluding: SK, HR, BG, CY and MT). The difference in volumes and percentages compared to the data released from ACEA in late July is attributable at the different region taken into account (Chatrou CME Solutions' figures include UK, ACEA doesn't).ù
We have been mentioning above that the podium of e-bus sellers in the first half of the year is composed by Solaris, MAN, BYD – ADL. But what about the leader of this market in the whole period 2012 – June 2023? Solaris is still at the helm, with 1,884 units registered (a 12% market share). The Chinese BYD follows with 1,613 units registered. Third, still BYD, but in joint-venture with ADL: 1,491 units. Fourth VDL with 1,338 vehicles registered.
UK is the first country for figures of e-bus registration in the first half of the year: 524 units. Norway and Germany follow: 346 and 297 e-buses respectively.
2023, focus on fuel cell bus market
Volumes of fuel cell buses looks promising. 96 units were registered in the first half of the year, vs the 52 of last year (+84%). CaetanoBus places first with 28 units, followed closely by Van Hool with 26. The latter is still leading the market in the period 2012 – June 2023 with 132 registrations. Germany is at the moment the country with the most fuel cell buses in operation (without considering those registered before 2012): 167 vehicles.