Solaris ready to unveil a Solaris Urbino 18 Electric with 550 kWh battery
Solaris will bring to the Busworld Europe 2019 the Urbino 18 Electric with updated batteries. Capacity will reach 550 kWh. The information was provided today during the international press conference organized by Solaris in the city of Gdynia (Poland). Bruxelles Expo will be also the premiere place for the Trollino 24, now in testing phase. […]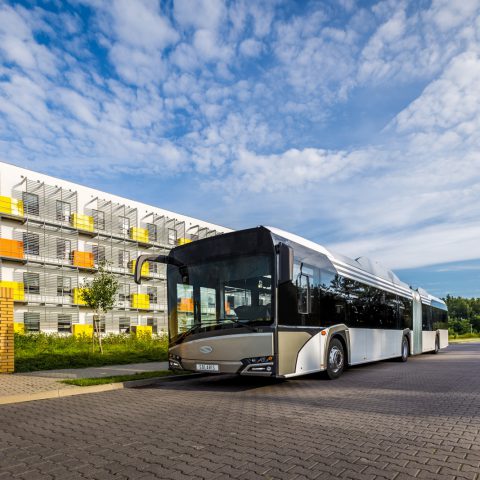 Solaris will bring to the Busworld Europe 2019 the Urbino 18 Electric with updated batteries. Capacity will reach 550 kWh. The information was provided today during the international press conference organized by Solaris in the city of Gdynia (Poland). Bruxelles Expo will be also the premiere place for the Trollino 24, now in testing phase.
79 kWh in place of 50 for Solaris High Energy + batteries
The world premiere of the new Solaris Urbino 18 will be held at Busworld Europe 2019. After the facelift unveiled during UITP Summit in Stockholm at the beginning of June, now the attention of Solaris team has been focused on the batteries. Thus, new batteries will be the key feature of the new Solaris Urbino 18 Electric.
The manufacturer announced it has changed the cells supplier and is ready to launch the Solaris High Energy + battery model. They will be able to store 79 kWh in one module, that occupies the same space where today 50 kWh are carried. Thus, 60 per cent more capacity in the same space has been achieved. On the other hand, weight will increase by 30 per cent. On the Solaris articulated electric bus will be mounted as maximum seven packs of High Energy + batteries, that mean 550 kWh, allowing a range of at least 200 km. Today, the maximum capacity allowed on the Solaris articulated electric bus is 300 kWh.
BMZ batteries for Solaris bus
The Solaris High Energy + batteries are provided by Polish company BMZ and will only be used in Solaris vehicles and is currently not offered to any other manufacturer on the electric bus market.
«Architecture of batteries manufactured by BMZ Poland, and the battery management system (BMS Battery Management System) allows its balancing and constant monitoring of operation. The structure of the module used in the batteries can also be used in energy storage, which will work as a bank of energy obtained from renewable sources or simply as a tool balancing the energy grid. We have such solutions ready-to-use, they connect two markets using Lithium-Ion technology» – points out Tomasz Wołk-Jankowski, Managing Director of BMZ Poland.
Trollino 24 ready for Busworld
The Polish manufacturer is also piloting its double articolated trolleybus Trollino 24. It is driven by two driving axles and is equipped with a 58 kWh battery pack. The vehicle will then be able to detach itself from the air network and continue on its own in wireless mode.
The 24-metre Solaris Trollino 24 is also equipped with an electric powered heating pump and with the fourth steering axle. The capacity varies from about 180 to 200 people, depending on the configuration required by customers. The lighting is energy-saving LED. The equipment also includes several USB ports distributed in several points of the vehicle.
"We are talking with two cities for the 24 meters. It will be on Polish streets very soon", Petros Spinaris, Solaris deputy CEO said.