New magazine issue is out: come get a copy at UITP Summit (or read it online)
The latest issue of Sustainable Bus magazine is now available online, packed with insightful articles and updates from the world of innovation in public transportation. The magazine, available both in digital format on webreader and on our website sustainable-bus.com, has an average of 20,000 views per issue. In addition to the digital readership, each issue […]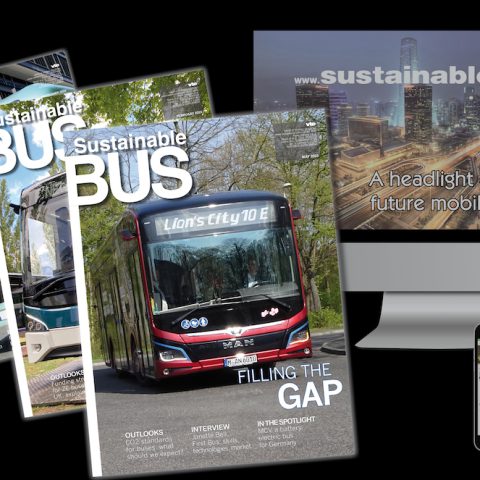 The latest issue of Sustainable Bus magazine is now available online, packed with insightful articles and updates from the world of innovation in public transportation.
The magazine, available both in digital format on webreader and on our website sustainable-bus.com, has an average of 20,000 views per issue. In addition to the digital readership, each issue has an average print circulation of 3,500 copies.
Discover how Iveco Bus is bringing bus production back to Italy and learn about Volvo's partnership with MCV for e-bus manufacturing in Europe. Explore the upcoming launch of ZF's new generation AxTrax.
Don't miss the exclusive interview with Janette Bell, where she shares First Bus' strategies for tackling today's challenges. Gain insights into the decarbonization efforts in the UK and get a comprehensive overview of the EU e-bus market in 2022. Dive into the analysis of the main EU bus and coach markets from 2019 to 2022, and explore Transport&Environment's call for zero-emission bus sales by 2027.
Experience the VDV-powered ElekBu expo in Germany and get a closer look at the MAN Lion's City 10E, MCV C127 EV, and Setra MultiClass 500 LE. Finally, browse through our portfolio showcasing all the electric buses available on the European market.
Where to find Sustainable Bus magazine
These copies are distributed at events (we'll be exhibiting at UITP Summit in Barcelona) and sent by post to key delegates within public and private transportation companies worldwide, totaling approximately 300 copies. This combination of digital and print distribution ensures that our content reaches a wide audience, including industry professionals and decision-makers in the global transportation sector.
Sustainable Bus magazine ID card
Sustainable Bus Magazine distinguishes itself from the website as a distinct tool with a different purpose. While the website provides daily news updates from the market, the magazine takes a more comprehensive approach. It delves into technical analysis, explores market trends, conducts interviews with key stakeholders, and covers all aspects of this dynamic and rapidly growing sector.
Launched in spring 2018, Sustainable Bus Magazine is the only international media outlet entirely dedicated to and sustainability and innovation in public transport.