TfL introduces over 80 new zero-emission buses in Sutton (and add over 1 million km per year to outer London bus services)
Transport for London (TfL) has enhanced bus services to deliver an extra one million bus kilometres in outer London every year. TfL is also delivering a further boost to its zero emission bus fleet, with more than 80 zero emission buses introduced in the south London borough of Sutton. TfL stresses that "The introduction of […]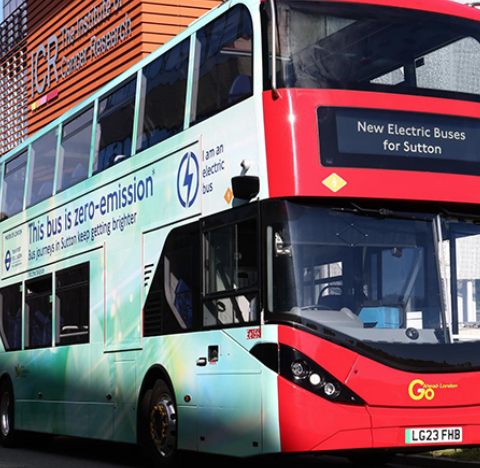 Transport for London (TfL) has enhanced bus services to deliver an extra one million bus kilometres in outer London every year. TfL is also delivering a further boost to its zero emission bus fleet, with more than 80 zero emission buses introduced in the south London borough of Sutton.
TfL stresses that "The introduction of the new buses follows the recent milestone of more than 1,000 zero emission buses operating across the capital, now taking the total to over 1,100 zero emission buses and putting TfL on track to transition to a fully zero emission bus fleet by 2034, a target which could be achieved by 2030 with continued Government investment. TfL will save an estimated 4.8m tonnes of carbon by 2034 or an estimated 5.5m tonnes of carbon by 2030 with Government funding".
Since 2021, all new buses joining TfL's contracted fleet have been zero emission.
80 new zero-emission buses for Sutton, London
Deputy Mayor for Transport, Seb Dance, announced that more than 80 new zero emission electric buses have taken to the streets of Sutton this summer, bringing the total operating in the area to nearly 100. TfL has introduced the new buses in the borough on routes 93, 154, 164, 213 and 80, joining the zero emission buses already operating on Route 413.
This significant addition to Sutton's fleet means that "over half of the journeys undertaken by bus in Sutton will be in a zero emission bus, with more zero emission buses set to join the borough's fleet in spring next year. The borough is also set to benefit from improvements to bus services, providing new or better connections across the borough and between town centres and hospitals, adding over 400,000 bus kilometres to the area's network", TfL adds.
Sutton's new zero emission buses will be equipped with a range of new features. Passengers will benefit from larger wheelchair and buggy areas, panoramic roofing on the upper deck, USB phone charging ports and new LED display screens on the lower and upper deck. As well as the new buses, from early next year Sutton will see extensions to existing routes and the creation of a brand new service, S2. These updates to the borough's bus network part of the additional 400,000km per annum of bus services in Sutton.
TfL, the Superloop to enhance service quality
The Superloop is a key part of the Mayor's £6m investment to improve the bus network in outer London. The Superloop is a proposed network of limited-stop express bus routes that circle the entire capital, connecting transport links, town centres and hospitals, and could add over 4 million bus kilometres operated in outer London. On 19 August, route X26, which runs between West Croydon bus station and Heathrow Central Bus Station, was renumbered and rebranded to route SL7, to offer customers an instantly recognisable express bus service between west and south London, and has now doubled in frequency, from a bus every 30 minutes to one bus every 15 minutes The SL7 is the third bus route to become part of the Superloop express bus network.
Louise Cheeseman, Director of Buses at TfL, said: "We're very pleased to add more than 80 new zero emission buses to our fleet in Sutton. Buses remain the quickest, easiest, and cheapest way to shift trips made by cars to public transport. Thanks to the introduction of these new vehicles, half of the bus journeys undertaken in the borough will be zero emission, helping to improve the air quality for those who work and live in the area, or who travel to Sutton to visit its leading cancer treatment and research facilities."
Seb Dance, Deputy Mayor for Transport said: "Growing London's zero-emission bus fleet, which is now the largest in Europe, is an important part of the Mayor's commitment to reduce toxic air and respond to the climate crisis. The Mayor promised Londoners that he would improve transport links in outer London. These new zero-emission buses, improvements and service increases will not only help Londoners get around our city, but improve air quality as we continue building better, greener, fairer London for everyone."
David Cutts, Go-Ahead London's Managing Director said: "The Sutton area joins a growing list of services to benefit from brand new electric buses, which are popular with users and showcase sustainable public transport. Sutton Garage is 100 years old in early 2024 but we continue to look to the future, embracing zero-emission vehicles that improve local air quality."
Professor Kristian Helin, Chief Executive of The Institute of Cancer Research, London, said: "We know air pollution is bad for our health, and indeed contains cancer-causing chemicals, as ICR scientists were among the first to recognise. We therefore welcome TfL's efforts to reduce air pollution – and carbon emissions – through greater use of electric buses in Sutton. It's good to see this progress in improving public transport in Sutton, which is urgently needed to service the growing needs of The London Cancer Hub on our Sutton site."
Tim Dexter, Clean Air Lead, Asthma + Lung UK, said: "We welcome TfL's launch of over 80 new zero emission buses in Sutton, because cleaning up of Sutton's bus fleet, and moving away from petrol and diesel cars towards cleaner forms of transport like walking, cycling and public transport is critical to cleaning up the air we breathe. Air pollution is a public health emergency that impacts us all, and even more so for the estimated 585,000 people with a lung condition living in London. Every year toxic air shortens the lives of 4,000 people in London alone."