Transdev wins other bus routes in Frankfurt (with Alpina brand). Expansion of e-bus fleet is planned
Transdev Rhein-Main GmbH is going to operate the bus line bundle East in Frankfurt/Main with the Alpina brand from December 2022 until the end of 2030 with the option of a one-year extension. This was announced by the regional transit authority Rhein-Main Verkehrsverbund (RMV) as the result of a competitive tender, and reported by Transdev […]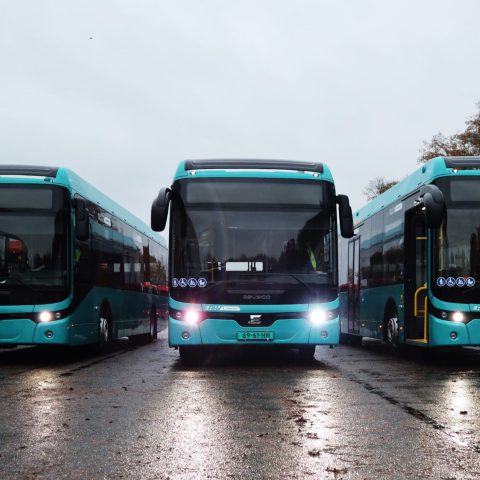 Transdev Rhein-Main GmbH is going to operate the bus line bundle East in Frankfurt/Main with the Alpina brand from December 2022 until the end of 2030 with the option of a one-year extension. This was announced by the regional transit authority Rhein-Main Verkehrsverbund (RMV) as the result of a competitive tender, and reported by Transdev itself in a news on its corporate website.
Transdev Rhein-Main GmbH to expand e-bus fleet in Frankfurt
Currently, Transdev Rhein-Main GmbH operates various route bundles in Frankfurt am Main and is the largest operator of electric buses in Frankfurt and the surrounding area. "A further expansion of the e-bus fleet is planned", Transdev points out.
The contract, which involves up to 780,000 timetable kilometers per year, covers regular services in the eastern part of Frankfurt between Bad Vilbel and Offenbach. A total of eleven buses will be used on three routes. Around 30 employees will be needed.
«We are pleased that we can further expand our bus business in Frankfurt/Main and take over additional lines» says Heiko Schütte, Managing Director of Transdev Rhein-Main GmbH. «This further strengthens our position in the highly competitive market and secures jobs in the long term».