VDL and Schaeffler are working together on driverless shuttles (with Mobileye technology)
VDL Groep and automotive supplier Schaeffler announce they are jointly exploring the development and production of a new generation of self-driving electric shuttles for public transport. The two family-owned companies will be showing a first demonstrator of the vehicle at IAA Mobility in Munich. The prototype, which integrates Mobileye autonomous driving technology, and all relevant […]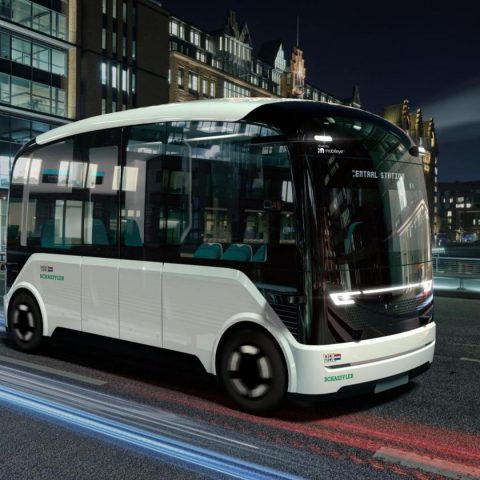 VDL Groep and automotive supplier Schaeffler announce they are jointly exploring the development and production of a new generation of self-driving electric shuttles for public transport. The two family-owned companies will be showing a first demonstrator of the vehicle at IAA Mobility in Munich.
The prototype, which integrates Mobileye autonomous driving technology, and all relevant automotive electrification and steering technology can be experienced until Friday 8 September, 2023, at the booth of VDL Groep (hall B3, booth B21) as well at the booth of Schaeffler (hall B3, booth B40).
Shaeffler, VDL, Mobileye for driverless shuttles
VDL and Schaeffler say they are currently in advanced negotiations with public transport authorities and operators about pilot projects. According to the roadmap, testing for the vehicles on the streets will be possible most likely starting in 2025: "The target production volumes will depend on achievable sales, but they are projected to produce some thousands of vehicles per year starting in 2030. Production is planned to take place at VDL's Mobility Innovation Centre in Born (Netherlands)", VDL and Shaeffler state.
The vehicle will offer 9 seats (6 fixed, 3 flexible) with an approximate payload capacity of 1,000 kg. Its dimensions will be 5m x 2.2m x 2.8m (LxWxH), and it weighs up to 5,000 kg. Equipped with indoor monitoring connecting to the control room, it features integrated camera and radar/lidar sensing systems. The design includes wheelchair-friendly large doors, low entry, and a top speed of 70 km/hour.
The partners forecast that "Demand for self-driving shuttle services is expected to take off in the coming years, especially in many major cities in Europe, North America and parts of Asia by the end of this century. The envisaged strategic cooperation between Schaeffler and VDL underlines the importance of getting involved in these developments at an early stage. Together, both companies aim to accelerate the development of shuttle vehicles that can be manufactured on a commercial scale".
Schaeffler, in its position of worldwide leading automotive supplier of systems and components for electrified powertrains as well as innovative steering systems (turnover 2022: 15.8 billion euros), has introduced a so-called 'rolling chassis', which combines a fully electric powertrain, steer-by-wire system and battery in a modular solution. The Mobileye Drive platform designed for the shuttle vehicles enable autonomous driving using purpose-built EyeQ processors, redundant sensor systems of surround cameras and (combined) radar/lidar sensing, as well as mapping solutions.
First step: Germany
Germany is planned to be the first country where the newly developed and manufactured shuttles will operate, benefiting from the fact of being the first country in Europe which approved SAE level 4 for use on public roads.
President & CEO Willem van der Leegte of VDL Groep: "Autonomous shuttle vehicles are going to play an important role in our future mobility needs. This vehicle concept fits seamlessly into our broad mobility solution covering design, electrification, connectivity, autonomy and services. Of course, this planned cooperation is also a fantastic opportunity to pioneer and innovate with our esteemed partners Schaeffler, Mobileye and others."
Klaus Rosenfeld, CEO at Schaeffler AG: "Self-driving shuttle vehicles will become integral elements of modern mobility ecosystems. They will bring people safely, quickly, and easily from A to B and increase accessibility to mobility for everyone living in cities and rural areas. We at Schaeffler want to support this development with best-in class systems engineering as well as innovative automotive technology in a sustainable manner. This goal is best realized with strong partners. We are more than happy to team up with VDL Groep and Mobileye."
Johann Jungwirth, Senior Vice President Autonomous Vehicles at Mobileye: "The full potential of autonomous mobility to transform our communities for the better can only be reached if the technologies are safe, accessible and scalable. Working with Schaeffler and VDL Groep, we have the right strategy and teams to make mobility-as-a-service a reality in the very near future."