350 e-buses will be deployed by VHH in Hamburg: 100 MAN and 250 Mercedes eCitaro
In the largest e-bus tender in the company's history to date, Verkehrsbetriebe Hamburg-Holstein GmbH (VHH) has awarded MAN Truck & Bus and Daimler Buses two framework agreements for 100 and 250 e-buses respectively. This will more than quadruple VHH's total e-bus fleet. The first new vehicles are to be delivered in the first half of […]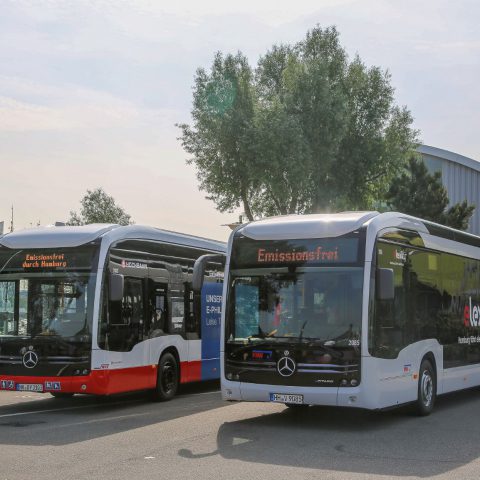 In the largest e-bus tender in the company's history to date, Verkehrsbetriebe Hamburg-Holstein GmbH (VHH) has awarded MAN Truck & Bus and Daimler Buses two framework agreements for 100 and 250 e-buses respectively. This will more than quadruple VHH's total e-bus fleet.
The first new vehicles are to be delivered in the first half of 2024. These are 48 solo buses from MAN and 47 solo and 48 articulated buses of the Mercedes eCitaro model. The guaranteed range without intermediate or recharging is between 200 and 300 kilometres, depending on the model, VHH says. In addition, the new vehicles have extensive safety equipment as standard, such as braking and turning assistance systems.
114 e-buses in operation by end 2023
Currently, VHH has 86 e-buses, most of which are in regular service from the Bergedorf depot in the east and the Schenefeld depot in the west. 17 more e-buses as well as 11 e-Sprinter will go into service within the next few weeks, so that the VHH electric bus fleet will grow to a total of 114 vehicles by the second quarter of 2023.
"VHH is a central driver of the transport turnaround in the Hamburg metropolitan region. We have a clear vision: in the 2030s, we want to be locally emission-free on the road. In order to achieve this goal, we are now expanding our e-bus fleet in large steps. The major orders placed with MAN Truck & Bus and Daimler Buses represent a real milestone on the way to becoming an e-mobile company", says VHH Managing Director Dr Lorenz Kasch.