Next European ZEB Conference at Busworld Europe 2023 (with special focus on coaches)
Next edition of the European Zero Emission Bus (ZEB) Conference will be organised concurrently with the Busworld Europe from 9 to 12 October 2023 in Brussels, Belgium. ERM Group company, Element Energy, organiser of this conference, is partnering with Busworld Foundation. New in this edition will be the special attention for zero emission long distance […]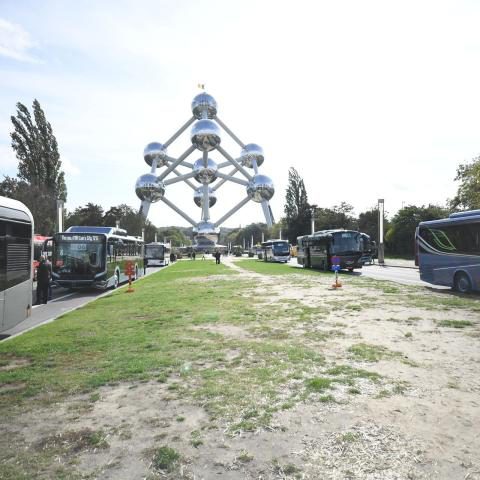 Next edition of the European Zero Emission Bus (ZEB) Conference will be organised concurrently with the Busworld Europe from 9 to 12 October 2023 in Brussels, Belgium. ERM Group company, Element Energy, organiser of this conference, is partnering with Busworld Foundation.
New in this edition will be the special attention for zero emission long distance and tourism coaches whilst still maintaining attention on battery electric technologies and hydrogen-fuelled buses. The coach sector needs to prepare itself for the emerging zero emission zone cities.
Zero Emission Bus Conference live at Busworld 2023
The Zero Emission Bus Conference (ZEB) is an event series created by Element Energy and Center for Transportation and the Environment (CTE) to accelerate the transition to zero emission bus technologies. Since launching in 2016, nine successful ZEB events have been held to date in Europe and America. Previous European editions of the conference took place in Paris (2021), online via a series of ZEBINARS (2020), in Cologne (2018) and in London (2016).
The 5th edition of the European ZEB Conference will be held in Brussels alongside Busworld Europe. As the home of Busworld Europe and European politics, while being easily accessible from all corners of Europe, Brussels provides the perfect location for ZEB 2023, which is expected to attract 400 attendees from the zero-emission bus sector.
Special attention on zero emission coaches
The collaboration brings considerable benefits to both events, partners say: "Attendees will gain insights from the ZEB conference, which will be delivered through four half-day sessions covering all aspects of zero emission buses and coaches, while having access to the biggest B2B bus and coach trade show in the world. All ZEB attendees will automatically have free entrance to the Busworld Europe exhibition and the program will be built in a way that conference and exhibition can go hand in hand".
The European ZEB 2023 program is currently being finalized. The Advisory Board helping to shape the conference consists of a consortium of experts from the Bus and Coach industry.  
Jan Deman, Director of Busworld Foundation explains: "The combined expertise of the network of Busworld Foundation and Element Energy guarantees the perfect symbiosis between technical and economic insights and field experience coming from manufacturers and operators. The fact that it is being organized at Busworld Europe helps to bring together theory and practice. What we talk about in the conference, can be seen and experienced in the exhibition."
Michael Dolman, Partner at Element Energy, said: "The Zero Emission Bus conferences provide an excellent opportunity for all with an interest in zero emission public transport to share lessons, gain insights into the latest technology and policy developments, and build networks and partnerships. We're delighted to be collaborating with Busworld Foundation to maximise the value and impact of the 2023 edition."