CaetanoBus to launch 18m e-buses and FC coaches and other news from Zero Emission Bus Conference 2021 in Paris
CaetanoBus is going to launch the articulated 18m zero emission bus in 2023, said CEO Patrícia Vasconcelos at the European Zero Emission Bus Conference which is taking place today and tomorrow in Paris. CaetanoBus vehicle will be offered both in fuel cell and electric version. And in 2022 the Portuguese company (partner of Toyota) will […]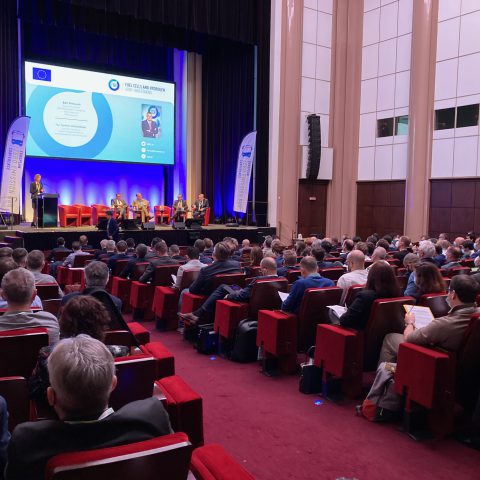 CaetanoBus is going to launch the articulated 18m zero emission bus in 2023, said CEO Patrícia Vasconcelos at the European Zero Emission Bus Conference which is taking place today and tomorrow in Paris.
CaetanoBus vehicle will be offered both in fuel cell and electric version. And in 2022 the Portuguese company (partner of Toyota) will also present a fuel cell intercity and Cobus model. But the bus builder targets the coach market: in 2023 and 2024 an RHD and LHD coach models are to be launched, still ms Vasconcelos announced in Paris.
Below, a kind of 'live broadcasting' from the conference, 
with quotes and news from the sessions in (almost) real time.
Safra repowering 15 Mercedes Intouro with fuel cells
Jean Marc Boucheret, Sustainability Mobility Manager at Iveco Bus: «We are into an industrial transformation, focused on e-mobility: hybrid, electric and in the future hydrogen. We announced we will be launching a battery-electric version of the Crossway. In the meanwhile we achieved record performance with the E-Way».
Safra's CEO Vincent Lemaire disclosed that the French company is working at the repowering of 15 diesel coaches (Mercedes Intouro) with fuel cell hydrogen technology.
Van Hool, Symbio, GreenMot, Ballard
«For the segment of fuel cell coaches we have two choices: 700-bar hydrogen or liquid hydrogen. The future will tell us which will prevailing», Geert Van Ecke, Van Hool Head of Sales.
The FCH JU Project Officer Pietro Caloprisco mentioned: «We are witnessing zero emission bus orders moving from small trials to large fleets. At the European level there are measures that pushes in this direction. And there is a vibrant European industry which is taking the challenge and bringing to commercialization new products».
Laurent Chauvin, Symbio Director of Product Marketing: «For most applications, hydrogen technology is reaching parity with diesel by mid 2025».
Laurent Chognard, GreenMot Business Development Engineer: «Today the opinion of GreenMot is that converting electric fleets is a good complimentary solution to meet the target we expect for 2025 and 2030 regarding clean bus deployment». The Lyon-based company, a test centre and design office for all types of motorised vehicles, is now working on an intercity bus retrofit kit in which the engine will be converted from diesel to electric generated by a hydrogen fuel cell.
David Yorke, Europe Market Development Manager at Ballard Power Systems: «We need to be very clear on the infrastructure topic: most of the operators who are not going zero emission are waiting because they have the fear that infrastructures won't be enough to achieve their operation».