Iveco Bus is launching a full electric version of the Crossway LE (plus mild hybrid option)
Iveco Bus is launching a full electric Crossway Low Entry and is ready to offer mild hybrid modules on Urbanway, Crealis and Crossway Low Entry range. On the Crossway the mild hybrid solution will be offered also combined with gas-drive. The mild hybrid module will be available to order by the end of this year […]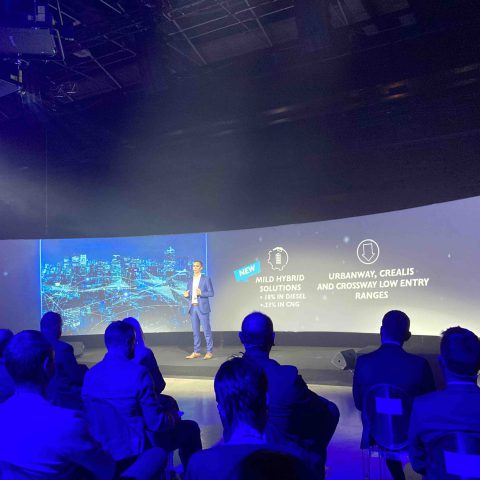 Iveco Bus is launching a full electric Crossway Low Entry and is ready to offer mild hybrid modules on Urbanway, Crealis and Crossway Low Entry range.
On the Crossway the mild hybrid solution will be offered also combined with gas-drive. The mild hybrid module will be available to order by the end of this year and delivered within the end 2022. These novelties have been announced this evening (October 20) by Stéphane Espinasse, Iveco Bus Brand Leader, during a press presentation in Milan.
Iveco Bus to launch a full electric version of the Crossway LE
Domenica Nucera, president bus business unit since October 2021, has been opening the event: «We are moving towards a new business model: from selling a product to selling a service. The key to achieve this shift is a well organized flow of information. Connectivity and digitalization are today key».
Stephane Espinasse added: «Sustainability is the main trend in the transportation industry and will remain so in the foreseeable future. The entry into force of the Clean vehicle directive and the Low emission zones issues in many cities mean that PTOs need affordable solutions, financially and environmentally. Today Iveco Bus has 8,000 gas vehicles in operations across Europe. The trend toward gas bus deployment in Europe remain strong. In the first half of 2021, 10 percent of intercity buses sold in Europe were gas-powered. The share grows to 48 per cent in France». And what about e-mobility? In the portfolio there are the Crealis In-motion-charging and the E-Way range (marketed under Heuliez Bus brand in France). «We offer e-mobility solution in 7 European countries, we produced 500 units and we have in 2021 a share of 12% in the European electric bus market».