Sustainable Bus Tour 2021: the focus on public transport and the challenges ahead
In 2021 the first edition of the Sustainable Bus Tour will see the light. Two webinars, two web events will be organized by our media with the goal of discussing sector-related key issues and outlooks with the participation of operators, manufacturers, providers of components and technologies. With a keen look at today's projects and the focus […]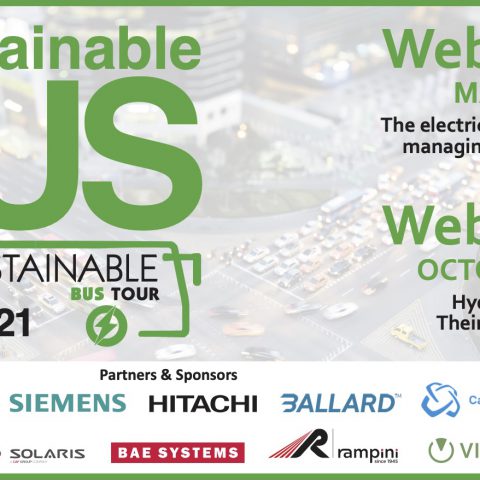 In 2021 the first edition of the Sustainable Bus Tour will see the light. Two webinars, two web events will be organized by our media with the goal of discussing sector-related key issues and outlooks with the participation of operators, manufacturers, providers of components and technologies. With a keen look at today's projects and the focus on the challenges the public transport sector is facing. The initiative leverages also on the involvement of public transport companies Keolis and Transdev as mobility partners.

We will start on the 6h of May with the first event, focused on battery-electric bus deployment and at charging and managing strategies when it comes to operate large zero emission bus fleet (more information to be shortly released). In October, we are going to talk about fuel cell buses, that in 2021 will be in the spotlight as a large wave of deliveries is planned.
Sustainable Bus Tour, the media's ID card
Sustainable Bus is the only international media fully focused on clean buses and sustainability in the field of public transport. Founded in 2018 under the domain www.sustainable-bus.com, followed in 2020 by the launch of Sustainable Bus magazine, it has so far established itself as an essential tool for professionals involved in the planning and implementation of low/zero emission public transport projects and operations.
We decided it was now time to take the next step, starting with a couple of events that will gather, around the 'table' and in the audience, players of the public transport sector and the industrial value chain.
Are you looking for more information on the Sustainable Bus Tour 2021?
Send us an email: info@sustainable-bus.com
The experience of the Mobility Innovation Tour
The first edition of Sustainable Bus Tour, that will be made of web events, will be built on the experience developed with the Mobility Innovation Tour organized yearly, since 2018, in Italy, by the company which is behind the website you are reading (and the related magazine). The Milan-based publishing house Vado e Torno Edizioni will organize in 2021 the 4th edition of the initiative, with the target of discussing key trends and innovative opportunities in public transport involving bus producers, operators, institutions, PTAs, suppliers, stakeholders of public transport and sustainable mobility.
We are part of a consistent network
As just mentioned, the Sustainable Bus Tour 2021 has been created in the wake of a huge commitment for the promotion of sustainability carried out by Vado e Torno, our publishing house. It is no coincidence that Vado e Torno, through the various magazines published, has established during the years some well-known international awards. From the Sustainable Bus of the Year, addressed to the bus field, to the Sustainable Truck of the Year, up to the Sustainable Tractor of the Year, assigned yearly to the most innovative and game-changing industrial solutions.