Genoa piloting the 24 meter battery trolleybus
A 24-meter trolleybus through Genoa's streets. The vehicle has been lent by the Austrian town of Linz. This morning in Genoa took place the inauguration of a three days pilot held by public transport operator AMT. In the spotlight, a trolleybus Van Hool Exquicity 24 meters long. The capacity is 180 passengers. A Van Hool […]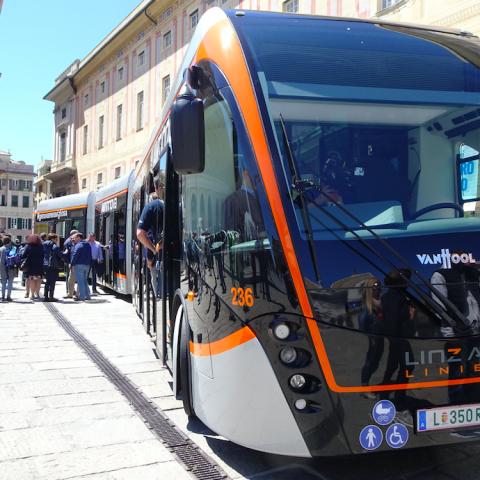 A 24-meter trolleybus through Genoa's streets. The vehicle has been lent by the Austrian town of Linz. This morning in Genoa took place the inauguration of a three days pilot held by public transport operator AMT. In the spotlight, a trolleybus Van Hool Exquicity 24 meters long. The capacity is 180 passengers.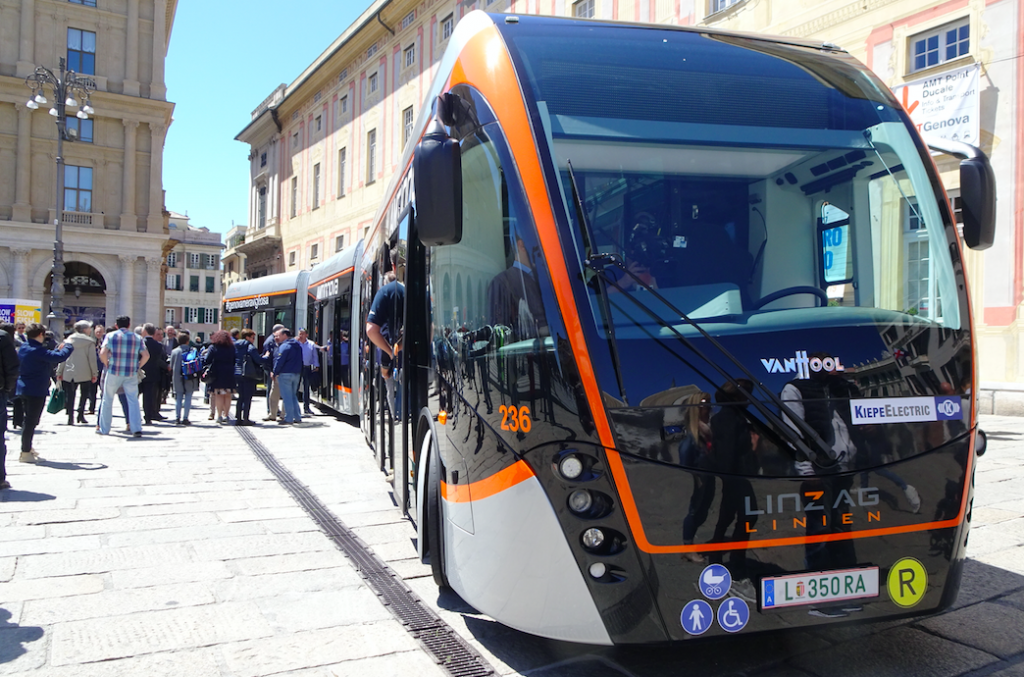 A Van Hool Equicity in Genoa
The Van Hool Equicity presented in Genoa is a full electric vehicle, thanks to the In Motion Charging system (supplied by Kiepe Electric) that allows zero emissions operations. The range without connection to the two-wire line can reach about 7 km. According to the Austrian customer's choice, the vehicle is equipped with a 26 kWh battery: if the more common 45 kWh battery were fitted, the range would be greater.
An Italian premiere for the trolleybus extralong
This is the very first pilot in the country for a vehicle of this size, since this category of vehicle can't be yet homologated in Italy, unlike what happens in the rest of Europe. Recently, the first shots of the 24-metre Solaris Trollino have started to circulate: the Polish manufacturer will soon join Van Hool and Hess in the "family" of manufacturers to supply this kind of high capacity battery trolleybuses.

A test for the future configuration of Genoa public transport
The pilot, which will last from 6 to 9 May, is not linked to the possibility of using the vehicle on the current trolleybus line in Genoa. As explained by AMT sole director Marco Beltrami, "this type of vehicle can be of interest to us in view of the reorganization of AMT network based on four axles. We have already applied for funding to the ministry".