Bratislava's new trolleybuses are powered by Skoda
Bratislava is ready to modernise its trolleybus fleet. To do so, it has commissioned Skoda Transportation Group and Solaris, which together have won two tenders for the supply of 23 bi-articulated trolleybuses and 16 three-articulated trolleybuses with high passenger capacity. The value of the two orders is more than € 29 million (the purchase of […]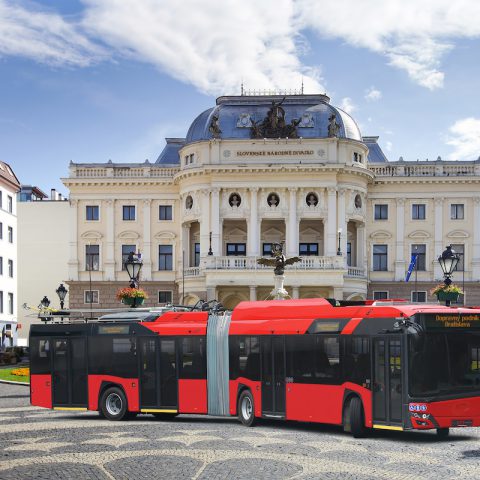 Bratislava is ready to modernise its trolleybus fleet. To do so, it has commissioned Skoda Transportation Group and Solaris, which together have won two tenders for the supply of 23 bi-articulated trolleybuses and 16 three-articulated trolleybuses with high passenger capacity. The value of the two orders is more than € 29 million (the purchase of the new vehicles is partly financed by the EU) and the delivery of the vehicles to the capital of Slovakia will be completed within 20 months of signing the contract.
In the Slovakian capital, trolleybus transport is seen as very promising. Bratislava plans to modernise, expand and speed up the trolleybus network. By supplying new vehicles, it will be possible to increase transport capacity and replace less environmentally friendly diesel buses on selected lines.
Longer trolleybuses for line 71
Residents and tourists in Bratislava can expect two types of new vehicles. The first one Skoda and Solaris are supplying is the 18-metre long Skoda-Solaris 27Tr (or Trollino 18) articulated trolleybus; the second type is the triple articulated 24m Skoda-Solaris trolleybus (Trollino 24). As the name suggests, they are 24 metres long and have a capacity of 160 passengers. They are intended for use on line 71, the city's busiest trolleybus line, which also serves the main railway station. Bratislava will be the second transport company, after Prague, where these trolleybuses produced by a Skoda and Solaris consortium will operate.
The bi-articulated vehicle was launched in 2019, at the Busworld trade fair in Brussels. It is driven by two traction motors of 160 kW each. Additional traction batteries, placed on the roof of the second section, will be recharged en route by collecting current from the overhead line. Thanks to them, the Trollino will also be able to travel without any external power supply. By pressing one single button the driver will be able to switch from the overhead line to the traction battery drive mode.
These over-24-metre trolleybuses will provide space for 160 passengers, including 60 seated. Passenger counting sensors will be placed above the doors, arranged in a layout of 2-2-2-2-2. This innovative model will feature an array of amenities, enhancing safety and travel comfort. Operator Dopravný Podnik Bratislava has opted for standard solutions such as destination blinds, air-conditioning, Wi-Fi, LED-lighting in the interior, and easily accessible USB ports. What is more, a CCTV system consisting of 7 external cameras and 9 cameras monitoring the vehicle interior will be installed to aid the driver and to enhance passenger safety.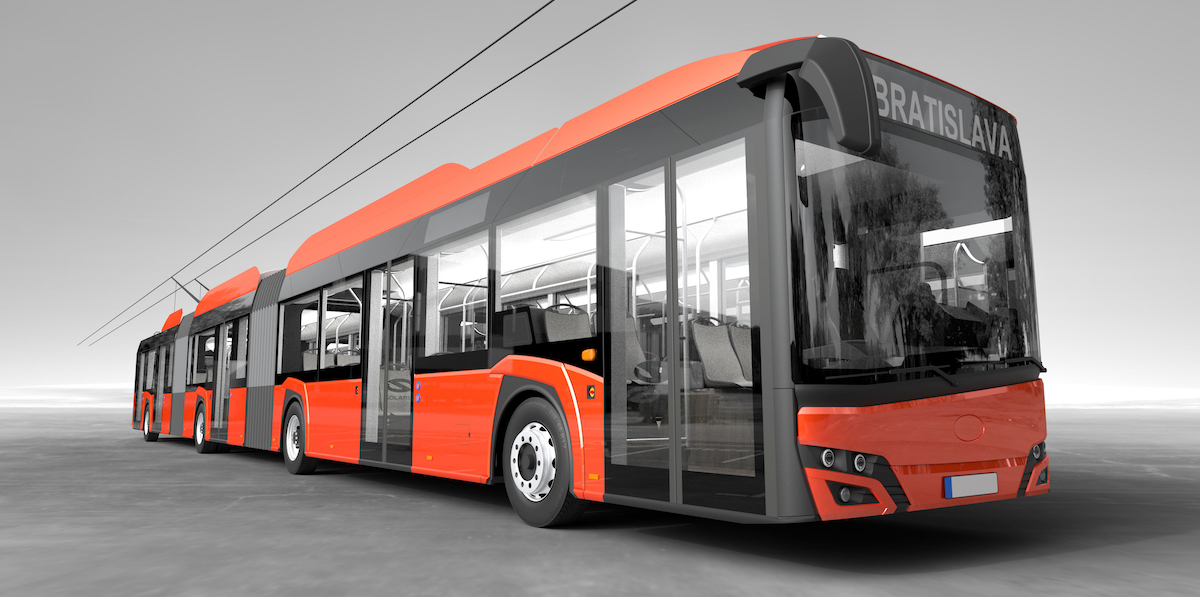 Both types of trolleybuses will be equipped with air conditioning for the driver and passengers, space for prams, wheelchairs and bicycles, modern information systems, including, for example, in addition to information panels, interior and exterior cameras, automatic passenger counting and a Wi-Fi connection. Equipment for the remote transmission of diagnostic data will also be installed in the vehicles.
The comments of Skoda and DPB
«The new contracts for Bratislava follow on from a succession of successful deliveries of our vehicles to Slovakia. I believe that the new trolleybuses, thanks to their modern solution and ecological operation, will again raise the quality of public transport in our neighbour's capital, and that both passengers and the transport company will be happy with them», said Tanya Altmann, Senior Vice President for Bus Mobility Solutions in Škoda Transportation Group.
«At our Bratislava Transport Company, we have been working hard for a long time to renew and innovate the vehicle fleet, which will significantly contribute to improving ecological and sustainable mobility in Bratislava. We are preparing the development of trolleybus transport judiciously, with an emphasis on economy, efficiency and comfort for passengers and drivers. The biggest challenge will be the operation of 24-meter high-capacity trolleybuses. We have already tested them in the streets of Bratislava and they will be able to drive through the narrowest crossroady without any problems», emphasized Martin Rybanský, Chairman of the Board of DPB.
Both types of trolleybus that Škoda will supply to Bratislava are battery-powered. The vehicles are thus equipped with battery auxiliary power, in line with the latest trends. «The vehicles can also drive in places where there are no overhead contact lines, for instance the 18-metre trolleybus has a minimum range of 10 kilometres on its traction battery», explains Tanya Altmann, who adds another interesting thing: «In addition, the 18-metre trolleybuses will have luggage racks installed, which is unusual for city buses. These vehicles are expected to be introduced for lines to the airport».