Here it comes the first battery-electric DD coach by Van Hool. A world premiere for the US market
Under the name Van Hool TDX25E lies the first 100% battery electric double-deck coach launched by the Belgian group (and, according to the bus builder itself, the very first of its kind in the world). The vehicle provides space for 69 passengers (18 on the lower deck and 51 on the upper deck) and has […]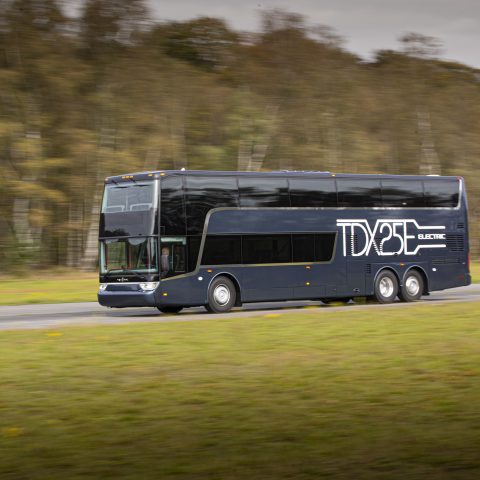 Under the name Van Hool TDX25E lies the first 100% battery electric double-deck coach launched by the Belgian group (and, according to the bus builder itself, the very first of its kind in the world). The vehicle provides space for 69 passengers (18 on the lower deck and 51 on the upper deck) and has a stated range of up to 500 km, depending on the climatological conditions and the route's topography.
The TDX25E is destined for the US market, where it will be used for comfortable employee commutes and/or regular passenger transport.
22 battery-electric coaches sold so far
Exactly a year ago Van Hool shipped its first 100% battery electric coach, the CX45E, to the US. Van Hool has sold so far 22 units of this model. Over the past few decades Van Hool has built more than 1,200 vehicles with an electrical drive system (hydrogen, trolley, battery and hybrid), the company says. Both the CX45E and the brand new TDX25E use electrical components, including a Siemens powertrain and Proterra batteries.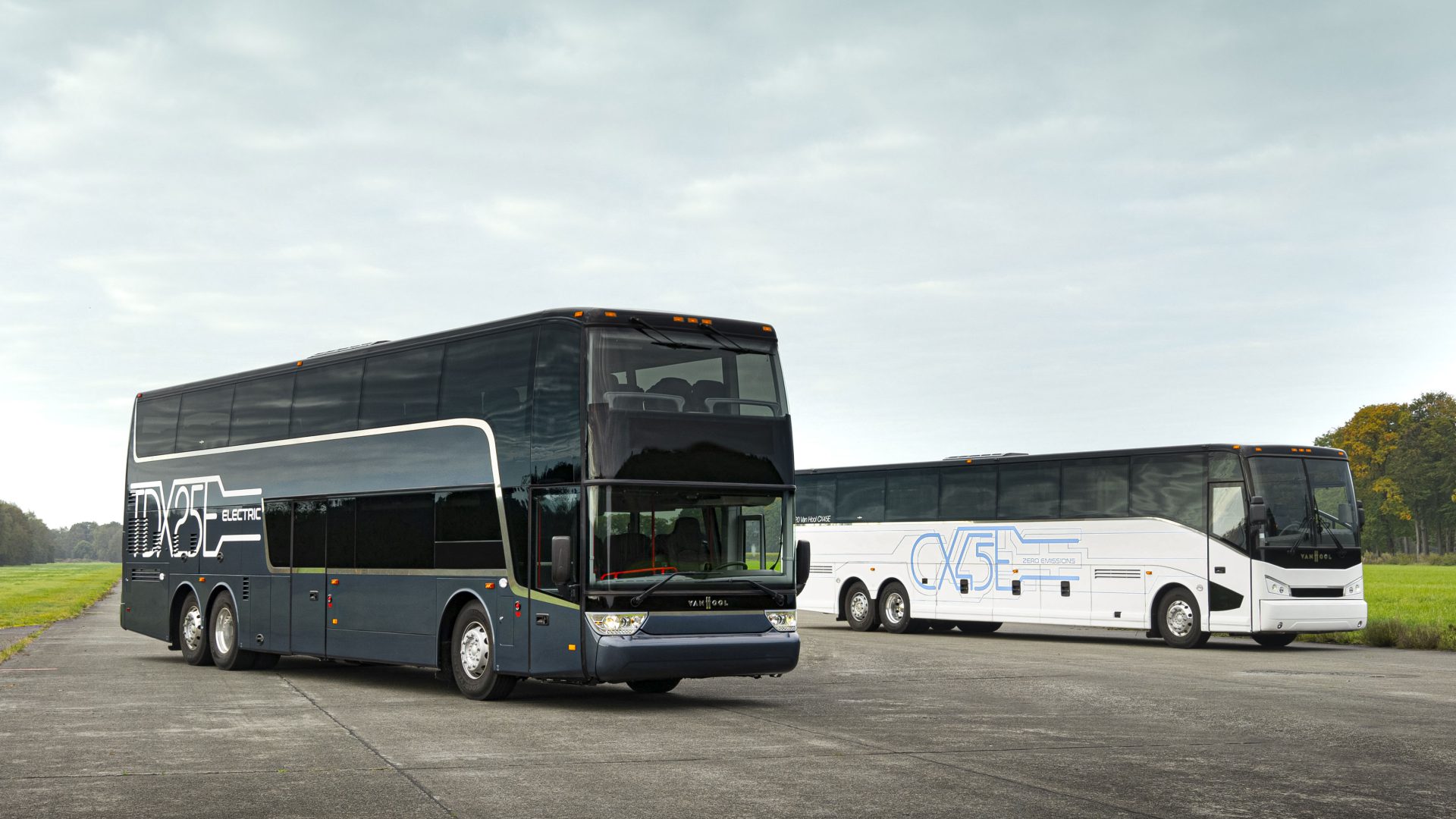 Filip Van Hool, CEO of Van Hool, explains: "American customers reacted very enthusiastically to the driving experiences with our first battery electric coach, the CX45E. This prompted us to quickly set to work on developing a battery electric double-deck, which has a higher passenger capacity. Our experience with electrical drive systems in the past, and recently with the CX45E, really helped us with the rapid development and comprehensive testing of the newest Van Hool double-deck, the TDX25E."
Electric coaches, a market in the US?
"We've been producing double-deck coaches since 1982. Twenty-five years later – in 2007 – we shipped the first double-decks to the US. And now, 15 years later, we are launching the first 100% battery electric double-deck coach on the US market. This is a second home market for Van Hool, nowhere else in the world is the demand for our double-deck coaches higher than in the USA. Globally, Van Hool has sold more than 3,500 units in 19 different countries. The partnership between Van Hool and its distributor on the North American market, ABC Bus Companies, Inc. began 34 years ago. After all these years of hard work, together we have managed to put Van Hool on the map in North America. Today there are more than 11,000 Van Hool coaches and buses on North American roads serving many customers, including a number of large Silicon Valley companies who organise shuttles for their employees. Due to demand from several customers for fully electrically driven vehicles, we at Van Hool looked for a solution," concluded Filip Van Hool.