Mercedes puts the electric module on the CNG bus: Citaro NGT hybrid is ready
Diesel – electric hybrid? Of course yes. CNG – electric hybrid? Why not! Daimler Buses, after the launch of the fully electric eCitaro, walks along on the path of mild hybrid technology. The next step is the Citaro hybrid with natural gas drive. Augsburg, in Germany, ordered 6 units of the Citaro NGT hybrid. The […]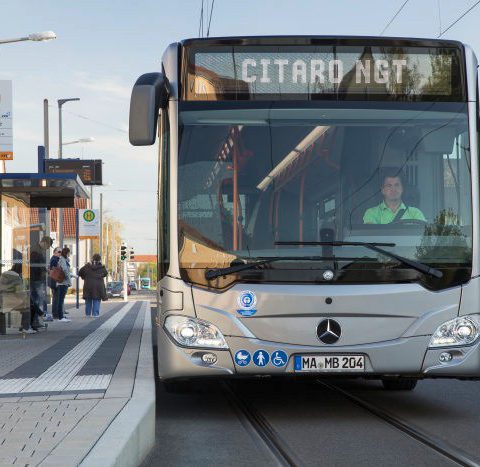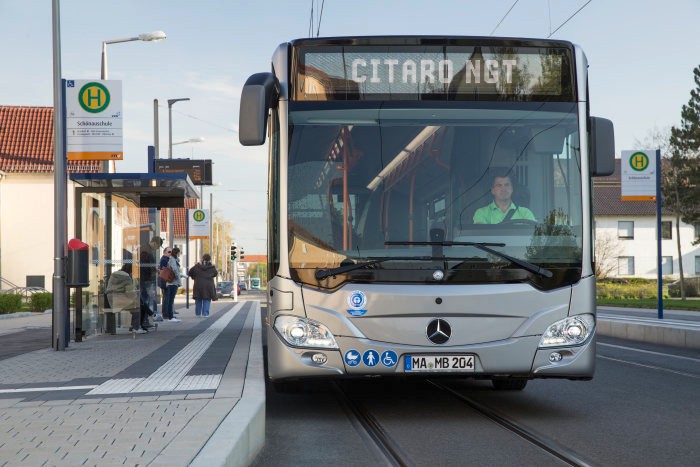 Diesel – electric hybrid? Of course yes. CNG – electric hybrid? Why not! Daimler Buses, after the launch of the fully electric eCitaro, walks along on the path of mild hybrid technology. The next step is the Citaro hybrid with natural gas drive. Augsburg, in Germany, ordered 6 units of the Citaro NGT hybrid. The very first Citaro G NGT hybrid will roll out in Oldenburg. The vehicle has been chosen also by EMT Madrid and will be deployed in Lubljana (17 units).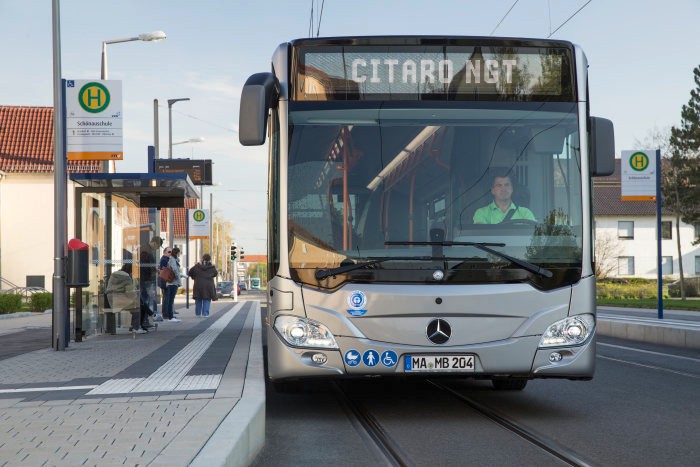 Mercedes Citaro NGT, Germany first
Gas engines emit almost no particulate matter and NOx emissions are also very low, Mercedes points out. That's why the Citaro NGT becomes a valid candidate in the trend towards more sustainable public transport systems. When used in conjunction with biogas or bio natural gas, the Citaro NGT hybrid is almost CO₂ neutral. Augsburg's public utilities are turning to this technology with their six new Citaro NGT hybrid buses. In Oldenburg, the VWG transport company will be putting the world's first Citaro G NGT hybrid articulated bus into operation, and best of all, they will be running it on bio natural gas.
Mercedes Citaro NGT Hybrid in France, Spain, Slovenia
Demand for the Citaro NGT Hybrid, Daimler points out, is high around Europe: in Bourges, central France, the transport company STU Bourges (subsidiary of RATP Dev), has also decided for the Citaro NGT hybrid as well as Spanish providers EMT Madrid and Aucorsa Cordoba (Daimler doesn't specify the number of units). Finally, in the Slovenian capital Ljubljana this summer, the first of a total order of 17 Citaro NGT hybrid buses will take to the streets.
Mercedes Citaro Hybrid in Italy
In the meanwhile, the Citaro Hybrid (with the 14 kW electric machine together with diesel engine) is establishing itself in Italy: 30 vehicles rolled out a few days ago in Florence (where also an eCitaro is running in the framework of a European trial). TPER brought the number of hybrid buses in the fleet to 86: the largest hybrid fleet in Italy. Last purchase, a fleet of 28 Citaro Hybrid, equipped with mild hybrid technology. 19 of them were presented this morning in Bologna, where two routes will be operated only with hybrid buses.
Mercedes Citaro Hybrid, Sustainable Bus Award 2019
The Citaro Ü Hybrid (intercity version) was handed the Sustainable Bus Award 2019 with this motivation: «The mild hybrid Mercedes-Benz Citaro Ü Hybrid optimizes fuel consumption with a reasonable extra-cost. In-line rear axle Mercedes RO440 also gives an extra rolling resistance optimization compared to the urban version. The vehicle offers a good balance of evaluations according to SBY's criteria. Mercedes-Benz Citaro Ü Hybrid  represents a unique product in its segment: a 7.7 litres diesel engine (260 kW) works together with a 14 kW electric motor water cooled that takes electricity from supercaps».