28 Citaro Hybrid in the largest hybrid bus fleet in Italy, by TPER
TPER Bologna brings the number of hybrid buses in the fleet to 86: the largest hybrid fleet in Italy. Last purchase, a fleet of 28 Citaro Hybrid, equipped with mild hybrid technology. 19 of them were presented this morning in Bologna, where two routes will be operated only with hybrid buses. The other 9 are already in […]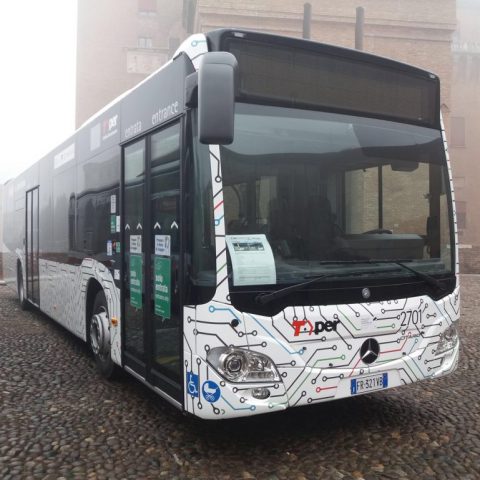 TPER Bologna brings the number of hybrid buses in the fleet to 86: the largest hybrid fleet in Italy. Last purchase, a fleet of 28 Citaro Hybrid, equipped with mild hybrid technology. 19 of them were presented this morning in Bologna, where two routes will be operated only with hybrid buses. The other 9 are already in operation in Ferrara (in the picture below). The Citaro Hybrid is currently establishing itself in Italy: 30 vehicles rolled out a few days ago in Florence (where also an eCitaro is running in the framework of a European trial).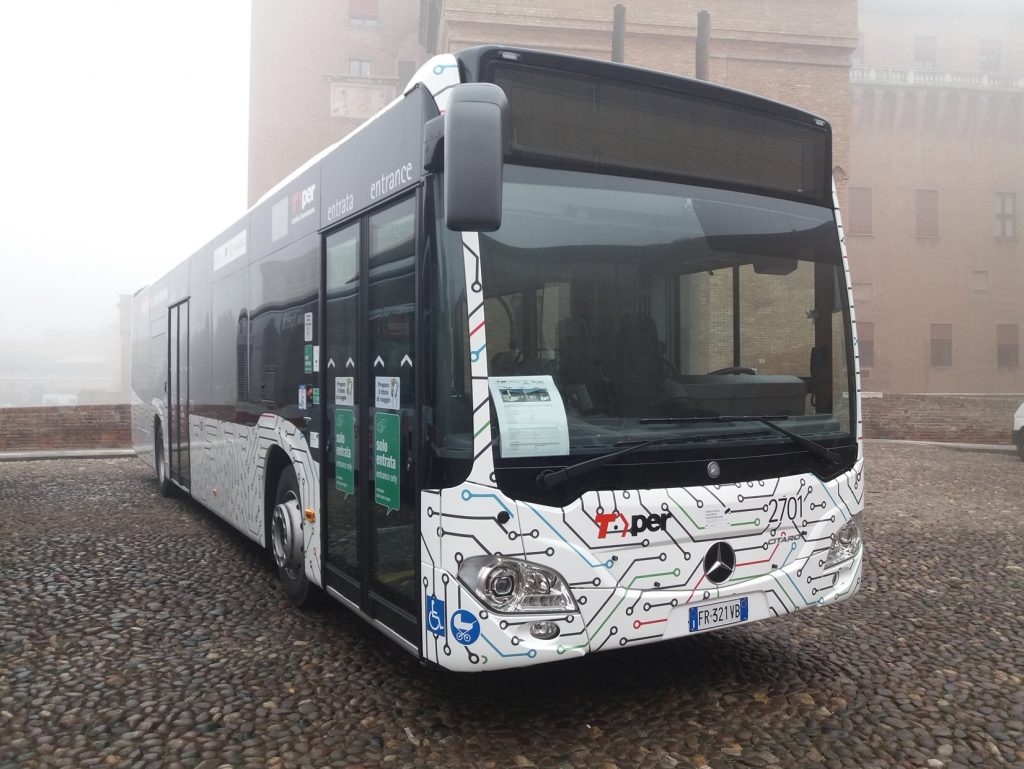 Light hybrid buses for TPER fleet
The Citaro Hybrid was unveiled two years ago in Busworld 2017. As a matter of fact, it is a canonical Citaro with the "plus" of a 14 kW electric machine and supercaps for storing energy during braking. The small electric machine help the diesel engine during efforts, making its behaviour more efficient. The savings in terms of consumption are around 8.5 per cent and are combined with the reduction of nitrogen oxides and carbon dioxide emissions. The Citaro Hybrid buses for TPER are equipped with two doors and can carry 111 passengers (26 are seated).
A supply of 28 Citaro Hybrid. And the first LNG buses…
The 19 new buses for TPER are part of a supply of 28 vehicles, for a total value of 6.2 million euros; 90% of the investment was made by the operator itself and the remaining 10 per cent with EU funds "POR-FESR 2014-2020". The investment is part of a fleet renewal plan along three axles: hybrid, methane and electric technologies are the choices identified by TPER on the basis of the different characteristics of the network. With regards to methane, TPER prides itself to be the first public transport company in Europe to receive LNG buses: Industria Italiana Autobus and Scania will supply 31 city buses and 15 intercity buses respectively.