Allison to offer an electric axle drivetrain for electric buses
Allison Transmission launches in North American market an electric axle powertrain system developed for electric buses. The company unveiled the new e-axle range, under the denomination ABE series, at the Advanced Clean Technology Expo in Long Beach, California. In late April Allison announced the purchase of Vantage Power and AxleTech's electric vehicle (EV) systems division in order […]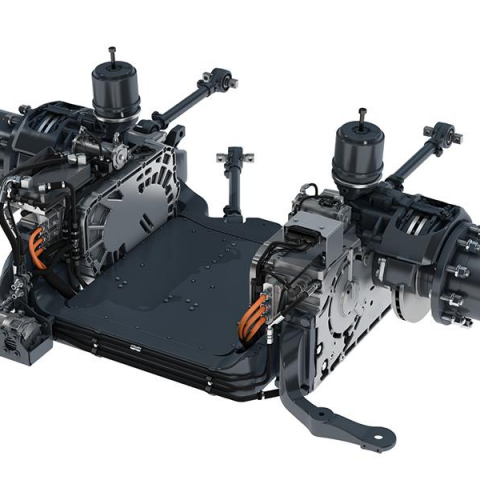 Allison Transmission launches in North American market an electric axle powertrain system developed for electric buses. The company unveiled the new e-axle range, under the denomination ABE series, at the Advanced Clean Technology Expo in Long Beach, California.
In late April Allison announced the purchase of Vantage Power and AxleTech's electric vehicle (EV) systems division in order to extend current electric hybrid technologies and develop new electrified propulsion solutions.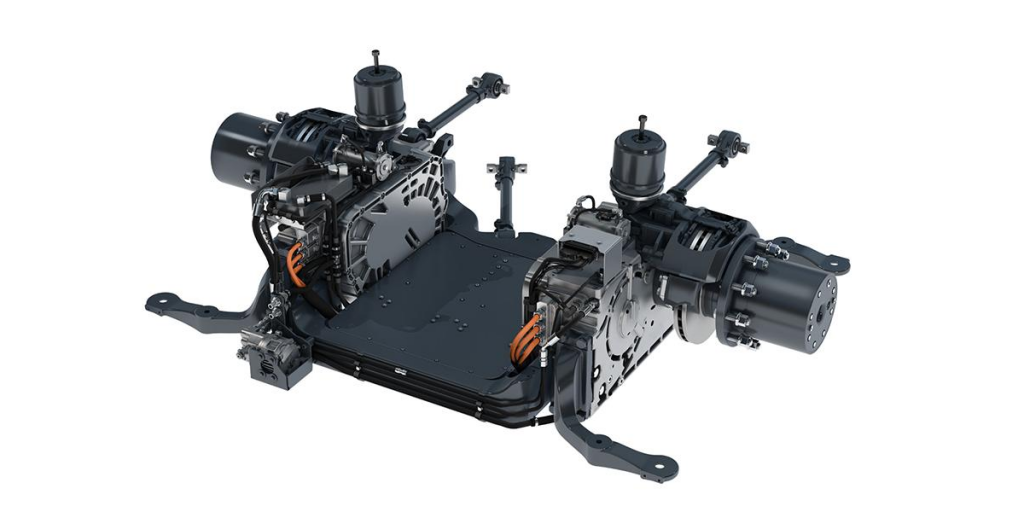 The first customer is Alexander Dennis
At the same venue, Allison and Alexander Dennis announced that the two companies are working together to develop the first electric double decker bus in North America, ordered by Foothill Transit (whose goal is a full electric fleet by 2030). Thus, ADL will be the first customer of Allison ABE system, that will take the place of BYD powertrains system, also based on in-wheel electric motor, in the version of the electric double decker bus for North American market. This cooperation apparently reveals a change of plan compared to the announcement dated July 2018, when it was officially said that the double decker electric bus was to be developed by ADL together with Proterra.
Allison ABE Series for any kind of electric buses
The ABE Series consists of an electric axle and is available in single speed and 2-speed options. It is designed to fit double-decker buses, low-floor city buses, non-low floor buses and articulated buses, replacing the vehicle's traditional powertrain system  It includes dual electric motors, power electronics, a multi-speed gearbox, oil cooler and pump in a single system. The single-speed version (ABE130D1) can develop a maximum of 22,800 Nm to the wheels, while the 2-speed (ABE130D2) version offers 37,200 Nm. Both versions have an output of 400kW continuous power.
Thus, Allison now apply as a provider of electric drivetrain for electric buses, a segment where the main competitor is ZF with its electric axle AxTrax, chosen also by American manufacturer New Flyer. To date, Allison Transmissione prides itself to be the world's largest manufacturer of fully automatic transmissions for medium- and heavy-duty commercial vehicles and leader in electric hybrid-propulsion systems for city buses.
Allison to be ready for bus fleets electrification
"Allison has a long history with the bus and transit market utilizing our electric hybrid system. This is the next evolution of electrification in this market, and we are pleased to meet the needs and expectations of our customers," said David S. Graziosi, Allison Transmission, President and CEO.
"We are delighted to collaborate with Allison on our first electric double decker order in North America for Foothill Transit," said Robert Davey, President, Alexander Dennis. In Europe, as widely known, ADL electric buses are realized on chassis provided by Chinese manufacturer BYD.  "As the world's largest double decker bus manufacturer, we see an increasing demand for electric buses, which combines the same high-passenger capacity and outstanding comfort that our vehicles are renowned for, with zero-emission technology. Partnering with Allison, and leveraging their technology expertise, is helping us achieve this goal."
Allison Transmission purchased Vantage Power and AxleTech's EV division
In late April 2019 Allison Transmission also announced the take over of Vantage Power and AxleTech's electric vehicle (EV) systems division. The goal is clear: to get ready in order to extend current electric hybrid technologies, developing new electrified propulsion solutions. Both of these acquisitions complement Allison capabilities to advance electrification adoption in commercial vehicles.
Vantage Power is an award-winning London-based technology company specializing in developing electrified propulsion and connected vehicle technologies for medium- and heavy-duty vehicle manufacturers and their suppliers. With particular focus on battery technology development, vehicle integration and control systems, as well as vehicle connectivity and telemetry, Vantage Power technologies have been deployed in a wide range of applications including complete electric hybrid repower systems for buses to grid energy storage.
AxleTech is a leading technology company that designs, engineers, manufactures, sells and services axles and integrated electrified axle solutions for on- and off-highway heavy-duty commercial vehicles. With industrial roots established in 1919, the company's nearly 800 worldwide employees drive the company to develop advanced powertrain systems, axles, components and aftermarket parts for global customers. The EV systems division is located at AxleTech's headquarters in Troy, Michigan.