Foothill Transit and its first double decker electric buses. By Alexander Dennis and Proterra
Yes, double decker buses are really not so common in US cities. While London is converting step by step its red double decker bus fleet to electricity, Foothill Transit (that operate just outside Los Angeles) has ordered its first buses of this kind. With electric drive as well. A double premiere on the streets of […]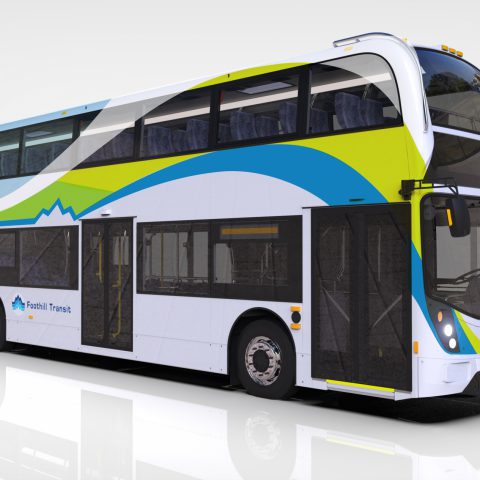 Yes, double decker buses are really not so common in US cities. While London is converting step by step its red double decker bus fleet to electricity, Foothill Transit (that operate just outside Los Angeles) has ordered its first buses of this kind. With electric drive as well. A double premiere on the streets of the Californian city. The buses will be realized by Alexander Dennis, a real authority in the field, with Proterra's battery system and drivetrain technology, and will hit the road from 2019.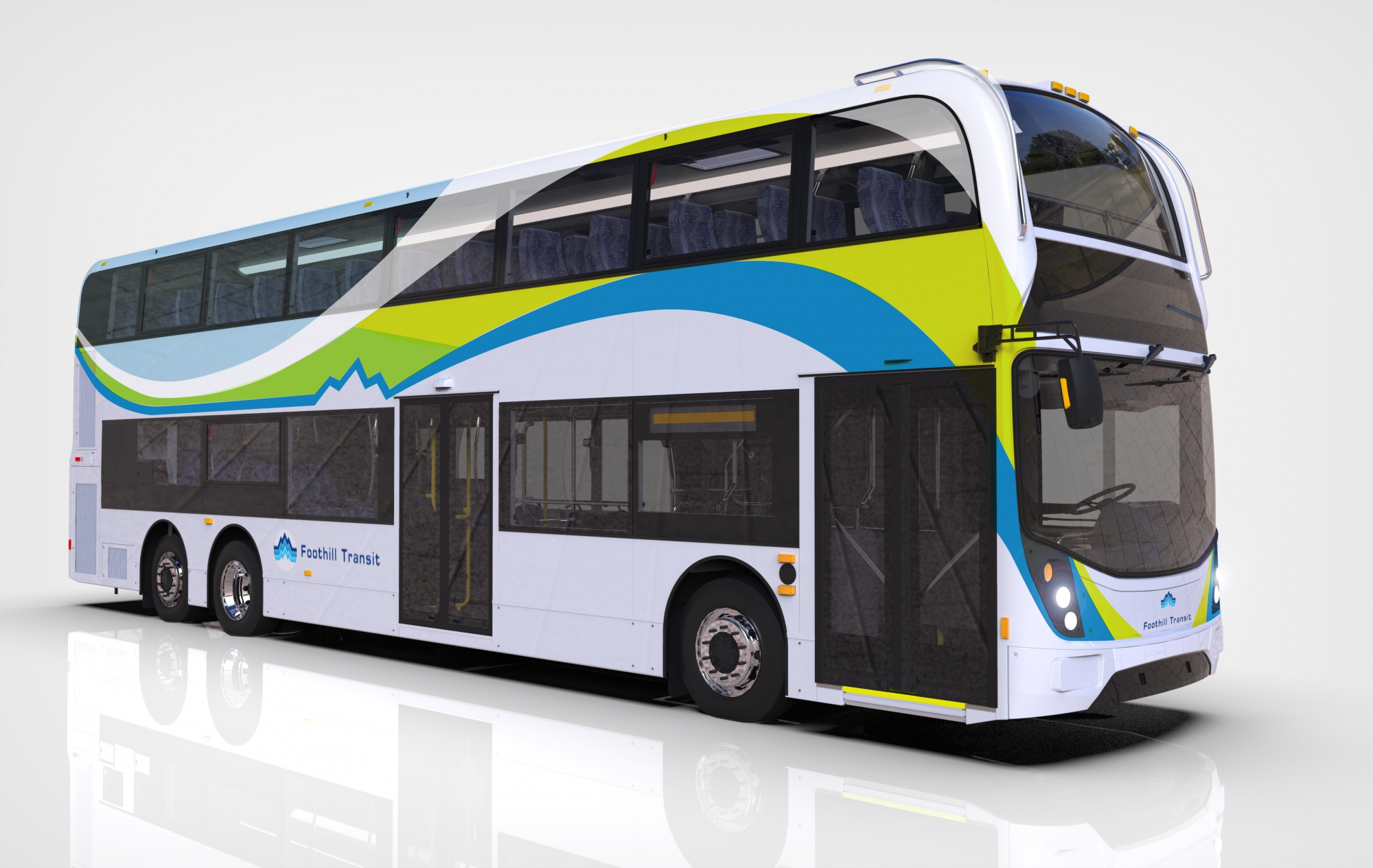 Foothill going electric with Proterra… and ADL
Proterra to Los Angeles and Canada
The double decker buses by Alexander Dennis and Proterra will be able to carry 80 passengers in the same footprint as a 38-passenger single-deck bus, said Doran Barnes, executive director of Foothill Transit. The National Renewable Energy Laboratory found that electric buses were eight times more energy efficient than those that ran on natural gas. Proterra will soon enter Canadian market, thanks to an order of 10 Catalyst E2 electric buses signed by Toronto transit commission (Ttc). The purchase of these two electric double decker buses from Alexander Dennis, states the press release by Foothill Transit, is made possible by a Metro Express Lanes Toll Revenue Capital Grant awarded to Foothill Transit in 2018 for $1.4M. Foothill Transit will replace two 12-year old compressed natural gas (CNG) commuter express buses with two Alexander Dennis Enviro500EVs.
Electric buses in the States grew 83% in 2017
According to the consulting company Eb Start Consulting, during 2017 the number of electric buses delivered to US public transit agencies grew 83 percent (182 electric buses in service at 1/1/17, 383 one year later). Although market penetration remains low at about 0.5% of the total U.S. public transit bus market, 9% of all transit agencies either had electric buses in service or on order at the end of 2017. The market leaders? Proterra and BYD, both of which have recently tripled their manufacturing capacity to keep up with the demand. New Flyer come third.

Foothill Transit forerunner in electric transition
California transit agencies are the largest consumer of electric transit buses, followed by Indiana and Washington, still according to the electric bus consulting firm Eb Start Consulting. Foothill Transit's leadership in electric bus integration began in 2010 when it became the first public transit agency in the nation to deploy three Proterra fast-charge, all electric buses. To date, Foothill Transit's electric fleet had logged over one and a half million miles of service in Southern California."Deploying the Enviro500EV will be transformative for Los Angeles and for the United States," said Doran Barnes, Executive Director of Foothill Transit. "No other transit agency in the country utilizes this technology on commuter express routes. And adding seats without increasing traffic congestion or local greenhouse gas emissions is the ultimate benefit for one of the nation's most heavily traveled corridors."
The demand of electric buses is globally increasing
"Our double deck buses have helped revolutionize passenger transport in cities across North America and around the world by transporting the highest number of passengers, seated in comfort and safety, on the same road occupancy footprint as single deck vehicles. We're now seeing increasing global demand for electric buses which combine the same high passenger capacity and outstanding comfort, with zero emisison technology.," said Robert Davey, President of Alexander Dennis Inc. "As congestion and local air quality challenges remain top of every transit authorities' agenda, we're excited to raise the bar in Los Angeles County with transit pioneer, Foothill Transit, and heavy-duty electric vehicle technology innovator, Proterra."
Proterra helping Alexander Dennis on the way to electricity
"It seems fitting that Foothill Transit, our first battery electric bus customer, will pioneer this next phase of the sustainable transit revolution," said Ryan Popple, CEO of Proterra. "As electric mobility continues to evolve, we're pleased to extend our battery technology to world class, heavy-duty manufacturers like Alexander Dennis in their pursuit to go electric. The opportunities to electrify medium- and heavy-duty platforms with our technology, from transit vehicles to trucks and school buses, are abundant."