Eberspaecher is ready for Busworld Europe: focus on air conditioning systems for e-buses
Eberspaecher is presenting two new air conditioning systems for hybrid and battery-electric buses at Busworld Europe 2023 in Brussels. With the AC135 AE, Eberspaecher offers a roof-mounted system with a built-in compressor for medium-sized to large passenger compartments. "The all-electric platform includes a varied, cost-effective portfolio with a cooling capacity of up to 40 kW. An […]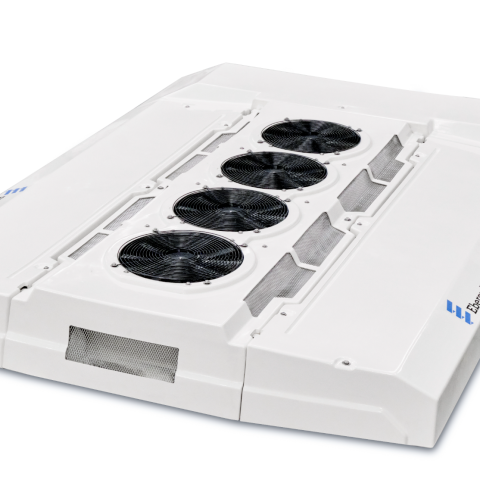 Eberspaecher is presenting two new air conditioning systems for hybrid and battery-electric buses at Busworld Europe 2023 in Brussels.
With the AC135 AE, Eberspaecher offers a roof-mounted system with a built-in compressor for medium-sized to large passenger compartments. "The all-electric platform includes a varied, cost-effective portfolio with a cooling capacity of up to 40 kW. An integrated battery cooling module maintains a constant battery temperature, which extends the service life and ensures greater efficiency. The system's lightweight construction additionally promotes low energy consumption", the supplier says.
Eberspaecher at Busworld 2023
The AC138 EVO heats and cools medium-sized to large busses in a particularly energy-saving manner with its own patented heat pump technology. The innovation lies in the reversal of the air circuit, rather than the refrigerant circuit. This ensures a less complex setup, weight reduction of up to 15 percent to 325 kg, and, last but not least, a longer range for e-buses. The AC138 EVO operates on the climate-friendly refrigerant CO2 (R744). The natural refrigerant is much more environmentally friendly and safer than chemical alternatives. With a GWP (Global Warming Potential) value of 1, it has the lowest greenhouse potential used in bus thermal management.
In addition, Eberspächer states it will be launching updated versions of well-known products in the fourth quarter of 2023: The Hydronic L3 is the successor to the fuel-operated heater with a standard integrated nozzle preheating system. Preheating the heater fuel allows reliable starting, stable operation, and reduced emissions. For the first time, the new generation has a CAN- and LIN‑capable controller and a brushless electric drive. This enables less wear, a longer service life, and greater efficiency. Four versions – from 16 to 35 kW heat output – address the different customer needs. A special feature is the automatic altitude adjustment. Depending on the model, the Hydronic L3 is suitable for operation at altitudes of up to 4,000 meters. In addition, the device can be operated with HVOs without further modification, as is already the case in Northern EU countries. The fuel is made from hydrogenated vegetable oils and reduces greenhouse gas emissions by 90 percent compared to fossil diesel.
All three systems are compatible with the specially developed, tried-and-tested E-Control. Maximum user-friendliness and a wide range of customizable functions make E-Control the perfect control system for all air conditioning components in the bus. The in-house hardware and software permit highly efficient customer-specific modification or reprogramming. An interface to the respective customer system is possible via CAN. In addition, E‑Control allows units, such as the AC135 and AC138 EVO, to be integrated with the e‑connected web application. e‑connected is a digital service platform from Eberspaecher that complements the global service network. It works via a gateway in the vehicle, which transmits operating data to a cloud and thus enables a large number of data-based solutions, such as predictive maintenance to avoid unexpected failures or long downtimes through early error detection.