Busworld Europe 2023: what you will find in Brussels [constantly updated]
Busworld Europe 2023 is set to take place in Brussels from October 7 to 12. With over 500 exhibitors and an ambitious target of 40,000 visitors, this event promises to be a game-changer. Check out our anticipations and prepare your visit!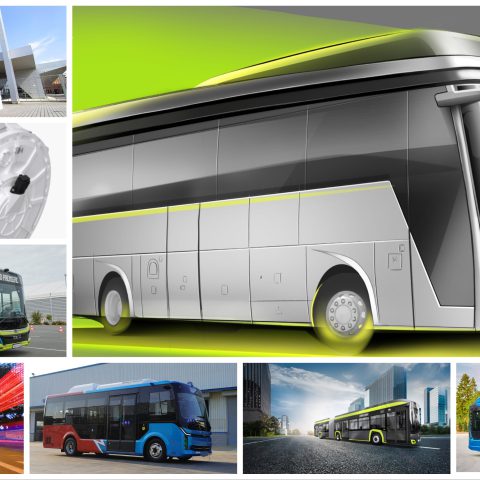 Busworld Europe 2023 is fast approaching. Scheduled in Brussels from 7 to 12 October, it'll be hosting over 500 exhibitors with the aim of gathering 40,000 visitors.
'What's new? At Busworld you will see!". At the UITP show in Barcelona it was a constant refrain. A good number of manufacturers and suppliers have kept the news in store for an exhibition that, four years after its last edition (here our report from 2019 edition!), promises to really make a 'bang'.
Busworld Europe returns to Brussels, for the second time after the move from Courtrai, and the organisers' expectation is to reach 40,000 visitors and 500 exhibitors. In an interview with us in May, Busworld CEO Mieke Glorieux had quantified the number of new companies at the fair at 27 per cent.
****** IMPORTANT:
The exhibition will be also for us the opportunity to launch a new product in our offering: starting from October 2023, Sustainable Bus magazine is available also through subscription service.
You'll be able to find us at Hall 11 Stand 5F.
CLICK HERE FOR MORE INFO (or write to info@sustainable-bus.com)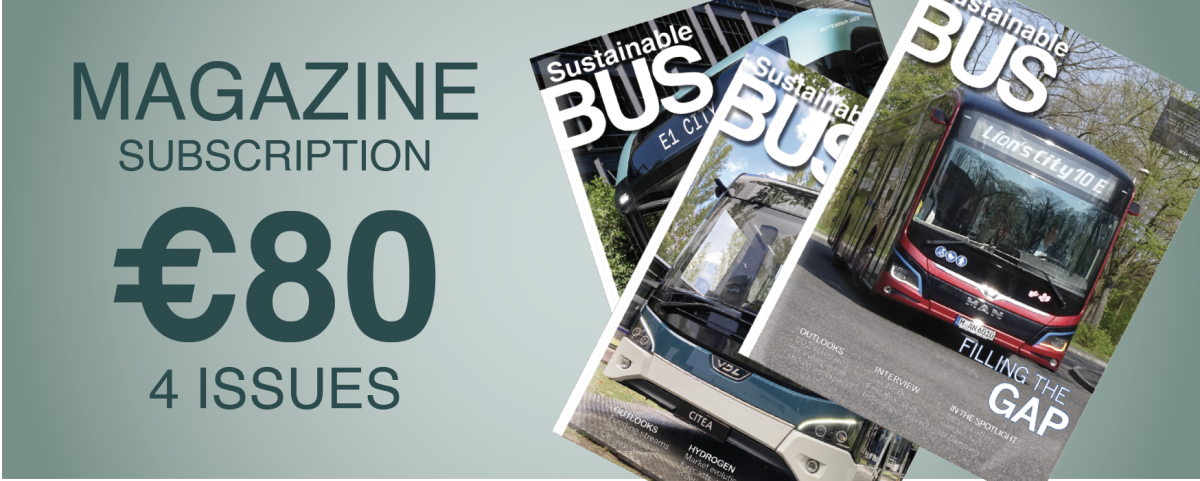 Busworld Europe 2023, with ZEB Conference and Sustainable Bus Awards
We only have to wait a little over a month to see if the 2023 edition of the fair will beat the extraordinary results of 2019, when the fair ended with 39,000 visitors from 143 countries, 511 exhibiting companies, 309 vehicles on display and 154 speakers in the conference programme.
Programme that this year will be enriched by the Zero Emission Bus Conference, a leading conference at European level as regards the electrification of public transport, which after a series of editions in London, Cologne and Paris, this year will be held in correspondence with Busworld in the same venue as the Brussels fair.
The Sustainable Bus Awards 2024 will be delivered during the gala dinner on the eve of the Busworld Brussels 2023. Also the Busworld awards will be handed over.
Daimler Buses, focus on safety at Busworld
At an exhibition stand with a surface of 2700 square metres (together with Van Hool, the largest of the whole expo), Mercedes-Benz and Setra will showcase at Busworld Europe eight buses and coaches (eCitaro fuel call will not be missing, as well as the new Setra MultiClass 500 LE). Three more vehicles from the two major bus and touring coach brands on display in the outdoor exhibition area, including two for test drives.
The event highlights electromobility, safety, sustainability, and new services. Daimler Buses' strength in these areas, including electromobility and safety systems, will be emphasized at Busworld Europe 2023 in Brussels from October 7 to 12.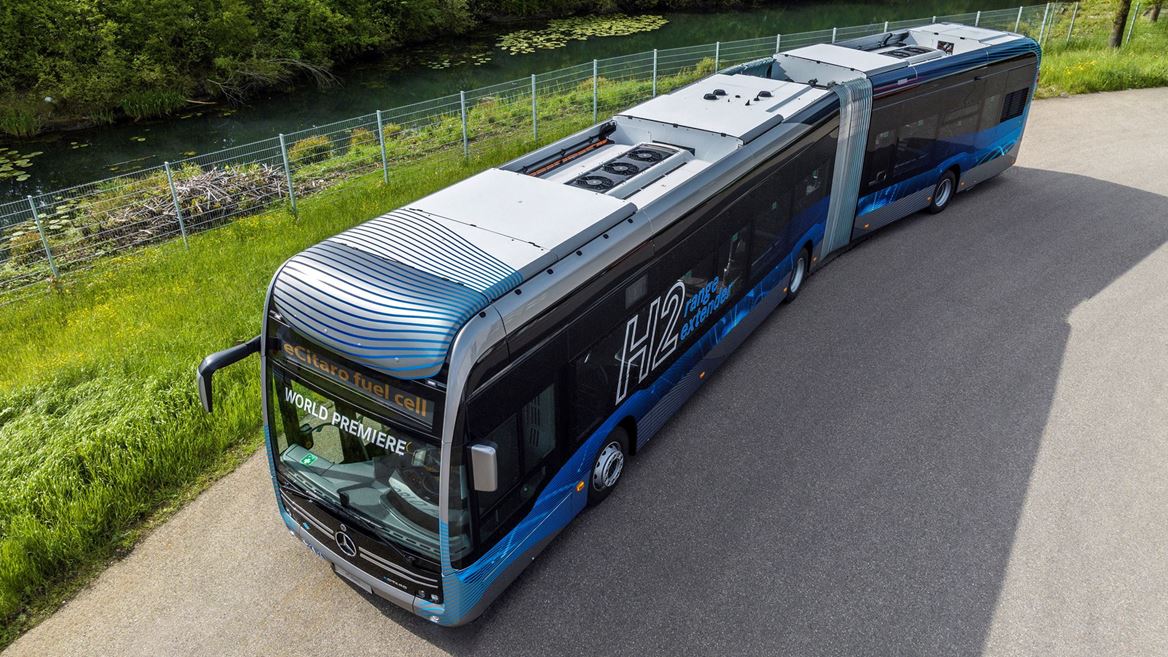 The brand anticipates that "All vehicles bearing the Mercedes star share a host of new safety and assistance systems". At Busworld Europe 2023 in Brussels, Daimler Buses will be showcasing a comprehensive range of new and enhanced assistance systems, starting with ABA 6, Preventive Brake Assist 2, Sideguard Assist 2 (now available also on the left side).
Iveco Bus: news expected!
After presenting the electric version of the Crossway Low Entry at the UITP Summit earlier this year, Europe's leading Class 2 bus will also be in the spotlight in Brussels. Powered by a Cummins motor (formerly Siemens) soon to be available in an upgraded version, the Crossway LE Elec will come in 12 and 13 metre sizes. 10.8 metres? Not planned, as well as three-axle declinations.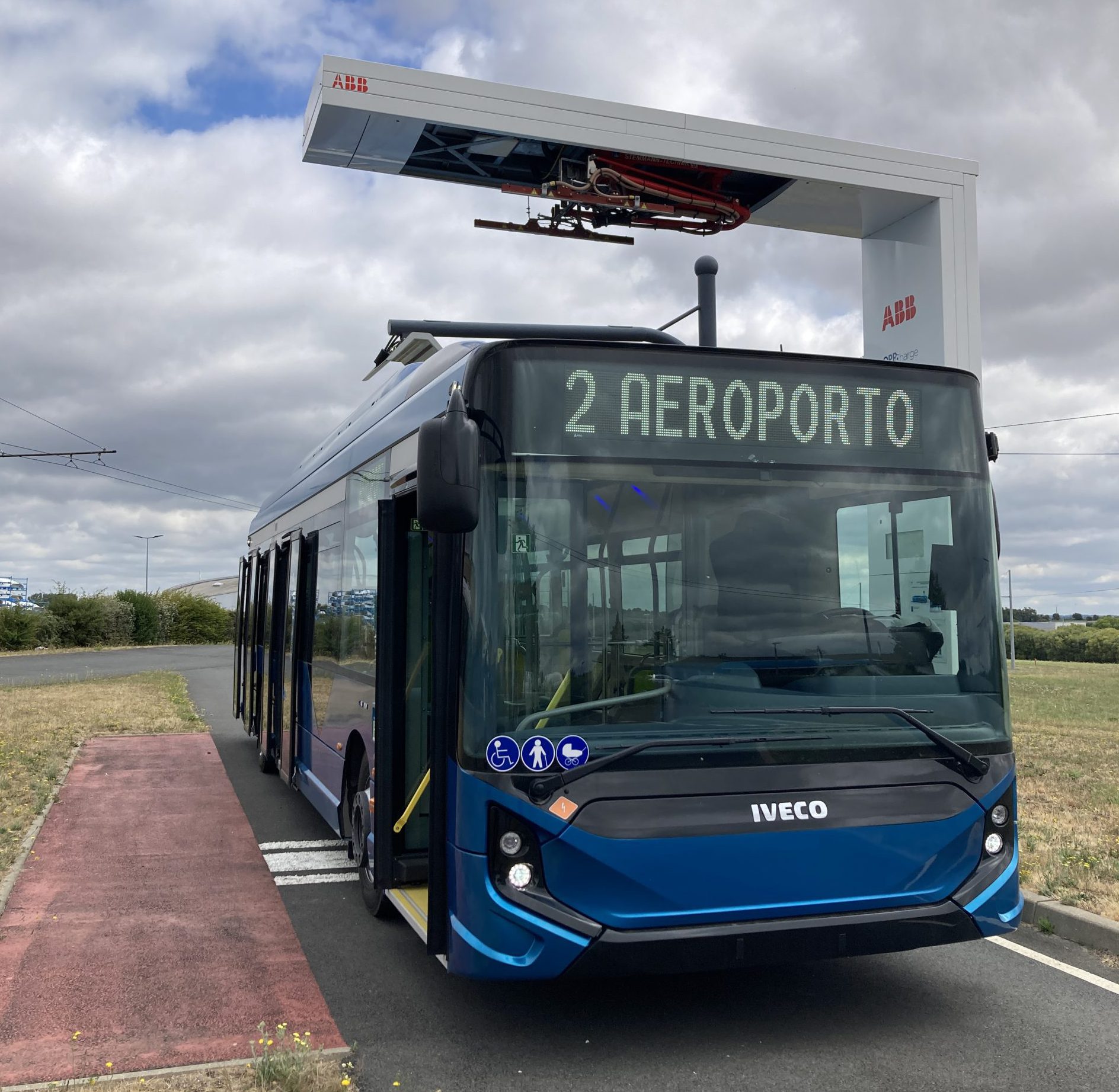 The usual production volume of the Crossway is over 4 thousand units per year at the Czech plant in Vysoke Myto. Two thousands are Low Entry (whose volume is on an increasing trend), a quarter of which are homologated in Class I.
MAN with the electric Low Entry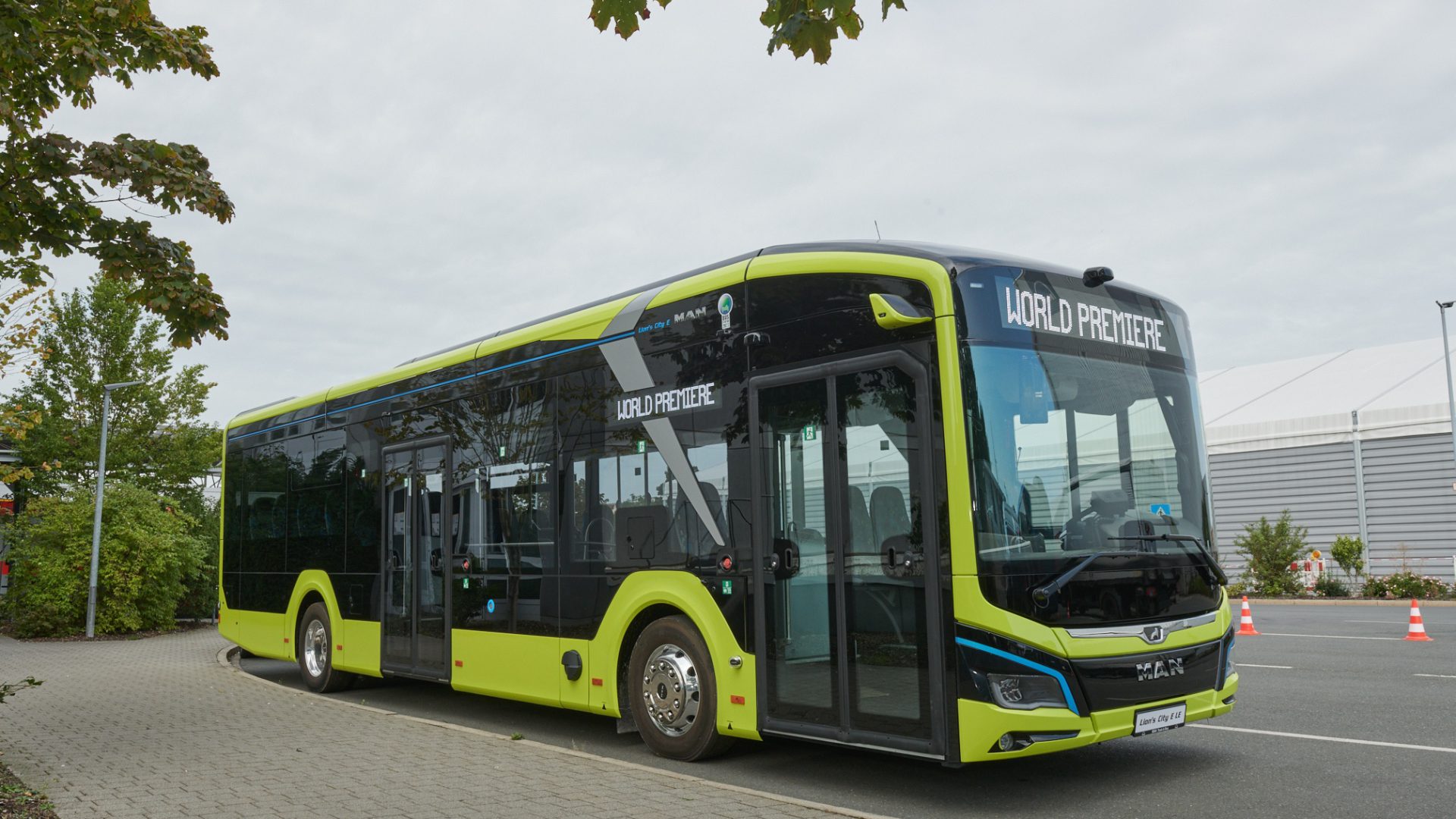 What about MAN? The Bavarian manufacturer will focus on electronics: a series of updates will be launched in Brussels to make the coach platform capable of handling the new generation of ADAS. Technologies that will gradually gain prominence: from 2024, blind spot monitoring systems will become mandatory.
What is more, MAN is unveiling at Busworld the Lion's Intercity LE 14m and the Lion's City E Low Entry. These two novelties were announced at the press conference held in Nuremberg on 18th September.
Irizar: the fuel cell coach!
Irizar will 'donate' the fair one of its most important innovations. Busworld 2023 may go down in the annals for hosting the first presentation of a hydrogen-powered coach. In Brussels Irizar is indeed going to unveil the Irizar i6S Efficient Hydrogen. Lot's of hype!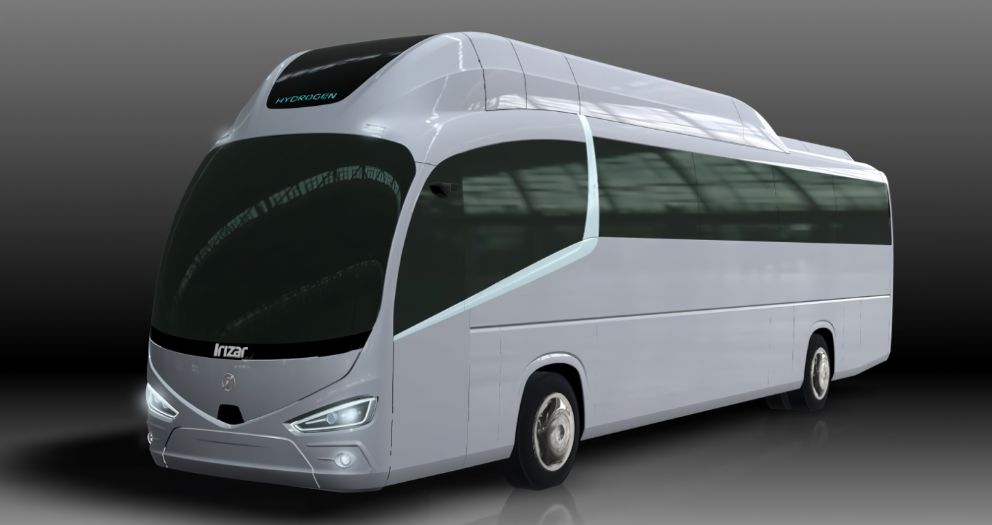 Otokar at Busworld Europe 2023 between hydrogen and autonomous mobility
Many product news will be launched by Otokar, that will bring in Brussels six vehicles, three of which will make their world premieres. The e-Territo, a 13-meter electric coach falling under Class 2, will be on display, showcasing the company's strides in electric mobility for intercity travel. Also making its debut is the Kent hydrogen, a 12-meter city bus powered entirely by hydrogen fuel cells.
In the outdoor dynamic presentations, Otokar will unveil an autonomous version of the e-Centro, aligning with the growing interest in self-driving technology for public transportation.
Temsa and CaetanoBus: a H2 coach in the spotlight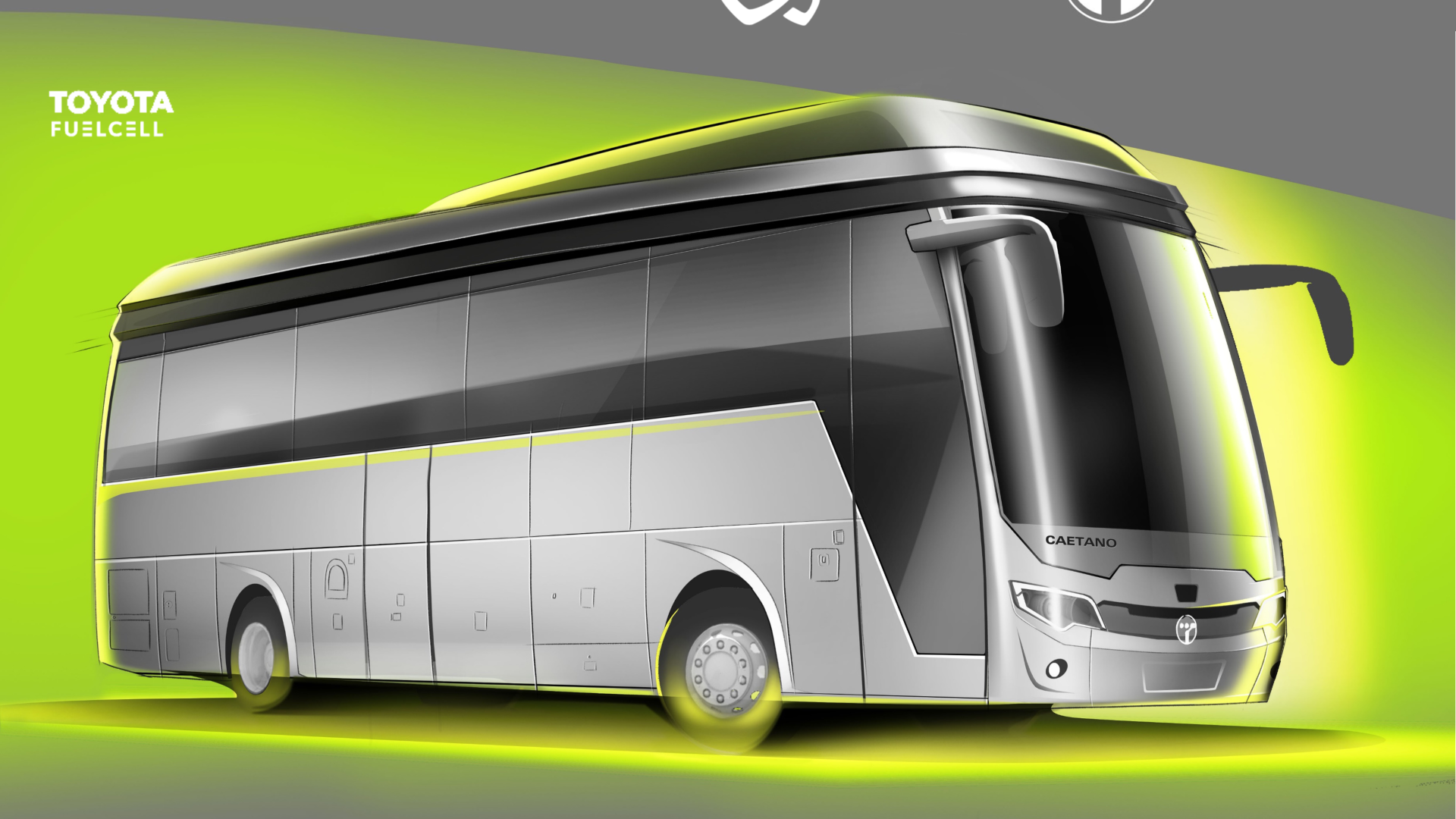 CaetanoBus and Temsa have announced on 13th September that they are about to launch a jointly-developed fuel cell coach in 2024. The vehicle will be based on the battery-electric Temsa HD12, with fuel cell technology coming from CaetanoBus partner (and shareholder) Toyota.
It's unclear wether the concept will be on stage at Busworld or not. The two brands state in the press release announcing the launch: "To delve deeper into the realm of this revolutionary hydrogen-powered coach, don't miss the chance to visit the CaetanoBus and Temsa stands at BusWorld 2023. This premier industry event will provide an exclusive opportunity to explore firsthand the cutting-edge features and benefits of this pioneering solution, shaping the future of sustainable and comfortable coach travel".
Three vehicles for Rampini at Busworld Europe 2023
Rampini will be exhibiting its newly updated portfolio. Sixtron, Eltron, Hydron: this is the triad proposed by the Italian manufacturer, whose flagship is the hydrogen-powered eight-metre (a unique product at European level).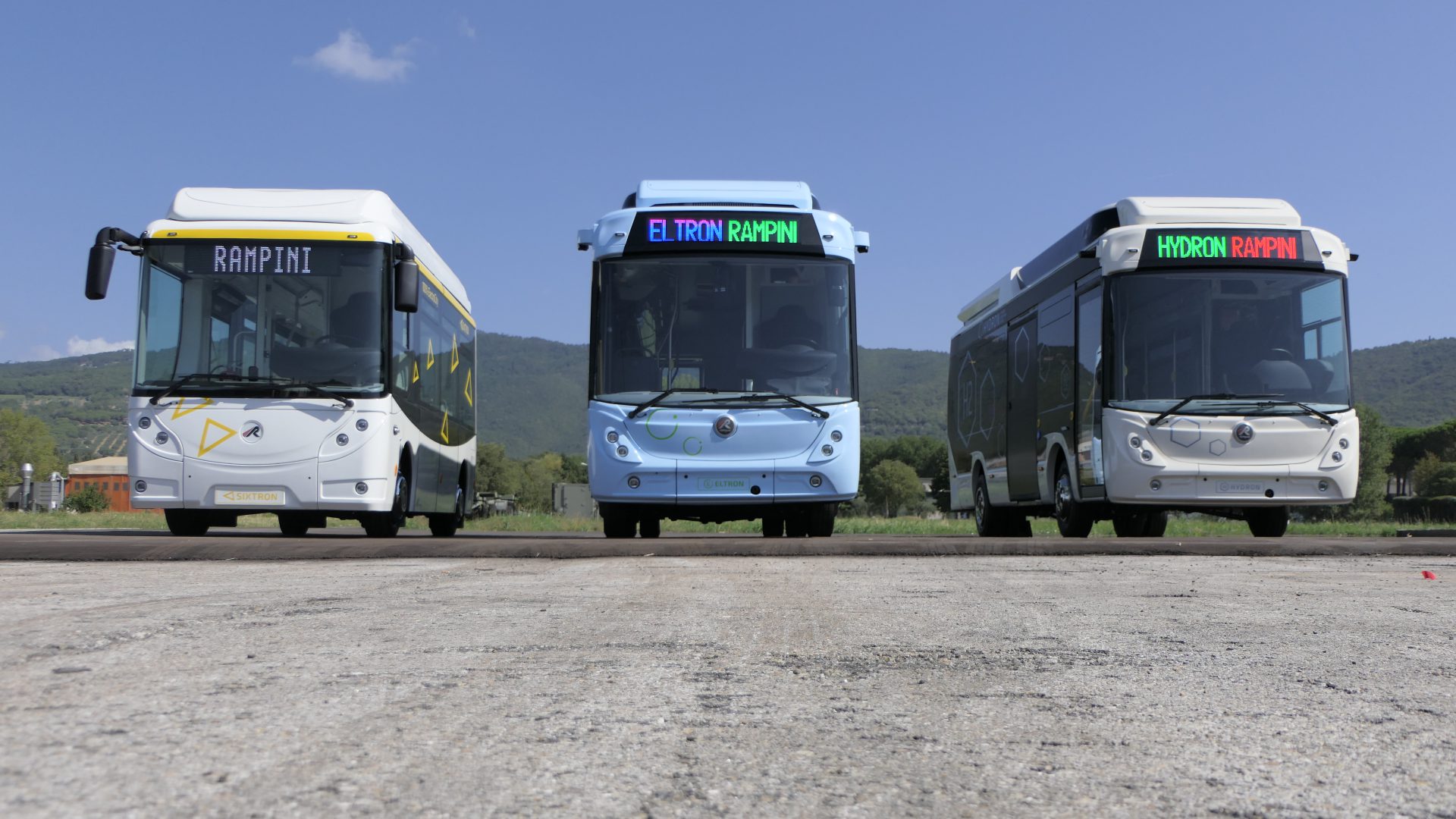 Rampini developed the Hydron bus using its battery-electric bus model, with modifications to incorporate fuel storage and a Loop Energy S300 (30 kW) fuel cell engine (the cooperation with the Canadian fuel cell supplier was kicked off at NME 2022 in Milan). At 8-metres long, the bus has capacity for up to 48 passengers and is fitted with a 10.8 kilogram hydrogen tank that allows for a range of 450 kilometres. The extended range of the bus means operators do not have to refuel while in service.
Yutong U18 at Busworld Europe in Brussels
Yutong will be at the fair with four models, including some interesting innovations. In particular, Yutong will present the articulated version of the U18, being the U12 the e-bus developed for the European market already presented at Busworld 2019… and never put into service. But sources close to the Chinese group say the time has now come. The U18 will take its place in the spotlight at the Brussels show alongside the U11 double-decker, headed to the British market.
Closing the circle, an extra short (the seven-metre E7) and the three-axle battery-powered coach T15E, ready to preside over a segment, that of the zero-emission coach, which is still embryonic.
Scania – Castrosua with a Low Entry e-bus
Scania has a surprise in store for those who will be attending Busworld Europe 2023 in Brussels. The group, that earlier this year has announced the decision to cease body production for Scania bus chassis in Poland and to continue offering complete buses and coaches thanks to partnerships with bodybuilders (the business model already adopted for 90 percent of Scania bus sales worldwide), will premiere in Brussels a Scania Castrosua LE 4×2 equipped with 520 kWh of battery capacity.
13-meter long, it features independent front axle suspension, according to the very few specifications shared by the group so far.
Oddly enough, in 2021 Castrosua announced the launch of its new Nelec plastform presenting it as a busbody on Scania electric chassis.
BYD at Busworld in cooperation with UNVI
BYD will be showcasing at Busworld its eBus B12, the very first 12-metre eBus to utilise the all-new Blade Battery eBus platform. Another new entrant to the BYD eBus family is the BYD-UNVI DD13, 13-meter double decker ebus, which also makes its debut at Busworld Europe. They are joined by the BYD 15-metre eBus and the BYD 19-metre eBus, also being displayed on our stand.
Mellor first 12-meter e-bus is ready
Mellor will reveal its new Sigma 9 and 12 buses for the very first time in Brussels at Busworld Europe 2023. Mellor's attendance at Busworld comes after the business has experienced exceptional growth in the last three years.  
"The Sigma 9 requires just 60% of the battery power of the average single deck bus and with two battery options, offers customers choice and flexibility. Distinguished by its narrow width of just 2.35m and lightweight construction, the 60-passenger, Sigma 9 is a linchpin in Mellor's 6-model Sigma line-up", the manufacturer states.
Mellor's new Sigma 12 will also be on display for the first time at Busworld. With capacity for over 80 passengers, Sigma 12 marks Mellor's entry into the high-capacity city bus market.
Solaris articulated e-bus, updated

Solaris will display two zero-emission buses at Busworld 2023. Both the Urbino 18 electric bus equipped with "a new architecture of electric driveline and a new generation of batteries to ensure an increased range" and the articulated hydrogen bus represent two important areas of the manufacturer's e-mobility offering. Solaris' attendance of Busworld will be complemented by #SolarisTalk, a series of presentations and talks on innovative public transport.
Karsan and Isuzu at Busworld
Karsan will be showing in Brussels e-Jest, Autonomous e-Atak (a model will also be on the road in the outdoor area), and e-Ata Hydrogen.
Among the vehicles that will be brought in Brussels by Isuzu there's the Citivolt 12, the first 12-meter e-bus in the Turkish group's offer.
MCV at Busworld in Brussels
Volvo does not appear in the exhibitor list. There will, however, be the Egyptian coachbuilder MCV, which will henceforth be responsible for Volvo's electric range and a few months ago launched a 12-metre battery-powered bus under its own brand dedicated to the German market (under the aegis of its Teutonic subsidiary MCV Germany).
Safra: welcome HYCITY! Bluebus with new 6m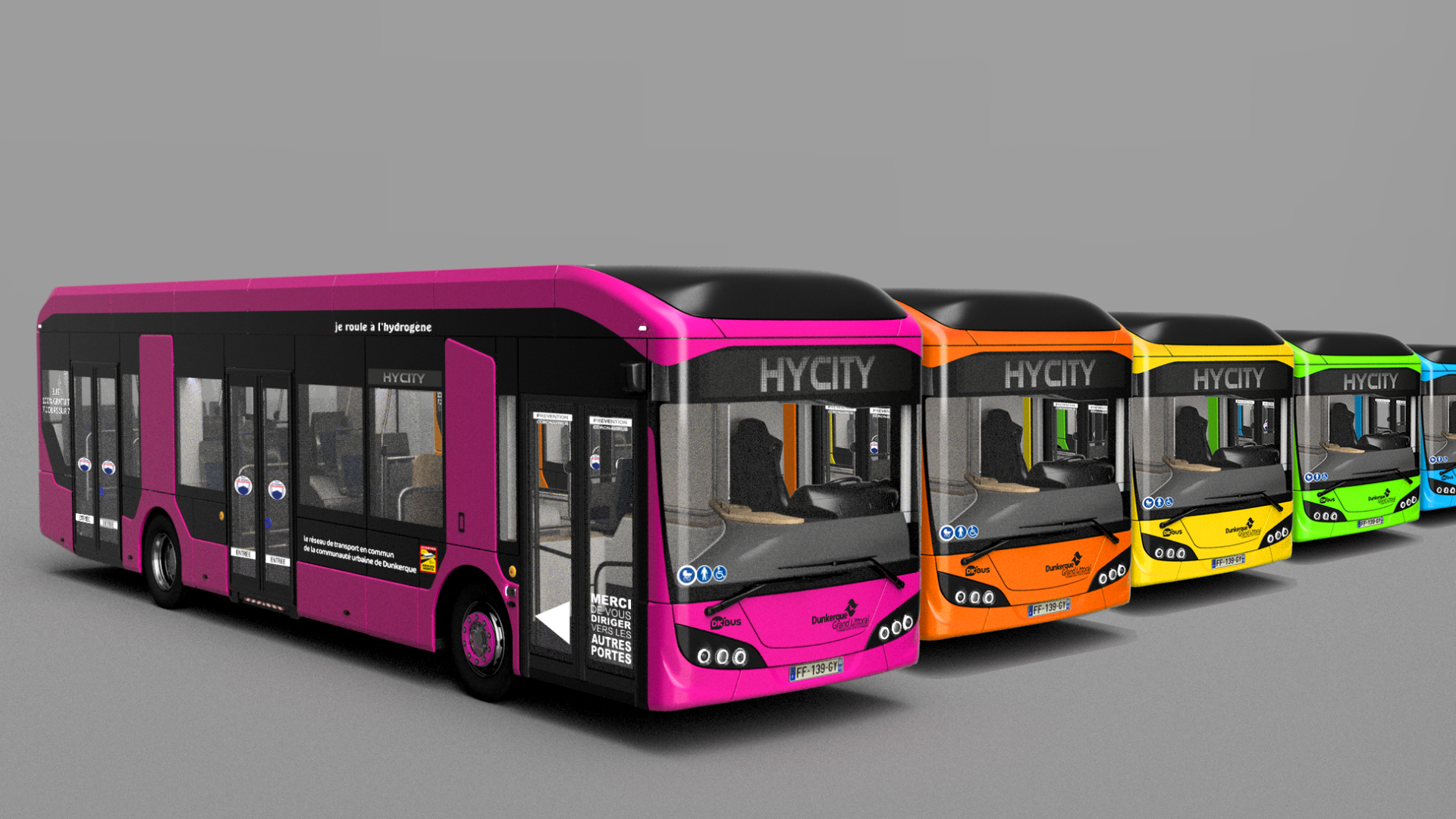 "We will display the HYCITY at the Busworld trade show in Brussels. It is a great opportunity to do the first public presentation of our new generation hydrogen bus – here what Safra Chief Commercial Officer Eric Baleviez, who joined the French company in early 2022, told us in July 2023 -. Since the announcement of this new product at the Paris 2022 Euro Mobility Expo our engineering teams worked hard to design our new hydrogen vehicle taking into account customers and market expectations in terms of performances, maintainability, road behaviour, customization capabilities. It takes time to do this properly, in a pragmatic step by step approach. We are now ready to deliver and with already a very nice order book" (ten units are going to be delivered in Dunkirk).
Let's stay in France: Bluebus is going to take the opportunity of the expo to reveal the second generation of its Bluebus 6m electric minibus. "This new model of bluebus is more spacious, better suited to city centres and complies with the EBSF (European Bus System of the Future) standard", the French company states.
Altas Auto: the deal with Zhongtong at Busworld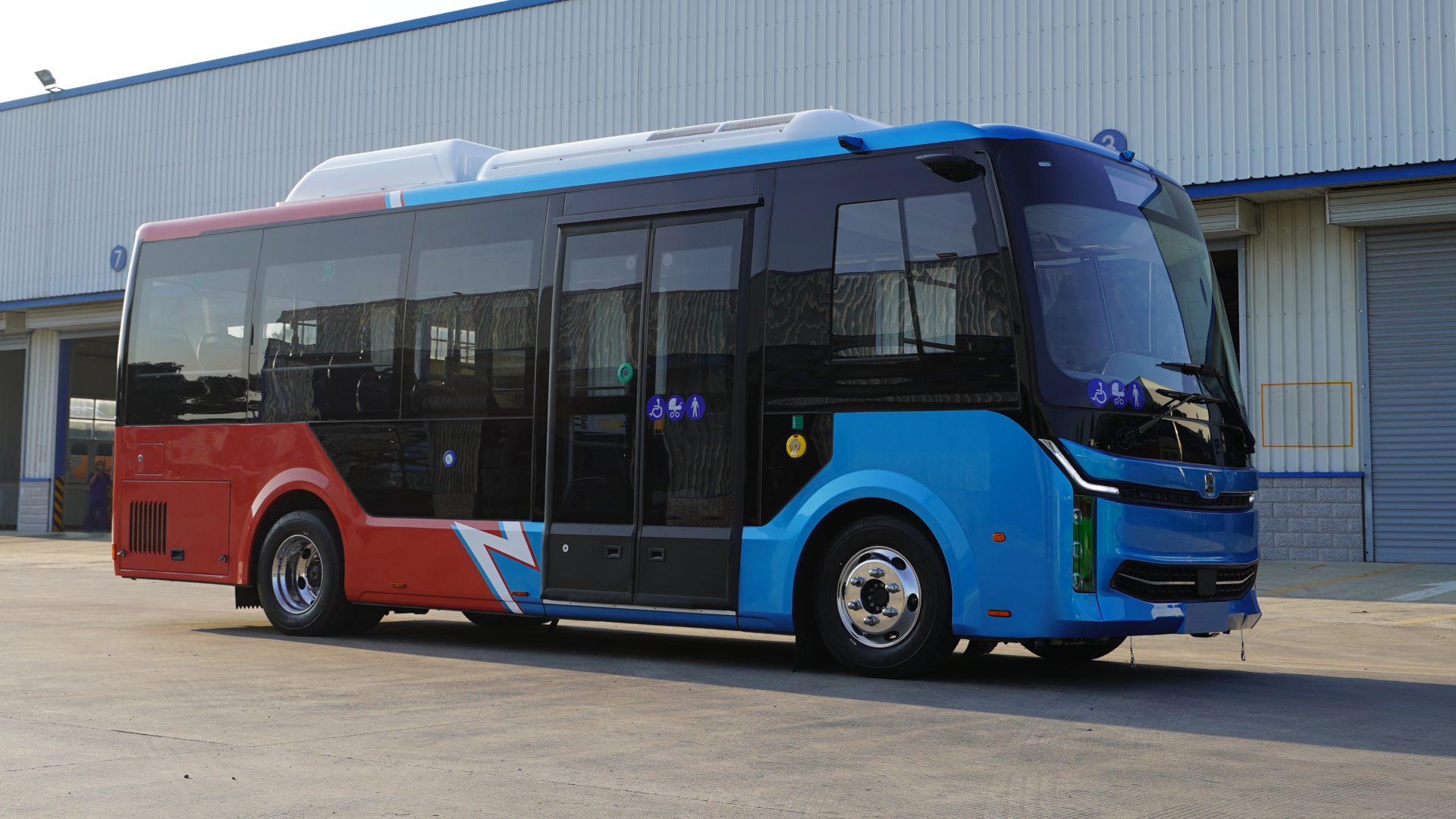 Altas Auto is expanding its EV bus lineup through a strategic cooperation with Chinese manufacturer Zhongtong Bus. The Lithuanian company, specialized in minibuses, has just announced the move: the portfolio will be increased with two battery-electric buses. The first one, 7.5-meter long, will be premiered at Busworld Europe 2023 in a 'vision' version.
A new 7.5 m city bus vision will be presented at the Altas Auto stand in the Busworld 2023 exhibition. "Based on this concept, the partnership between both companies will create a whole line of new Altas Audo midi-size buses that meet European specifications and requirements", the company states.
VDL: the carbon-neutral factory and the 3rd Futura
VDL will present in Brussels… a factory. That's right. In addition to a vague 'vision of the future of touring coaches' (the Futura is now in its third generation), the Dutch manufacturer will present features, details and strategies relating to the plant in Roeselare, Belgium, a newly completed factory characterised by the fact of being completely carbon-neutral.
What about Ebusco?
Ebusco will be present with as well the Ebusco 3.0 12 m as well as new Ebusco 3.0 18 m. People can use a Bus Simulator where they can drive the Ebusco 2.2 12 and 18 meter as well the Ebusco 3.0 12 m.
Similar to UITP, visitors will be able to experience the power of carbon composite for themselves: on the stand, visitors can see ánd hold a carbon beam to feel how light and yet strong this material is. Additionally, visitors can learn more about fleet monitoring by following a demo about Ebusco live.
FPT Industrial will bring batteries and BMS in Brussels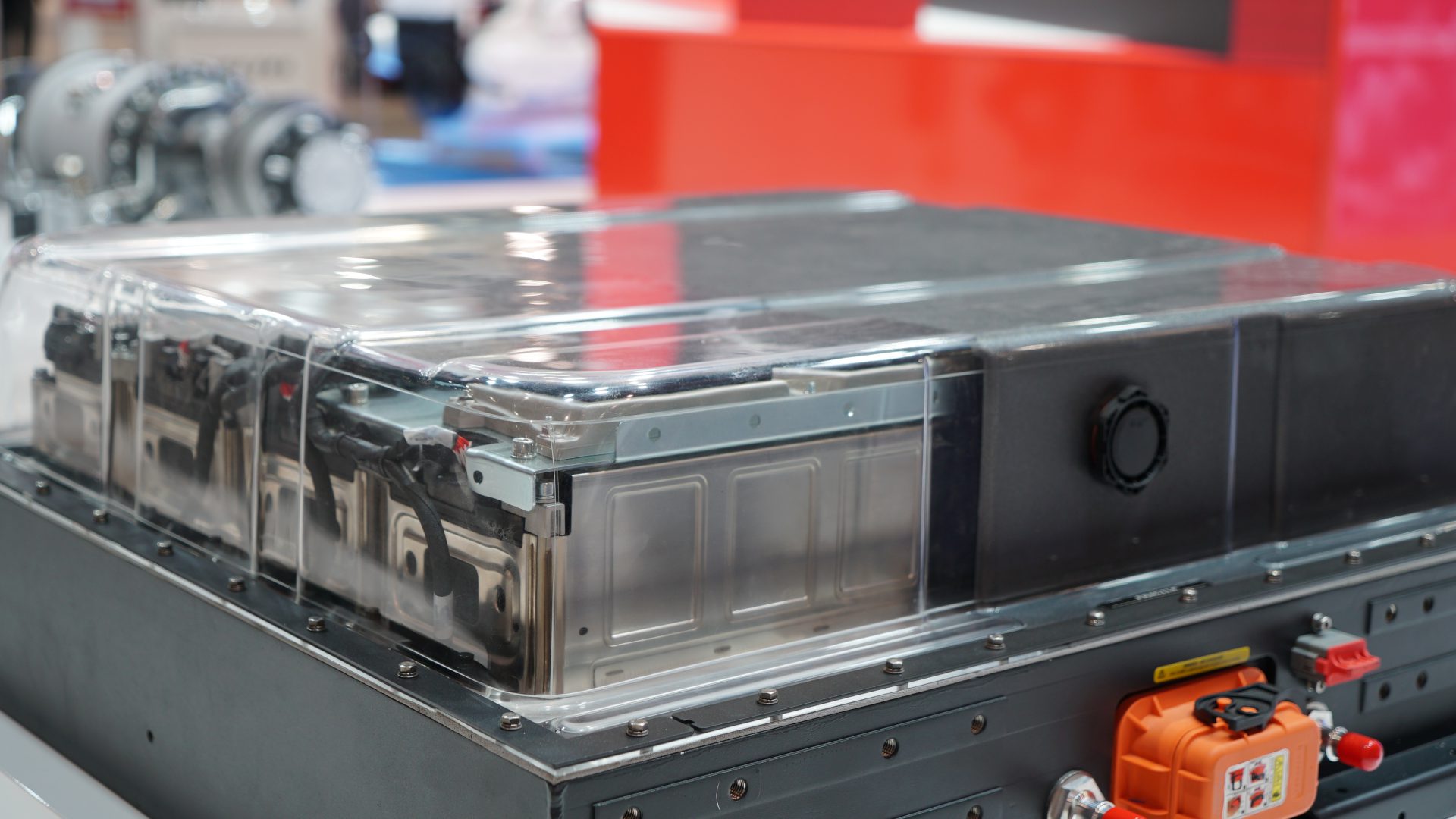 Visitors to FPT Industrial stand at Busworld 2023 will have the opportunity to check and touch three ePowertrain products. The first is the eBS37 EVO 37 kWh battery pack for minibuses with energy density of up to 140 Wh/kg (to be used on the eDaily minibus).
This battery pack adopts the eBM5, the first BMS developed by FPT Industrial with advanced battery management algorithms to ensure a higher level of safety, precision and performance.
The third product on show will be the 69 kWh eBS69 battery pack for electric buses, with best-in-class energy density of up to 178 Wh/kg and up to 10 years warranty, which optimises installation in customers' vehicles and is ideal for bus applications. It's the battery that is set to be mounted on the updated generation of the Iveco Bus E-Way from late 2024.
CeTrax 2 on ZF's spotlight at Busworld
The world-premiere of ZF's latest electric mobility low-floor solution for city buses will take place in Brussels at Busworld Europe 2023. It'll go along with the exhibition of CeTrax 2 dual electric central drive for electric buses and coaches (also on display at UITP Summit): it offers a cont. power of 380 kW, features an integrated three-speed transmission making tackling steeper slopes easier and higher cruising speeds more efficient.
ZF mentions that at Busworld it'll be held the "World-premiere of electric portal axle". This should refer to the presentation of the AxTrax 2, whose series production is planned to begin in Europe in late 2024 and in the U.S. in 2025, as stated by ZF at ACT Expo earlier this year. It will be offered in two variants: AxTrax 2 with one e-drive and AxTrax 2 dual with two integrated e-drives, being the latter a real news in ZF offer (and a rarity in the e-bus segment, with just Volvo Buses so far mounting on the 7900 Electric a 2-drive transmission).
Ventura with new bus door concept in Brussels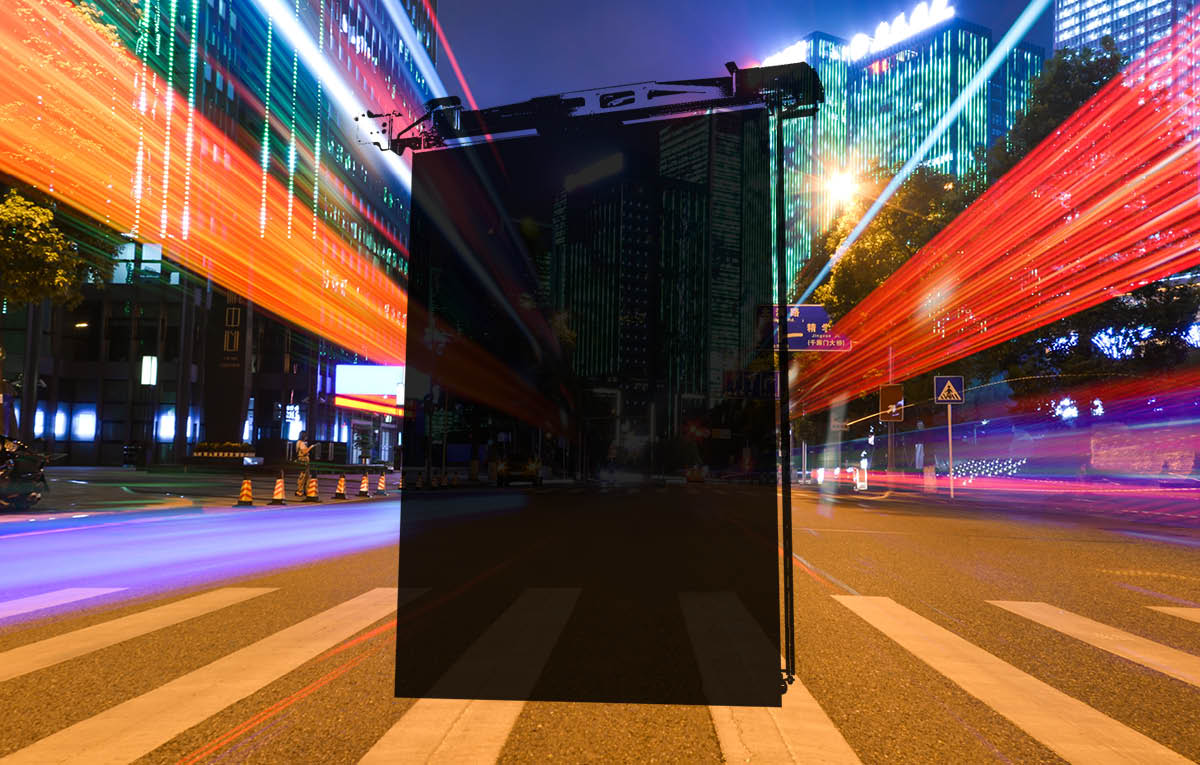 Leading bus door manufacturer Ventura Systems is going to present a brand new door system concept at Busworld Europe in Brussels. The concept aim at "introducing the next step in driver and passenger comfort", thanks to "a new approach to door movement and sealing properties", the Dutch group explains.
The aim of the launch is to showcase the concept to the Busworld audience and use the feedback for further development.
What is interesting, the new bus door concept by Ventura reduces the number of wearing parts compared to conventional door systems and minimises external noise. The improved sealing properties provide maximum resistance to water and dirt ingress.
Hitachi Energy at Busworld
Hitachi Energy offers various options for greener, cleaner and quieter public land transportation, from its Grid-eMotion® EV charging system, to its comprehensive energy management and smart charging solution for EV depots and compact cooling units, complemented by proactive battery management and charging optimization systems from sister company Hitachi ZeroCarbon.
"After 4 years, we're delighted to be back at the first Busworld event since pre-COVID times. The need – and desire – for sustainable transportation options is accelerating…and we're here for it! This important communal sector has never been more committed to reducing CO₂ emissions as transport operators seek sustainable options that not only connect our communities but can be scaled and optimized across their cities with solutions for electrification and digitalization. My team and I will be available throughout the event to help make your sustainable public transportation objectives a reality," states Thierry Lassus, Senior Vice President, Head of Transportation, Hitachi Energy, shared.
Thierry Lassus will share his vision for the future of electric mobility in Session #3 "Smart Energy Management When Deploying Electric Buses", and Mike Nugent, Head of Europe, Hitachi ZeroCarbon, will speak in Session #2 "Digital Operational Excellence via Telematics".
New accessibility devices at Busworld Europe, by Masats
Masats will be presenting its innovations in accessibility systems for public transport at the Busworld fair in Brussels (7-12 october 2023). First and foremost, it'll be showcasing the all-new RE2 electric ramp, which is placed on the floor of the bus and enables comfortable access to the vehicle with a single 930 x 850 mm platform. Despite its low weight – only 48 kg – it is tested up to 350 kg. A presence sensor on the edge and on the platform provide even greater safety. Thus, it's a quick and reliable ramp which can also be operated manually. But it won't be the only news from the Spanish supplier…
Eberspaecher: heating and cooling at Busworld Europe 2023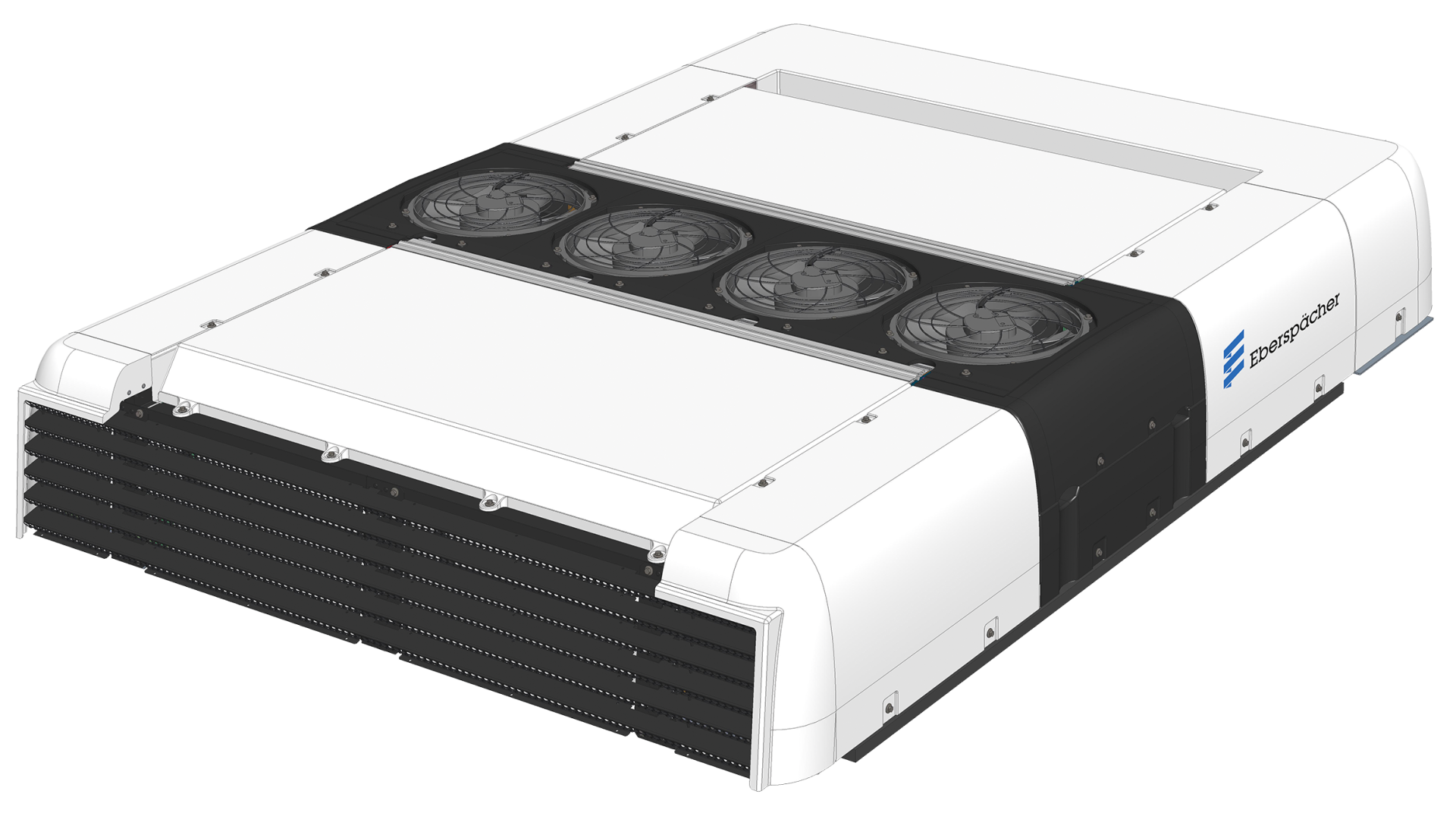 Eberspaecher is presenting two new air conditioning systems for hybrid and battery-electric buses at Busworld Europe.
With the AC135 AE, Eberspaecher offers a roof-mounted system with a built-in compressor for medium-sized to large passenger compartments. The AC138 EVO achieves low energy consumption during heating and cooling thanks to Eberspaecher's patented heat pump technology.
"The new roof-mounted system, particularly for hybrid and battery-electric buses, convinces with its low system complexity and high energy efficiency. We are very excited to share the AC138 EVO with the industry at Busworld Europe.", states Henning Tomin, Global Director Sales & Marketing Eberspächer Bus and Coach.
Accelera by Cummins: batteries and hydrogen engine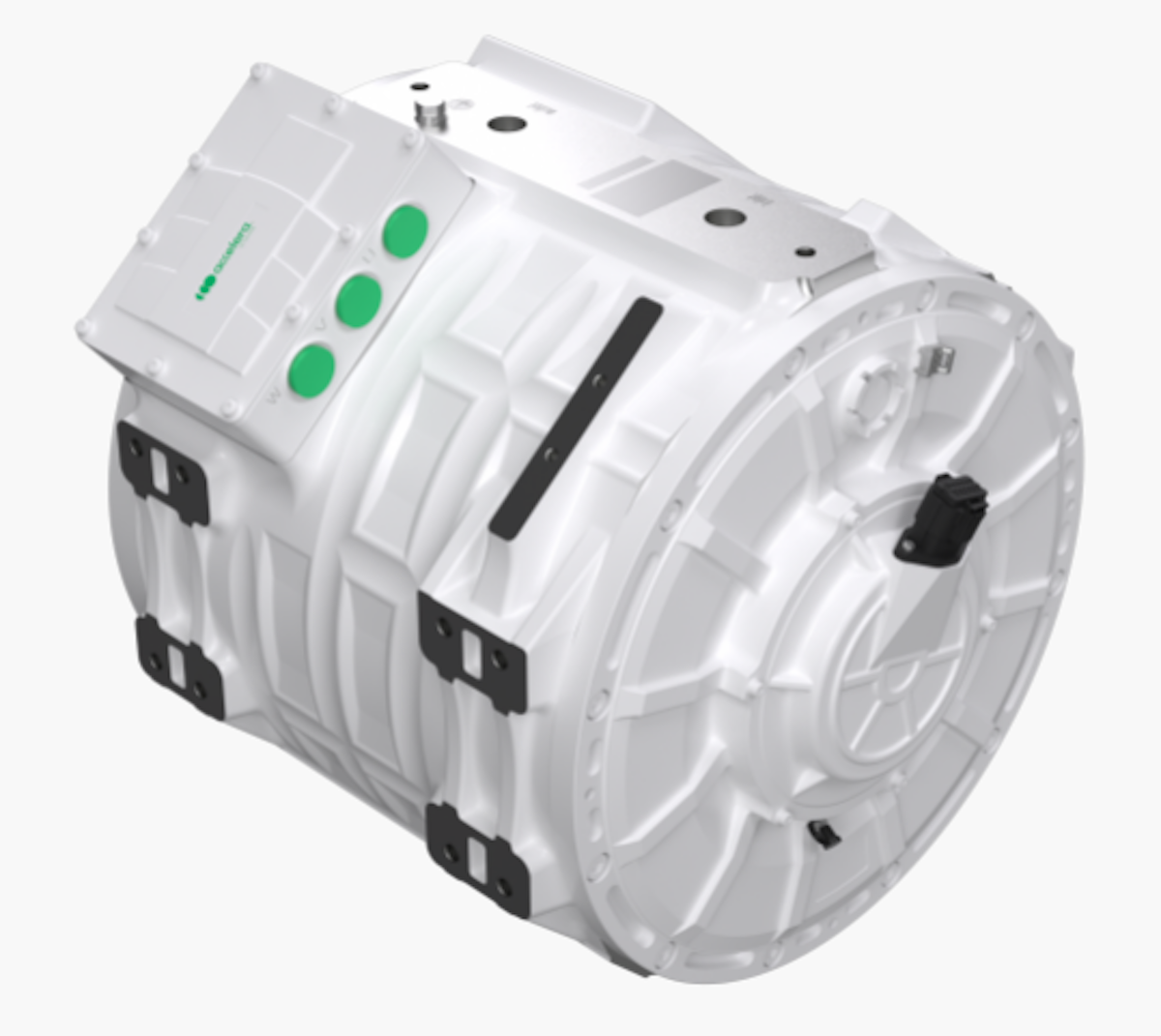 Accelera by Cummins is making its European bus market debut at Busworld Europe 2023 in Brussels.
The launch of Accelera in May (it builds on the competences of Siemens and Meritor, both taken over by Cummins), will be at Busworld complemented by the presentation of the BP95E battery that features one of the highest energy densities available today, the supplier claims. Cummins adds that the BP95E "offers flexible mounting options and seamless integration capabilities, ideal for city-bus applications". But that's not all!
At Busworld there's room also for inductive charging
Inductive technology specialist ENRX will present its Next-Generation Electric Roadway system in Brussels. The system can be integrated into various vehicle types and battery designs for light-duty and heavy-duty applications, including buses.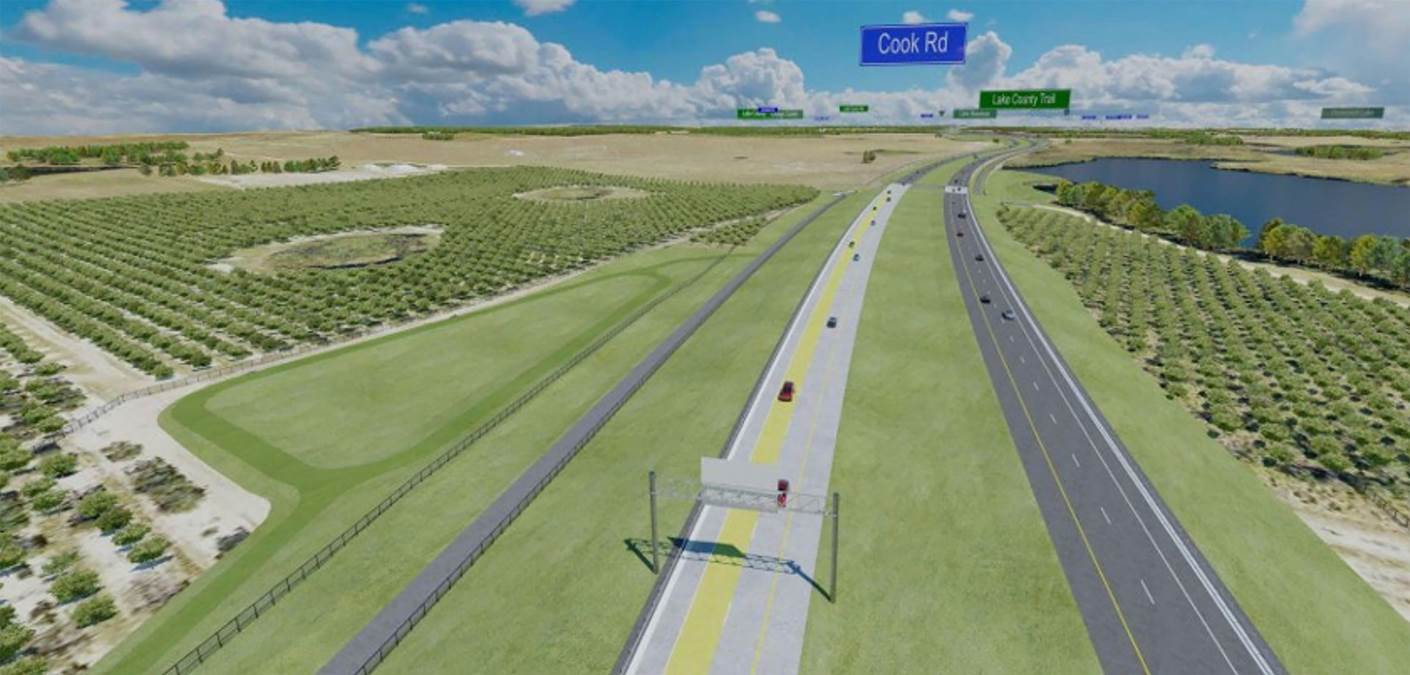 "The system incorporates both wireless dynamic and static charging capabilities, simplifying the process of electric bus charging. It adapts to various clearance distances between the ground and vehicle and cooperates seamlessly with all coil typologies through a continuous homogeneous field. The outstanding features of the system include a high-power output of 200 kW and superior battery protection from peak values. In addition, it provides excellent protection against electromagnetic radiation while being optimized for civil engineering applications", ENRX states. The company announces that a forthcoming real-world implementation on a four-lane highway in Florida will provide an opportunity to see how the system is set to transform electric bus transportation.
Symbio at Busworld with the SymphonHy's expertise
Fuel cell modules provider Symbio will be showing at Busworld its H2Motive StackPack 75, that the company defines "a compact fuel cell solution designed for performance, high efficiency, and low heat rejection. StackPack 75 covers a wide range of automotive applications, medium duty trucks and buses. Its advanced technology and versatile control strategy deliver optimized performance and durability for each application". The French company has Michelin, Forvia and Stellantis as shareholders and has recently opened SymphonHy, one of Europe's biggest fuel cell gigafactories, with 8 hectares, 6 600 m2 of R&D and a targeted production capacity of 50,000 fuel cell modules in 2026.
Ventac: focus on making bus&coach industry… quieter
R&D experts of Ventac, leading providers and manufacturers of innovative acoustic and thermal solutions in the automotive sector, "are looking forward to showcasing their latest market-leading, range-extending battery wrap, acoustic composite panels and heat radiation solutions, that will sustainably empower companies to reshape the quieter, more comfortable future of the bus and coach industry", a company spokeperson shared with Sustainable Bus.
And adds: "We can't wait to have some great conversations with vehicle and battery manufacturers and are excited to show how Ventac's expertise and advanced products and practices can enhance driver and passenger experience and reduce environmental impact".
Cojali at Busworld with connectivity solutions
Cojali will take the opportunity of Busworld Europe to showcase its solutions for connectivity, electric vehicles, predictive maintenance and remote diagnostics.
Based in Spain, Cojali is a multinational manufacturer of components and electronics. Besides this, the company develops advanced diagnostics solutions, remote diagnostics and connectivity for commercial vehicles. Cojali has three subsidaries in France, Italy and USA, as well as four sales offices in Germany, Turkey, Mexico and India. The company has 550 employees worldwide and business in 135 countries. In 2021 the German group Knorr-Bremse acquired a majority stake in Cojali.
Ballard and Forsee Power to exhibit together
Ballard Power Systems will present its FCmove range, "which is the longest serving fuel cell solution available", the company claims.
"Powering the fast-growing number of hydrogen bus fleets in Europe, North America and China, Ballard's proven FCmove product range incorporates fuel cell modules with a power range from 45kW – 120 kW. Designed for the specific requirements of transit buses, Ballard's 70kW FCmove-HD and 100kW FCmove-HD+ are available in rooftop and engine bay configurations for the maximum level of integration flexibility. Ballard-powered buses and trucks have now operated over 150 million km globally".
Interestingly, the Canadian fuel cell provider is co-exhibiting with Forsee Power on stand 114.
The French battery supplier states: "With a stated goal of carbon neutrality by 2050, the electrification of transportation is no longer an option. The Boston Consulting Group predicts that 50% of the European mobility market, including public transport, will be electrified by 2030. We have already equipped ~2,500 bus with our smart battery systems all around the word and Forsee Power is leading the world market for bus batteries outside of China. More than ever, we are convinced of the impact of zero-emission mobility and the importance of developing products that are as carbon-free as possible . That's why we support OEMs in their energy transition thanks to our wide range of battery solutions including different technologies (NMC, LTO and LFP). The Forsee Power's R&D team is working on the development of new high value-added batteries whose specifications are in line with heavy vehicle needs, whether 100% electric, hydrogen or hybrid".