Equipmake showcases its repower solution (on a Volvo double decker bus)
Equipmake is showcasing its latest pure electric bus technology at the ALBUM Conference in Blackpool, in the shape of a repowered double decker.  Unveiled for the first time, the fully electric Volvo B5LH debuts the company's repower solution, which has been developed at Equipmake's base in Norfolk and upgrades existing hybrid and diesel buses with state-of-the […]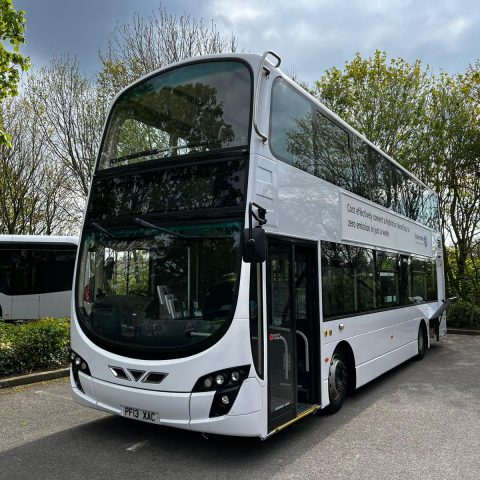 Equipmake is showcasing its latest pure electric bus technology at the ALBUM Conference in Blackpool, in the shape of a repowered double decker. 
Unveiled for the first time, the fully electric Volvo B5LH debuts the company's repower solution, which has been developed at Equipmake's base in Norfolk and upgrades existing hybrid and diesel buses with state-of-the art battery drivetrains. The repowering technology joins, in Equipmake's bus portfolio, the new double decker e-bus Jewel E, developed with Spanish bus builder Beulas. Jewel E's modular battery pack has options of up to 543kWh, with a maximum of 300 miles on a single charge. It will begin in-service trials with London's largest bus operator, Go-Ahead, in the coming months.
Equipmake has welcomed the recently announced changes to the UK government's Bus Service Operators Grant (BSOG), which now includes zero-emission buses for the first time, including vehicles repowered with electric drivetrains – but the company calls for more incentives to encourage operators to make the transition to electric.
Equipmake bets also on repower technology for buses
Equipmake's repower technology programme involves an inspection of each bus to ensure its adaptability to its unique, scalable modular electric chassis. "Once its suitability is verified, the process itself is quick, with up to five repowers a week being completed, ensuring a working bus is kept off the road for as short a time as possible", Equipmake says.
Each repower is tailored to specific operator requirements, with service routes simulated to ensure the correct battery power level is selected for optimum performance and efficiency, and guaranteed driving ranges of 150 to 250 miles achievable. This, according to Equipmake, is more than sufficient for a complete duty cycle, allowing buses to be recharged overnight.
Equipmake: there's an increasing appetite for repower technologies
Ian Foley, Managing Director, Equipmake, says: "Repowering is an important and cost-effective transitionary technology that can bridge the gap between diesel and a new electric bus fleet. We are delighted to showcase our new double decker repower system, unveiled here today for the first time at the ALBUM Conference on a Volvo B5 LH bus. We know there is a clear appetite for the technology, with strong demand from operators, which is leading to the expansion of our facilities in Norfolk. Alongside recent changes to BSOG, we believe interest will only increase and, next to the associated financial benefits of a repowered bus, such vehicles can very quickly bring cleaner air to every town and city in the UK."