The retrofit Solar Bus Kit by Sono Motors aims to reduce bus fleet emissions thanks to solar panels
Solar-powered mobility specialist Sono Motors has unveiled a 'Solar Bus Kit' for public transportation fleet. Through a retrofit intervention, with installation of solar panels on the roof of a conventional bus, the system aims to reduce fuel consumption and inner-city greenhouse gas emissions. In April 2022 it was announced a pilot in Munich with a solar […]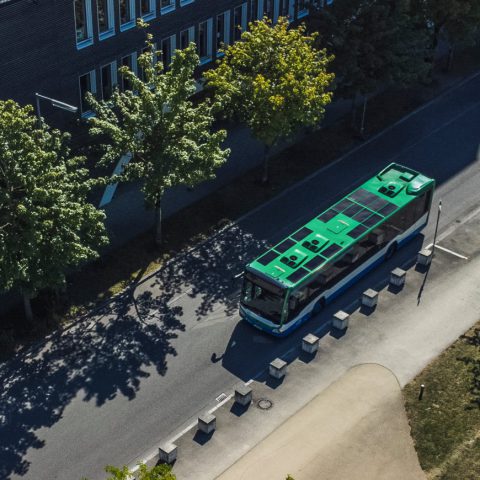 Solar-powered mobility specialist Sono Motors has unveiled a 'Solar Bus Kit' for public transportation fleet. Through a retrofit intervention, with installation of solar panels on the roof of a conventional bus, the system aims to reduce fuel consumption and inner-city greenhouse gas emissions.
In April 2022 it was announced a pilot in Munich with a solar bus trailer running in the city in order to test the energy yields and potential of the technology in daily operation.
In the same occasion the Munich-based company (subsidiary to "Sono Group N.V.", NASDAQ: SEV) has presented an electric passenger car concept. It's claimed to be "the world's first affordable solar electric vehicle".
Sono Motors Solar Bus Kit unveiled
The Solar Bus Kit is presented as "a versatile and straightforward solution, optimized for the most common 12-meter public transport bus types on the European market, including Mercedes-Benz Citaro and MAN Lion's City".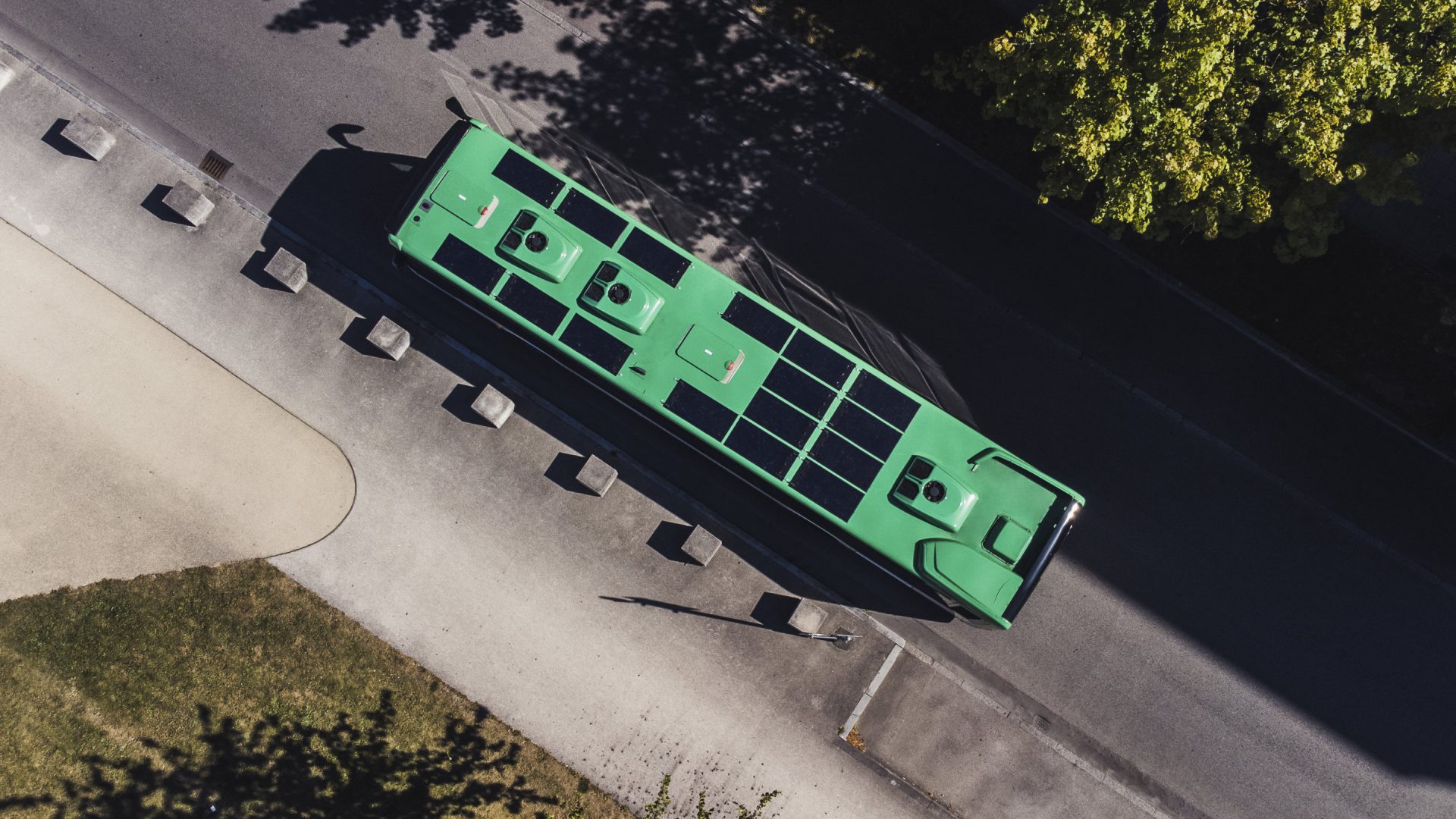 The Solar Bus Kit allows subsystems like the HVAC to be partially powered by renewable energy. The Kit can save up to 1,500 liters of diesel and up to 4 tonnes of CO2 per bus per year from the ~1.4 kW peak installation with a total size of about 8 square-meters of solar panels, Sono Motors says. Sono Motors will announce more details during IAA Transportation in September, one of the main public transport exhibitions scheduled for 2022 in Europe.
As of today, Sono Motors states it is partnering with 19 companies worldwide – including MAN Truck & Bus and CHEREAU – to implement its Sono Solar Technology on a variety of vehicle architectures such as buses, trailers, trucks, and electric transporters. Depending on the use case, size and type of the solar integration, Sono Motors' lightweight and adaptable solution allows customers in the transportation industry to cut costs and emissions throughout their fleets.
Solar panels on the roof of a bus
"Our solar technology is already contributing to climate protection and reducing CO2 emissions for numerous partners. In Munich, for example, we are collaborating with the city's public transport company and are thereby supporting the city's clean air targets. Such partnership projects demonstrate the potential of our technology for the transport sector," said Jona Christians, co-founder and CEO of Sono Motors. "We're proud to celebrate the unveiling of our novel solar product, the 'Solar Bus Kit', which will truly push our mission of making every vehicle a solar vehicle to the next level. The all-new Solar Bus Kit allows us to strengthen our solar business by maximizing the scalability of our technology to a huge market: the public and private bus fleet sector. It also represents a milestone on our path toward a world without fossil fuels."
"We are tremendously excited for Sono Motors' journey towards providing clean, affordable, and accessible solar transportation for the masses. The premieres of the Sion in its production design and the 'Solar Bus Kit' represent a giant leap forward in realizing our vision for a sustainable world, furthering our mission to reduce carbon emissions," said Laurin Hahn, co-founder and CEO of Sono Motors. "Production of our series-validation fleet and presenting the Sion in its production design is a further step towards delivering on our promise of an affordable solar-electric passenger vehicle. In addition, business diversification through the establishment of our B2B solar business as a strategic pillar helps us to achieve our key targets. We are scaling up our Sono Solar business with our new 'Solar Bus Kit' and have successfully increased our B2B customer base."
Sono Motors: what about the Sion?
An eye on Sono Motors solar car Sion. The outer shell of the vehicle will consist of 456 seamlessly integrated solar half-cells and will enable self-sufficiency on short journeys. The energy generated by the solar cells is expected to extend the estimated 305 km range of the Sion's 54 kWh LFP battery by an average of 112 km (up to 245 km) per week. The battery will allow for a maximum charging capacity of up to 75 kW (DC) and 11 kW (AC). Bidirectional charging technology complements the car's solar integration and is designed to turn the Sion into a sustainable power plant on wheels that is expected to be able to power electronic devices, the home or other electric cars with an output of up to 11 kW.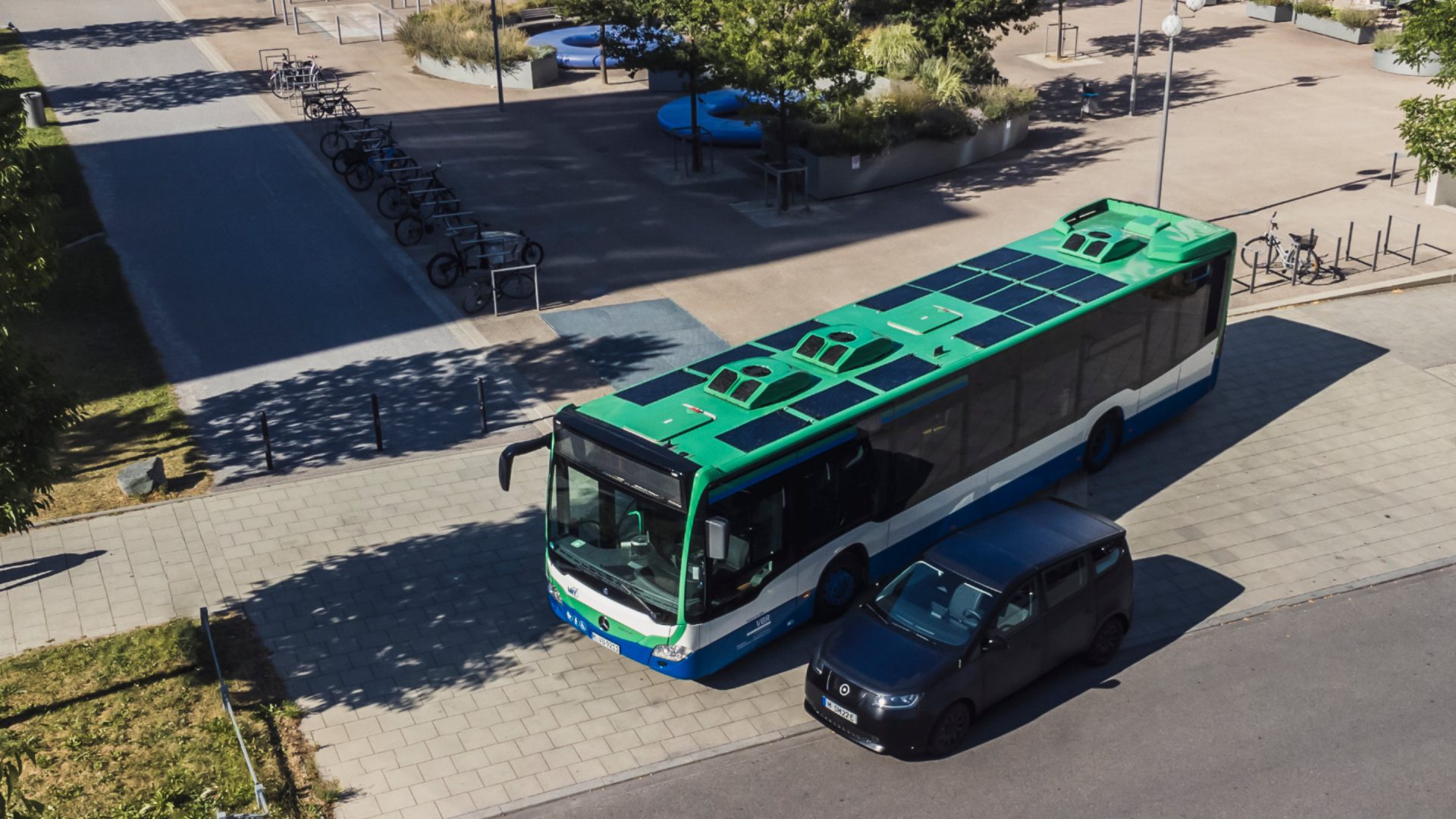 Sono Motors is currently building its fleet of series-validation vehicles in Munich close to the company's HQ, ushering in the Sion's testing program, which has already commenced. In the next months, this vehicle generation will undergo uncompromising practical tests under extreme conditions in both Europe and the U.S. This includes series validation, homologation, crash tests, testing in different climates, optimizing solar technology and safeguarding, as well as refining driving dynamics on test tracks and on public roads.
As of 1 July 2022, Sono Motors states it has over 19,000 active private reservations for the Sion, with an average down-payment of €2,225 and equivalent net sales volume of about €415 million, assuming that all reservations result in sales. At an estimated net sales price point of just 25,126 euro, the Sion is expected to have one of the lowest TCOs (total cost of ownership) in the medium-size segment since the proprietary solar technology considerably reduces the necessity to charge the vehicle.
Start of production is planned for the second half of 2023 via contract manufacturing in Finland, foregoing the need for building its own production facilities. Sono Motors' partner Valmet Automotive has extensive expertise in manufacturing for high-tech OEMs. After a ramp-up period the partners aim to produce approximately 257,000 Sion vehicles within seven years.