Voith to join IAA Transportation with Plug & Drive H2 storage system
Voith will exhibit at IAA Transportation 2022, from 20 to 25 September in Hannover. The company is going to put on display its portfolio of solutions for electric mobility, in the field of trcks, LCVs and buses. In particular, Voith has developed the Voith Electrical Drive System (VEDS), designed for the operation of buses and heavy-duty trucks, as well […]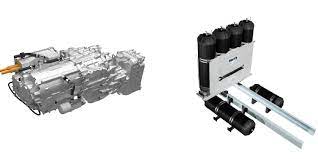 Voith will exhibit at IAA Transportation 2022, from 20 to 25 September in Hannover. The company is going to put on display its portfolio of solutions for electric mobility, in the field of trcks, LCVs and buses. In particular, Voith has developed the Voith Electrical Drive System (VEDS), designed for the operation of buses and heavy-duty trucks, as well as the so-called Plug & Drive H2 storage system, a modular overall system for heavy-duty commercial vehicles with hydrogen drives.
Voith at IAA Transportation 2022
Already existing in the bus sector (and chosen by bus builder such as Otokar and Wrightbus), with the VEDS HD+, Voith is introducing its first drive concept for heavy-duty trucks. Special configurations for waste collection vehicles, innercity logistics or long-distance transport applications ensure efficient driving with every use. The core of the system is a new innovative automated four-gear electric transmission. This makes optimal traction available for every driving situation and under any load condition. 
At the same time, it ensures that the electric motor is always operated at optimum efficiency. For the drive system of the VEDS HD+, customers can choose between two Evo-named electric motors with top outputs of 330 and 390 kW respectively.
Voith hydrogen storage system: all from a single source
The new Plug & Drive H2 storage system allows Voith to provide customers with a complete package: from the tank nozzle to the fuel cell inlet, including a patented installation system to accommodate the hydrogen tanks. A special production process developed by Voith enables higher storage amounts of hydrogen without any compromises in terms of safety, even with high pressures in the tank.
Here Voith focuses on 700-bar technology to ensure long ranges even with limited installation spaces. Combined with short refueling times – it takes about ten minutes for full refueling – this results in greater economic efficiency for the operator, compared to conventional systems.
The Plug & Drive H2 storage system is primarily designed for heavy-duty commercial vehicles, construction vehicles and similar applications, where the use of battery-electric concepts does not make sense from an economical or technical perspective.