E-bus tender in Genoa: Alfabus ranks first
Alfabus would be in first position to be awarded the tender issued by AMT Genoa for 30 12-meter electric buses. The news is reported on the Italian media Autobusweb. The one launched by the public transport company of Genoa stands out for being the first tender in Italy to gather a broad participation of manufacturers […]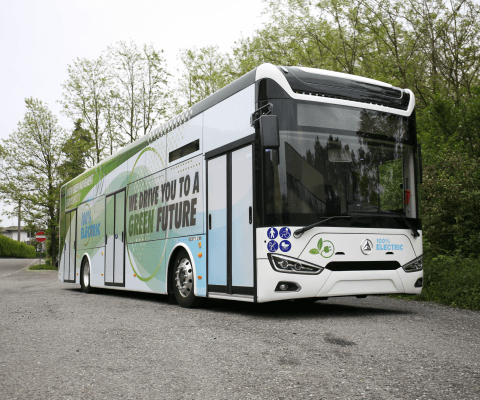 Alfabus would be in first position to be awarded the tender issued by AMT Genoa for 30 12-meter electric buses. The news is reported on the Italian media Autobusweb. The one launched by the public transport company of Genoa stands out for being the first tender in Italy to gather a broad participation of manufacturers (Alfabus, Solaris, VDL, Irizar, BYD, EvoBus and Iveco). The buses are set to be charged in the depot overnight. A couple of Alfabus vehicles are operating in Cremona, northern Italy.
Amt Genoa, electric buses from Alfabus
The list of bidders is full of surprises, with the exception of Irizar and Iveco Bus' names: the first has been awarded the tender for 14 10.8-meter e-buses ie bus (deliveries executed in December 2020), while the second has a long-standing relationship with the city of Genoa.
As far as the charging technology is concerned, Marco Beltrami, President of AMT Genoa, said: "We are focusing on overnight recharging. We have a depot (Mangini n.d.r.) which is capable of handling up to 60 electric buses and we are currently designing the Cornigliano electric garage. Today we have 10 Rampini 8-metre vehicles in service and we have recently introduced 14 Irizar 10.5-metre vehicles. Another 10 Rampini vehicles will be delivered in the coming months. By the end of 2021 the city of Genoa will have two depots with charging infrastructures and 64 electric buses in operation".
Alfabus Ecity L12
The Ecity L12 is manufactured by Alfabus, a Chinese company that produces about 3,000 buses every year from its plant in Jiangyin, 150 km from Shanghai. The first Alfabus full electric bus was built in 2002, the first opportunity for a massive deployment of electric buses happened six years later, on the occasion of the 2008 Beijing Olympics. The Ecity L12 offered by Alfabus Europe to European market is not the exact vehicle distributed on the Chinese market. Dozens of changes have been made to make it suitable to western markets, including the doubling of the rear door, improvements in internal layout in order to facilitate mobility, air conditioning system.
The bus is powered by the permanent magnet synchronous motor (Tqsl100a-6/380) capable of delivering up to 210 kW and 2,400 Newtonmetro and the (large) equipment of batteries, able to store up to 354 kWh of electricity (you can also opt for 290) and to charge completely in about six hours.