Another US airport goes 'green' with Proterra. CLT ordered five Catalyst E2
Nine US airports have so far decided to buy Proterra electric buses for ground transportation. Last but not least is Charlotte Douglas International Airport (CLT) in North Carolina, that announced an order for five 35-foot (10.6 meter) Proterra Catalyst E2 zero emission buses. Five 125 kW Proterra plugin charging systems will also be supplied. Plugin […]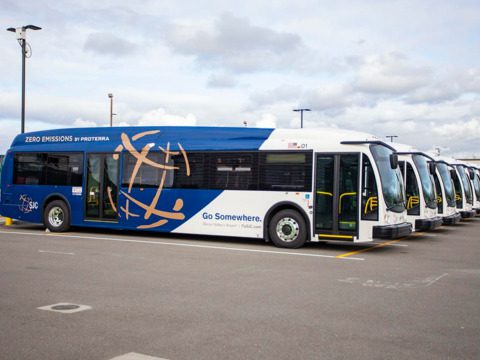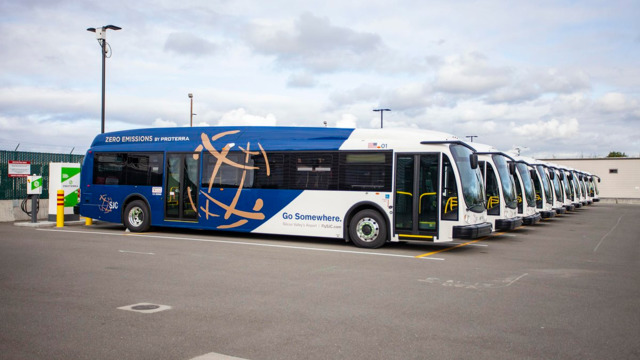 Nine US airports have so far decided to buy Proterra electric buses for ground transportation. Last but not least is Charlotte Douglas International Airport (CLT) in North Carolina, that announced an order for five 35-foot (10.6 meter) Proterra Catalyst E2 zero emission buses. Five 125 kW Proterra plugin charging systems will also be supplied.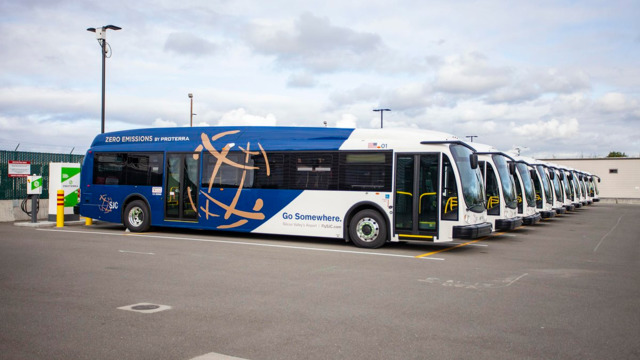 Plugin chargers for a whole fleet
The model 35-foot Proterra Catalyst E2 is equipped with 440 kWh battery and has a curb weight of some 13.4 tons. Interestingly enough, Proterra plugin chargers utilize the universal J1772-CCS Type 1 charging standard, thus enabling buses, utility vehicles and cars to share the same chargers. By planning for scale now, CLT can utilize the charging infrastructure for a range of battery-electric powered service vehicles in the future.
CLT towards zero emission vehicles only
"At CLT, we are dedicated to implementing sustainable practices that are cost effective and that create a better experience for our employees and visitors," said CLT's COO Jack Christine. "CLT has the goal of fully transitioning its fleet to zero-emission vehicles, which brings both economic and environmental benefits to the airport and Charlotte community," Christine added.
"Airports are an ideal use case for electric vehicle technology because of their predictable circulator routes and potential for shared charging infrastructure with other service vehicles in the fleet," said Proterra CEO Ryan Popple. "It's exciting to see airports from coast to coast, like CLT, make the commitment to transition 100 percent of their fleets to clean, quiet zero-emission buses."
Proterra battery-electric buses will contribute to CLT's sustainability goals. Emissions are reduced by 230,000 pounds of CO2 annually each time a diesel vehicle is replaced by a Proterra electric bus, according to the manufacturer.
Airports and electric buses all over the world
CLT serves some 46 million passenger yearly and joins a growing list of airports across the nation that are leading the trend to the adoption of zero emission buses for shuttle services. The list includes San Francisco International Airport (SFO), John F. Kennedy International Airport (JFK), Newark Liberty International Airport (EWR), LaGuardia Airport (LGA), Sacramento International Airport (SMF), Silicon Valley's Norman Y. Mineta San José International Airport (SJC) (in the picture above), Raleigh-Durham International Airport (RDU), and Honolulu International Airport (HNL).
In Europe, the same choice was taken by Schiphol and Bruxelles airports: both of them have already taken over several BYD electric buses. 30 vehicles are deployed in Bruxelles.
In the UK, Birmingham Airport has awarded Volvo Bus UK the contract to supply the airport with six Volvo 7900 Electric. The buses are scheduled to start operation in November 2019. They'll be employed for free passenger transport servicevia all airport car park routes.