BYD will showcase in Busworld a double-decker built with UNVI and its 12-meter with Blade Battery
BYD will be showcasing at Busworld its eBus B12, the very first 12-metre eBus to utilise the all-new Blade Battery eBus platform. Another new entrant to the BYD eBus family is the BYD-UNVI DD13, 13-meter double decker ebus, which also makes its debut at Busworld Europe. They are joined by the BYD 15-metre eBus and […]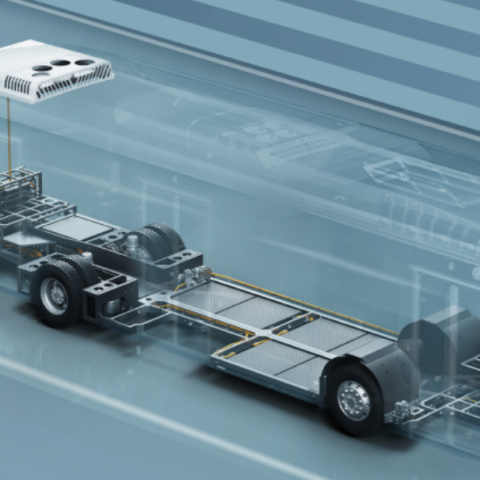 BYD will be showcasing at Busworld its eBus B12, the very first 12-metre eBus to utilise the all-new Blade Battery eBus platform. Another new entrant to the BYD eBus family is the BYD-UNVI DD13, 13-meter double decker ebus, which also makes its debut at Busworld Europe. They are joined by the BYD 15-metre eBus and the BYD 19-metre eBus, also being displayed on our stand.
More than 4,200 BYD eBuses are in Europe, operating in excess of 160 cities in 26 European countries, BYD states.
BYD Blade Battery, space utilization is increased by 50 %
The Blade Battery, presented in March 2020, has been developed by BYD over the past several years. The singular cells are arranged together in an array and then inserted into a battery pack. Due to its optimized battery pack structure, the space utilization of the battery pack is increased by over 50% compared to conventional lithium iron phosphate block batteries, BYD points out.
While undergoing nail penetration tests, the Blade Battery emitted neither smoke nor fire after being penetrated, and its surface temperature only reached 30 to 60°C, reports the manufacturer. Under the same conditions, a ternary lithium battery exceeded 500°C and violently burned, and while a conventional lithium iron phosphate block battery did not openly emit flames or smoke, its surface temperature reached dangerous temperatures of 200 to 400°C. This implies that EVs equipped with the Blade Battery would be far less susceptible to catching fire, even when they are severely damaged.