Daimler with Proterra: the Jouley electric school bus is eligible for fundings
The electric school bus Saf-T-Liner C2 Jouley, first outcome of the new cooperation between Daimler Buses and Proterra, received full CARB and HVIP Certifications and is eligibile for funding from the California Energy Commission (CEC). Commercial production of the vehicle is scheduled to begin next year and assembly will take place in North Carolina. Electric […]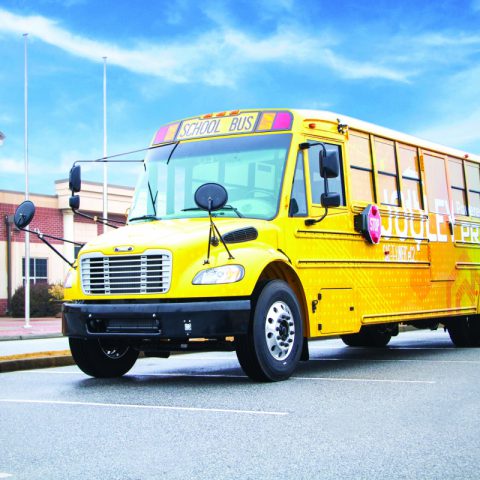 The electric school bus Saf-T-Liner C2 Jouley, first outcome of the new cooperation between Daimler Buses and Proterra, received full CARB and HVIP Certifications and is eligibile for funding from the California Energy Commission (CEC).
Commercial production of the vehicle is scheduled to begin next year and assembly will take place in North Carolina.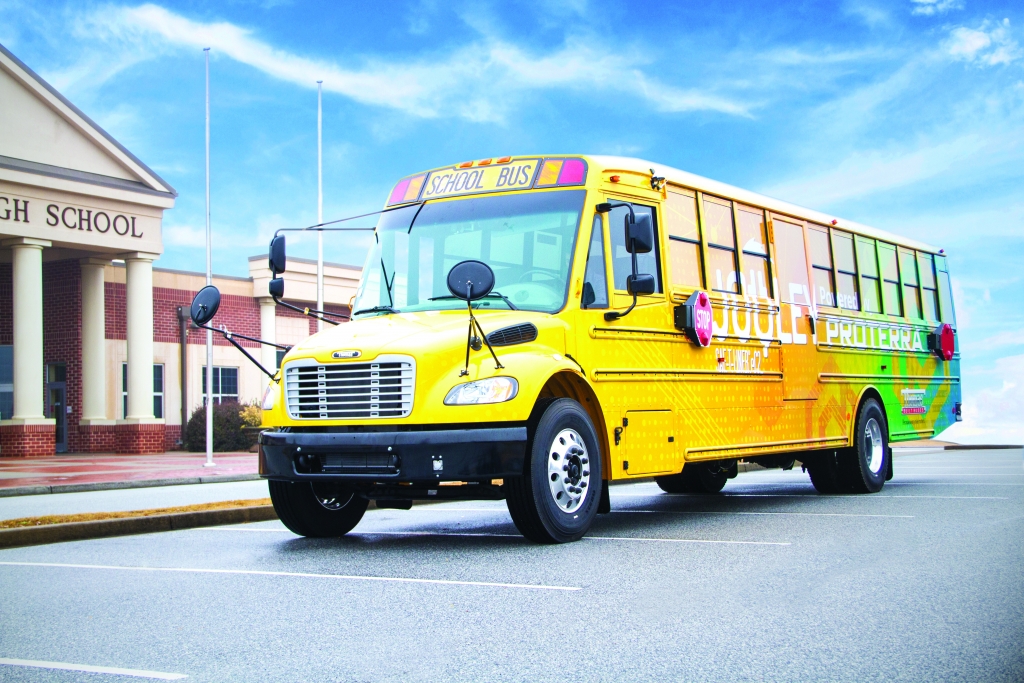 Electric school bus for California
On 26th July Thomas Built Buses (subsidiary of Daimler Trucks North America) announced it has received full California Air Resources Board (CARB) and Hybrid and Zero-Emission Truck and Bus Voucher Incentive Project (HVIP) certifications for its Type C electric bus, named Saf-T-Liner C2 Jouley, powered by Proterra electric vehicle technology. This certification officially qualifies Jouley for state vouchers.
On the same day, the manufacturer also informed that the electric school bus has been judged eligible for funding from the California Energy Commission (CEC). Thus, Thomas Built Buses says, California school districts purchasing the Saf-T-Liner C2 Jouley electric school bus are eligible for reimbursement of disposed older school buses approved under California Energy Commission GFO-17-607 grant program.
Proterra breaking through the electric school bus world
The partnership between Daimler Buses and Proterra was announced in occasion of IAA Commercial Vehicle 2018 in Hannover. Where visitors had the chance to see the electric school bus in a version powered by Efficient Drivetrains. The first electric school bus realized by Proterra and Thomas Built Buses was unveiled during the 44th Annual National Association of Pupil Transportation (NAPT) Conference.
The Saf-T-Liner C2, alias Jouley, electric school bus powered by Proterra represents Proterra's entrance into a new commercial vehicle sector, the school bus market. The C2 bus powered by Proterra is being co-developed with Thomas Built Buses in Proterra's Greenville, SC manufacturing facility. The electric school bus Jouley has 220 kWh of total energy capacity and can charge in about three hours with the Proterra DC charging system. Operating range can be up to 120 miles depending on various operating conditions.
A step forward on the electrification of school bus market
"With these certifications, we are one step closer to making electric school buses viable for the school bus market," said Caley Edgerly, president and CEO of Thomas Built Buses. "While this milestone is worth celebrating, we continue to work with proven leaders in the industry like Proterra and our parent company Daimler Trucks North America to create the best product possible for the school bus market. Over the past few months, we've been piloting Jouley with individual drivers, engaging with school districts and local agencies to shape the future of our electric vehicle offerings. We are very excited about what Jouley has to offer today and where we are heading."

"School buses are a great application for battery-electric vehicle technology and we're excited to bring our industry-leading battery systems to the most popular Thomas Built Buses vehicle," said Proterra CEO Ryan Popple. "In addition to greater efficiency and lower operating costs, electric school buses have zero tailpipe emissions, which eliminates exhaust emissions and benefits our communities and our children."