Thomas Built Buses (Daimler) and Proterra, the first electric school bus together
Who visited IAA Commercial Vehicles in Hannover (Germany) this year had the chance to see it in a version powered by Efficient Drivetrains. In that occasion Daimler announced the beginning of the cooperation with Proterra. The launch of the first electric school bus realized by Proterra and Thomas Built Buses (subsidiary of Daimler Trucks North […]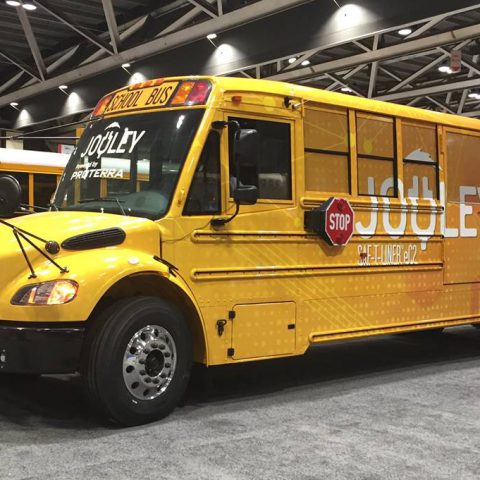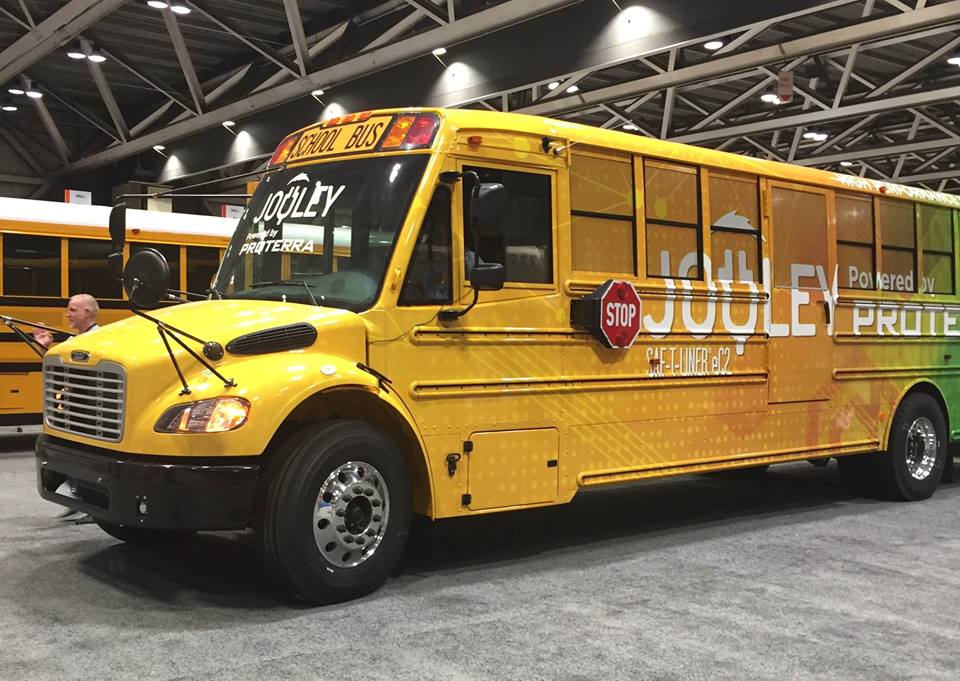 Who visited IAA Commercial Vehicles in Hannover (Germany) this year had the chance to see it in a version powered by Efficient Drivetrains. In that occasion Daimler announced the beginning of the cooperation with Proterra.
The launch of the first electric school bus realized by Proterra and Thomas Built Buses (subsidiary of Daimler Trucks North America) together was officially announced by Proterra in the end of October during the 44th Annual National Association of Pupil Transportation (NAPT) Conference.
The same vehicle showed in Hannover under the name Saf-T-Liner eC2 is now available in a version featuring Proterra battery systems.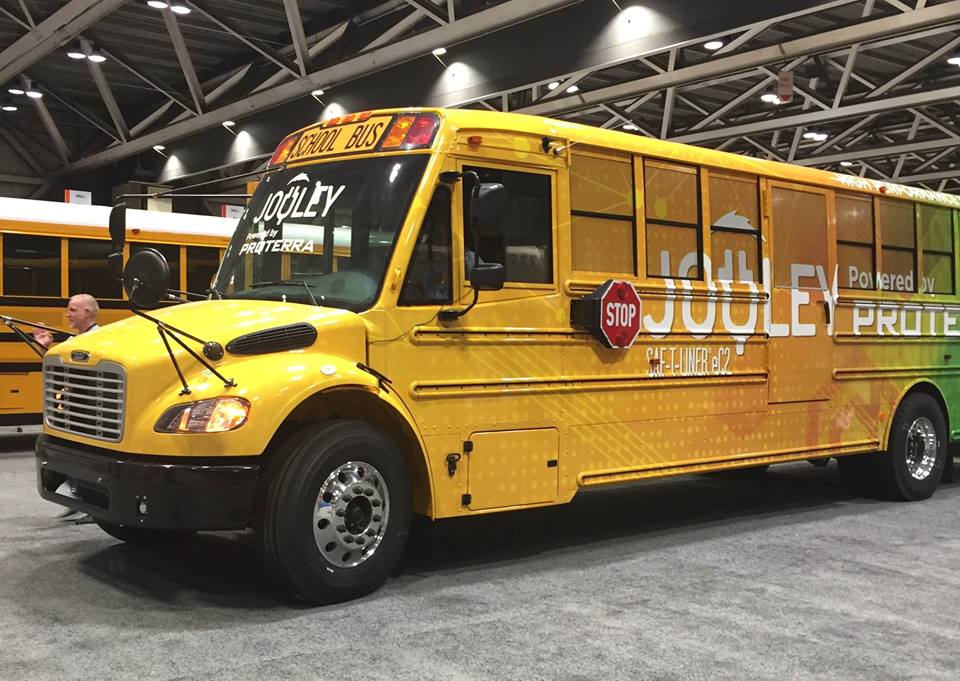 Proterra's debut in the world of school buses
The Saf-T-Liner eC2, alias Jouley, electric school bus powered by Proterra represents Proterra's entrance into a new commercial vehicle sector, the school bus market, and further demonstrates the mass-market shift towards electrification of commercial transportation solutions, Proterra points out in a press release.
The eC2 bus powered by Proterra is being co-developed with Thomas Built Buses in Proterra's Greenville, SC manufacturing facility. The bus can be charged with industry-standard J1772 CCS plug-in charging technology, including the Proterra 60kW charging system, in about three hours. So that battery should be around 180 kWh.
Daimler invested in Proterra. And kick-off the cooperation
Proterra closed a $155 million investment round co-led by Daimler. Tao Capital Partners co-led the round, joined by G2VP and other technology investors. In the same time, Proterra and Daimler have entered into an agreement to explore the electrification of select Daimler heavy-duty vehicles. Specifically: school buses.
Indeed, the first of the efforts that Proterra and Daimler will make together, Proterra reported at the end of September, would be to explore potential synergies with Daimler's Thomas Built Buses division by bringing Proterra's proven battery and drivetrain technologies to the North American school bus market, the next frontier for zero-emission, commercial fleets, according to the two companies.
READ HERE ABOUT THE COOPERATION DAIMLER – PROTERRA ANNOUNCED AT IAA
Mission: sustainable solutions to American schools
"This collaboration with Proterra supports our mission to deliver sustainable solutions to schools," said Caley Edgerly, Thomas Built Buses CEO. "We are excited to integrate Proterra's proven electric vehicle technology into our buses, to provide safe, clean and quiet transportation for children across the country." "School buses provide critical community infrastructure and are an excellent application for vehicle electrification," said Ryan Popple, Proterra CEO. "We're pleased to work with an industry leader like Thomas Built Buses to unveil a high performance electric school bus that reduces our children's exposure to diesel emissions."
Proterra and the cooperation with ADL
Proterra has also entered in a cooperation with British body builder Alexander Dennis for the manufacturing of electric double deckers for Foothill Transit (that operate just outside Los Angeles). Proterra company will provide the battery system (reportedly, they'll be able to cover 225 miles per charge) and the drivetrain technology, while the British bus manufacturer ADL will make the body (Enviro 500Ev) in its Indiana plant. The partnership is similar to the deal that put together Alexander Dennis and BYD in UK (and New Zealand). By the way, Proterra and BYD are the two leader of the electric bus market in the US, according to the consulting company Eb Start Consulting.