Karsan e-Jest confirmed 2021 market leader in the European electric minibus segment
Karsan becomes the leading brand in the electric minibus market in Europe for two consecutive years. The e-Jest was wrapped up 2020 as Europe's leader in the electric minibus market with a market share of 43 percent, which jumped to 51.2 percent in 2021, placing it once again at the top spot, Karsan says (mentioning […]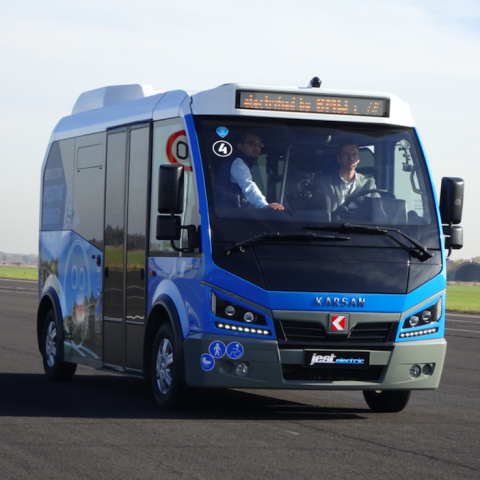 Karsan becomes the leading brand in the electric minibus market in Europe for two consecutive years. The e-Jest was wrapped up 2020 as Europe's leader in the electric minibus market with a market share of 43 percent, which jumped to 51.2 percent in 2021, placing it once again at the top spot, Karsan says (mentioning figures from a report by Wim Chatrou – CME Solutions, author of an accurate report of alternative drive bus registration in Europe). Number of registered vehicles is not disclosed.
Karsan e-Jest leader in the e-minibus segment
The Turkish bus builder sums up: «Karsan e-Jest managed to gain a 24 percent market share in its class in Europe in 2019, the first year of its launch, and managed to become the best-selling model in its class in 2020 by bringing that share up to 43 percent that year. According to the European Minibus Market Report covering 3.5-8 metric ton-class for 2021, published by Wim Chatrou – CME Solutions, the eco-friendly model, which further built on its success the previous year, increased its market share for electric minibuses in Europe to 51.2 percent, making it the leading brand of its class two years in a row».
BMW e-motor for the Karsan e-Jest
The Jest Electric is equipped with a BMW electric motor producing 170 HP power and 290 Nm torque with optional 44 or 88 kWh batteries again made possible by BMW. The range stated by Karsan is up to 210 km, also thanks to a regenerative braking system which provides energy recovery by enabling the batteries to self-recharge at a rate of 25%. The e-bus is decorated with a 10.1-inch multimedia touchscreen, fully digital dashboard, keyless go, and USB ports as well as an optional WiFi compatible infrastructure.
Karsan's CEO Okan Baş said: "We have been among the prominent actors in the minibus market in Turkey for over 50 years. In addition to its unique dimensions, Karsan's experiences, distribution network and after-sales services also contributed for sure to this significant achievement of e-JEST in the small buses segment. We have put the e-Jest, which differentiates itself from its competitors by its electric motor and batteries with proven BMW i technology, into operation throughout many European countries including France, Romania, Portugal and Germany. Backed by our know-how, we managed to grow every year in the European market, doing better each time than the previous year. Karsan e-Jest, which became the market leader for electric minibuses in Europe for the second time in 2021, boasts a market share of 51.2 percent, which means every other minibus registered in the traffic is an e-Jest."