Pepper Motion converted bus on a roadshow in Poland
27 days, 12 cities: 2,100 km travelling by Pepper Motion GmbH's etrofit bus on an electrifying roadshow trip through Poland. Together with its sales partner Green Transport sp. z o.o., Pepper Motion (formerly known as eTro-Fit) is presenting its award-winning retrofitting solutions for the electrification of used city buses for public transport on a four-week […]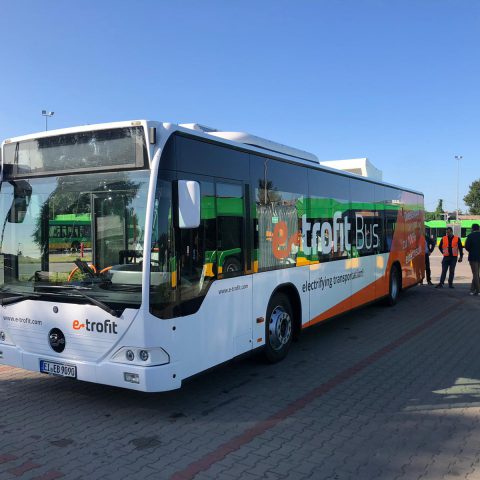 27 days, 12 cities: 2,100 km travelling by Pepper Motion GmbH's etrofit bus on an electrifying roadshow trip through Poland. Together with its sales partner Green Transport sp. z o.o., Pepper Motion (formerly known as eTro-Fit) is presenting its award-winning retrofitting solutions for the electrification of used city buses for public transport on a four-week roadshow from August 24 to September 19.
Pepper Motion, second life of buses is electric
Existing buses (e.g., Mercedes Citaro), retrofitted according to the latest state of the art with Pepper Motion drive technology and the in-house developed Vehicle Control Unit (VCU), meet the highest international standards of the automotive industry for functional safety in accordance with ISO 26262, the company says. The scalable battery system with 240 kWh standard net capacity can easily cover, according to Pepper Motion, regular daily routes of over 200 km. A complete overhaul of the interior gives the bus the high-quality appearance of a new vehicle for zero-emission and low-noise transport in urban and regional settings.
The etrofit electrification KITs for diesel vehicles, developed in accordance with OEM standards, offer series solutions for a rapid transition to electromobility. This extends the economically useful life of existing vehicles, giving them an environmentally friendly "second life" as an electric vehicle.
Pepper Motion in Poland, a roadshow
"After many discussions and negotiations with our distribution partner, Green Transport, we have finally reached a milestone where things are becoming very exciting for Pepper Motion in the Polish market. Polish transport companies' openness to technology coupled with new government funding programs for the procurement of electric buses in local public transport put our vehicles with the etrofit electrification kits and their unique technological features in pole position with high market potential in the entire Eastern European region," describes Robert Reisenauer, Head of Sales and Marketing at pepper motion GmbH. "In particular, our partnering concept to generate a local value chain by converting used city buses with direct access to customers offers an economic advantage that no other competitor in the market can deliver".
The stopovers of the pepper Roadshow in detail: Podznan (Aug. 24-25), Sieradz (Aug. 25-26), Sosnowiec (Aug. 26-27), Kraków (Aug. 27-30), Rzeszów (Aug. 30-31), Zamość (Sept. 1), Chelm (Sept. 2-3), Lublin (Sept. 3-7), Warszawa (Sept. 7-9), Torun (Sept. 9-10), Gdansk (Sept. 10.-14), Wroclaw (Sept. 14-18)