California, SamTrans orders 30 zero emission buses from New Flyer and Gillig
The SamTrans Board of Directors voted to replace 30 diesel buses with 20 battery-electric buses (BEB) and 10 fuel cell buses (FCEB). These have been awarded to Gillig and New Flyer respectively. This purchase helps move SamTrans planned full conversion of the fleet from a projected to 2038 to 2034.   These buses are expected […]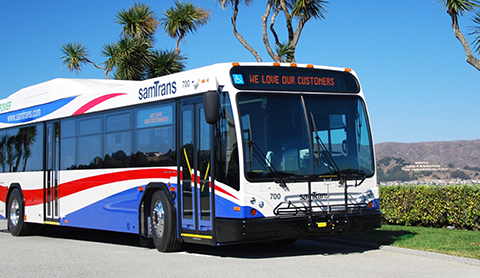 The SamTrans Board of Directors voted to replace 30 diesel buses with 20 battery-electric buses (BEB) and 10 fuel cell buses (FCEB). These have been awarded to Gillig and New Flyer respectively. This purchase helps move SamTrans planned full conversion of the fleet from a projected to 2038 to 2034.  
These buses are expected to begin service in 2023.
California, SamTrans orders 30 zero emission buses
SamTrans will be introducing a mix of BEB and FCEB at the launch of its Zero Emission Bus (ZEB) fleet deployment to assess how the two technologies perform under different conditions, which can serve which routes better and what it would require to meet their infrastructure needs. Ultimately, SamTrans announces it will develop a plan for full ZEB conversion of the fleet by 2034, six years before the state mandated conversion in 2040.
The purchases award a $13.9 million contract with New Flyer of America for the FCEBs and a $22.8 million contract with Gillig for the BEBs. It is fully funded by a combination of federal, State and SamTrans sales tax funds. The new buses will replace the 2009 40-foot diesel buses, some of the oldest vehicles in the SamTrans fleet. The diesel buses have reached the end of their useful life and are due for replacement to ensure continued reliable service for passengers and compliance with Federal Transit Administration (FTA) and Metropolitan Transportation Commission (MTC) guidelines.
The new 40-foot buses will be used throughout SamTrans service area and can carry approximately 38 seated passengers with up to another 18 riders standing, the operator outlines.  Like all SamTrans buses, the new buses have priority seating for seniors and people with disabilities and exterior bike racks that can accommodate up to three bikes.
Still SamTrams adds that the new buses will have USB charging ports on all double seats. The buses will have disc brakes, which are becoming an industry standard as they require less maintenance and upkeep. The buses have a low-floor design, which will mean that the buses will be equipped with ramps rather than lifts, and Q-Pod wheelchair restraint systems to secure wheelchair users that are easier for operators and include additional safety features beyond the existing ratchet-based system.