Tranzit adds 10 electric double decker bus to Wellington fleet. With Heliox's chargers
Ten electric double-decker buses will soon hit the streets of Wellington, New Zealand's capital city. The veichles, as stated by local press, are built and assembled by Kiwi Bus Builders in Tauranga and are equipped with lithium ion-based battery technology from global developer Microvast. The chassis is manufactured by China-based company TEG. 1 million dollars for […]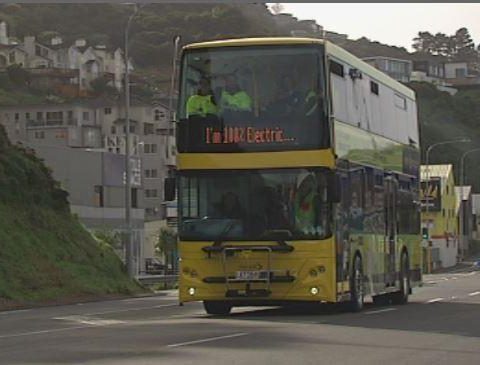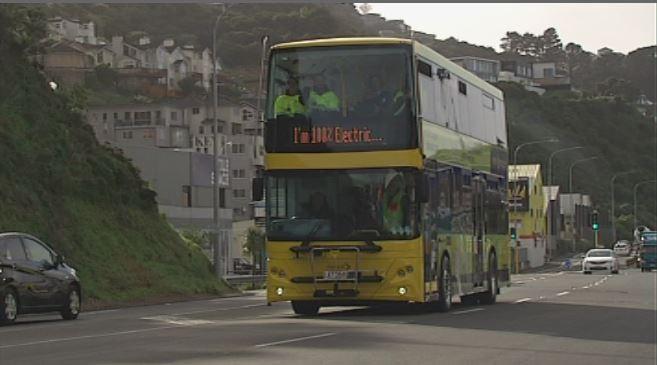 Ten electric double-decker buses will soon hit the streets of Wellington, New Zealand's capital city. The veichles, as stated by local press, are built and assembled by Kiwi Bus Builders in Tauranga and are equipped with lithium ion-based battery technology from global developer Microvast. The chassis is manufactured by China-based company TEG.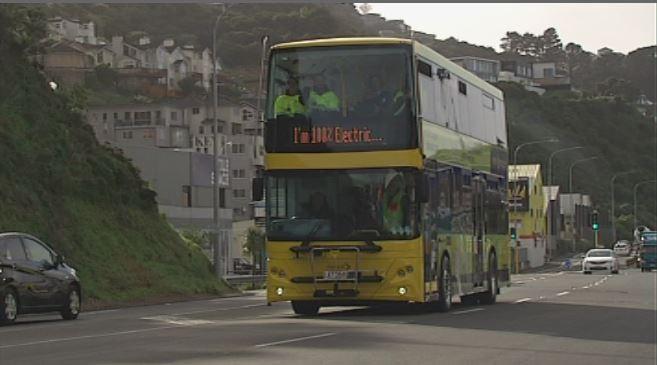 1 million dollars for each electric double decker bus
The ten vehicles are the first electric double decker buses to be deployed in the country, that will host three electric buses by ADL-BYD in operation from next year. A few days ago a presentation with the first two Tranzit's electric buses has been held in Wellington. The initial fleet of 10 electric double-deckers will be phased in from July 15 in Wellington and bolstered by 10 more in 2020 and another 12 in 2021. Still according to local journal Wellington.scoop, the ten electric buses cost 1 million dollars each, stands 4.75m high, 2.5m wide and 10.4m long. Each double decker electric bus can carry up to 82 passengers and travel up to 150 km on a single depot charging overnight (at Tranzit's Tranzurban depot in Rongotai).
The premiere of the pantograph on a double decker bus
The buses, anyway, are also equipped with fast charging system via pantograph. A rapid partial charge takes 10 minutes. The charging infrastructure is provided by Heliox. The electric buses can pride themself to be the first double decker buses being charged via roof-mounted pantograph. Heliox, states a press release by the company, has delivered an innovative aspect to Tranzit's charge network by combining the CCS plug-in system for the depot charging and a roof-mounted pantograph system in route to charge the double-decks. This project is a great example of the strength of open interfaces shown by the open source OCPP back-office communication of all chargers in the network combining data of both the infrastructure and the EV bus fleet.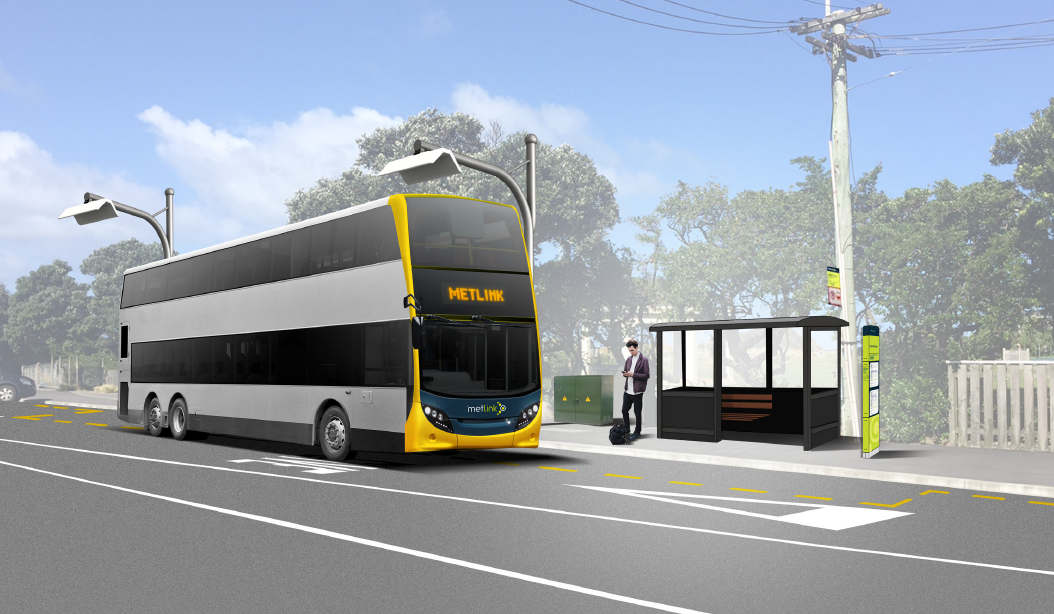 Heliox infrastructures for Wellington
To this day, Heliox has globally charged more than 350 electric buses and has proven experience and ability to deliver large-scale implementation in a short timeframe. In total, 8 chargers will be provided to this project, comprising of five DC 2x30kW Twin Chargers, two OC 450kW ultra-fast chargers and one DC 25kW Mobile Charger with a plug-in option for ultimate flexibility in the workshop. Heliox fast charging infrastructure will initially cover 9 bus routes across the Wellington region, which run between the suburbs of Island Bay and Churton Park.
Depot charging and fast charging
The 82-seat double-deckers will be fully charged overnight at the depot using the Heliox Fast DC 2x30kW twin chargers, while topping up their batteries during the day using Heliox OC 450kW opportunity chargers at charging stations in route across the network. This type of fast charging ensures maximum availability as the charging takes place while passengers board and disembark the bus. Heliox's OC 450 kW charger can recharge a battery in 2-5 minutes. These chargers are compatible with the roof-mounted system, an interoperable and open interface. A key advantage of the Heliox Fast Charging system is that Heliox's fast chargers are compatible with any other brand and models of electric buses that use opportunity charging. This also helps to further accelerate the uptake of additional electric buses in the future.
Tranzit is the first user of fast charging in Southern Hemisphere
Keven Snelgrove, Transport and Operations Director for Tranzit Group: "We're excited to be the first users in the Southern Hemisphere of fast charge technology. Heliox have been professional partner to date, their experience and proven robust charging infrastructure was a key factor in our decision-making process. The charging stations are very discreet and will be placed strategically on our routes for greater range around Wellington. We're delighted that Wellington are investigating into New Zealand's first fully-electric bus fleet." Bob Bouhuijs, director Automotive at Heliox: "This project is great example how Heliox's open technology supports bus operations with different suppliers all over the world.  We are excited to provide our chargers to the very first full electric double decker buses in Wellington, New Zealand and believe our robust and reliable solution that enable the usage of roof-mounted system, will deliver maximum availability and increased uptime to the EV fleet. We are proud to partner with Tranzit and introduce the charge network for double-deck buses as the newest innovation in the market. "