VDL sells 36 electric buses to Kiel (Germany). Charging only at end of the routes
VDL signed a new emobility project in Germany with the supply of 36 articulated electric buses to the city of Kiel, north of Hamburg. It is the fifth project managed by the Dutch manufacturer in Germany, and involves 18.7 meter long electric buses. What is interesting in Kiel project is that the vehicles operated by […]
VDL signed a new emobility project in Germany with the supply of 36 articulated electric buses to the city of Kiel, north of Hamburg. It is the fifth project managed by the Dutch manufacturer in Germany, and involves 18.7 meter long electric buses.
What is interesting in Kiel project is that the vehicles operated by KVG Kieler Verkehrsgesellschaft won't be charged overnight in depot but only at the end of the routes thanks to 450 kW charging stations. First deliveries are scheduled for August 2020.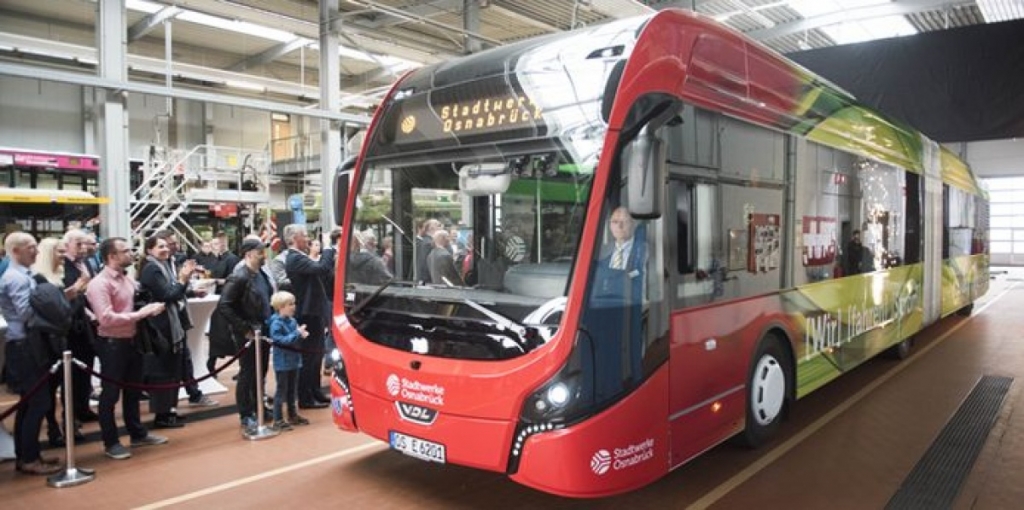 No depot charging for VDL ebuses in Kiel
In Kiel, electric buses (model Citea SLFA-187 Electric) will travel on 5 lines in the city. They will not be recharged at the depot at night, but exclusively at the terminus of each line, VDL points out. At the end of the day, when they reach their final stop, the buses will be almost 100% recharged. In the morning, a few minutes before the start of the first service, the buses will receive a top-up charge, so they will start their first run fully recharged.
Within this project, VDL will be cooperating with Schaltbau Refurbishment, who will supply the 450 kW charging devices.
500 VDL electric buses in operation
VDL has delivered to date some 500 ebuses in 11 countries, for an average electric mileage of 75,000 km every day. In comparison with conventional diesel buses, according to VDL's figures, this represents a CO2 reduction of 70 tonnes per day, which in turn means improved air quality.
Five German city, Kiel included, have chosen VDL for their electric bus project: Münster, Osnabrück (that in July ordered 49 further unites in addition to the 13 already in operation), Cologne, Oberhausen and Bottrop.
Boris Höltermann, Managing Director of VDL Bus & Coach Germany explained, "There are already hybrid buses operating in Kiel. The switch to electric buses demonstrates a considerable degree of daring and vision on the part of Kiel's municipal authorities. In Germany, government is taking an ever growing number of initiatives in the field of sustainable mobility. We are happy to contribute our knowledge and years of e-mobility experience in Europe to make this project a success. With the first delivery, planned in August 2020, we will be joining forces with Kiel to underpin our target of 'Aiming for zero'."