Vicinity enters partnership with tech company Adastec to bring driverless e-buses in North American market
SAE Level-4 automated driving software platform provider Adastec has entered a partnership with commercial vehicles provider Vicinity Motor, based in North America. Outcome of the cooperation is the introduction on the market of the Vicinity Autonomous Lightning EV, a medium-duty, fully electrified, low-floor automated transit bus, partners state. The partnership brings together Vicinity's expertise in […]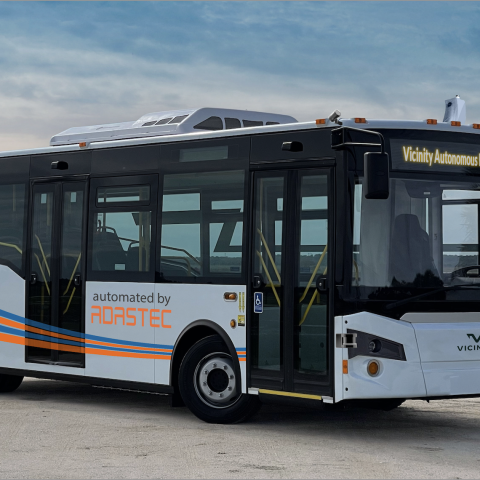 SAE Level-4 automated driving software platform provider Adastec has entered a partnership with commercial vehicles provider Vicinity Motor, based in North America. Outcome of the cooperation is the introduction on the market of the Vicinity Autonomous Lightning EV, a medium-duty, fully electrified, low-floor automated transit bus, partners state.
The partnership brings together Vicinity's expertise in medium-duty, accessible, fully electrified low-floor transit vehicles with Adastec's automated driving software platform, flowride.ai, already installed on the Turkish-made Karsan e-Atak.
In January 2022 Vicinity announced their e-buses was set to be equipped with Proterra batteries. Proterra contracted to supply Vicinity with battery systems to power a minimum of 600 Vicinity commercial electric vehicles through 2024. The Proterra Powered Vicinity Lightning vehicle is expected to begin production in the third quarter of 2022. Now Proterra battery business has been sold to Volvo Group and it's unclear how existing agreements between Proterra and OEMs will continue.
Vicinity deal with Adastec for autonomous buses
Cemre Kavvasoglu, Product Management Director, North America of ADASTEC, commented: "At Adastec, our collaboration with Vicinity marks a transformative moment in transportation. Together, we are introducing the Vicinity Autonomous Lightning EV, a medium-duty, fully electrified, low-floor automated transit bus that prioritizes accessibility, sustainability, and innovation. Our commitment to safety and accessibility is evident in our projects. Adastec and Vicinity are driving innovation in the mobility sector, and we are eager to make a positive impact on communities and passengers alike."
Ali Ufuk Peker, Chief Executive Officer of Adastec, added: "Adastec is dedicated to solving modern city problems with automated public transportation, providing high-quality transportation to underserved communities while reducing traffic congestion and carbon emissions. To achieve scalability, we partnered with OEMs from the beginning instead of retrofitting or trying to develop our own vehicle. This allows us to leverage more than 100 years of experience in the automotive manufacturing industry. Our partnership with Vicinity will bring FMVSS, ADA, and Buy America-compliant automated buses to the North American market. By reusing our experience in global deployments, we will provide the best solution to North America, which is the largest and highest growth rate market for automated transportation solutions."
Brent Phillips, Senior Director of Sales of Vicinity, expressed enthusiasm for the partnership's impact: "Our partnership with Adastec is a game-changer, marking a new era in public transportation solutions for the United States and Canada. We are fortunate to lead the industry, delivering the first Buy America fully FMVSS compliant low-floor bus."
William Trainer, Founder, and Chief Executive Officer of Vicinity, stated:, emphasized the strength of their partnership: " "Over the last year, we have worked closely with Adastec, recognizing our leading position in the industry, to formalize our partnership agreement while jointly pursuing opportunities to deploy autonomous solutions. Taking this time to get it right has produced the ultimate benefit of a robust partnership. Adastec's extensive experience in SAE Level-4 automated driving software platform complements our expertise, setting the stage for pioneering advancements in the field."