Altas, Otokar and ABB among BUS2BUS 2022 main protagonists: two e-minibus on the launching pad
BUS2BUS 2022 is on the launching pad and announces the new vehicles that are going to be launched in Berlin on 27 and 28 April. The BUS2BUS 2022, scheduled for 27 and 28 April in Berlin, will be the first on-site event for the bus industry since the Corona outbreak. Last year the exhibition was held in […]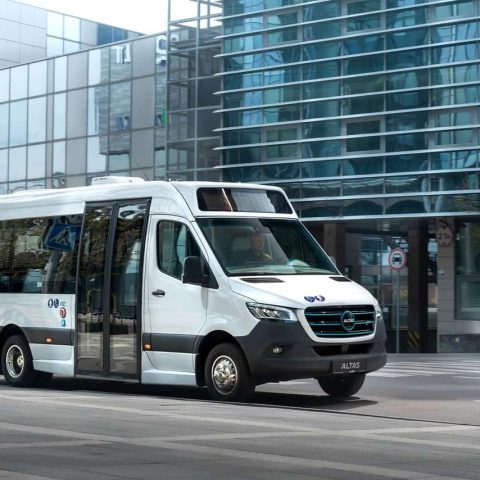 BUS2BUS 2022 is on the launching pad and announces the new vehicles that are going to be launched in Berlin on 27 and 28 April.
The BUS2BUS 2022, scheduled for 27 and 28 April in Berlin, will be the first on-site event for the bus industry since the Corona outbreak. Last year the exhibition was held in digital way (reaching 900 attendees from 19 countries). This year the event will be back live with a program that mixes together exhibition, congresses, workshop, special events.
ALTAS at BUS2BUS 2022 with the Novus Cityline
Altas Auto, a Lithuanian manufacturer of minibuses currently celebrating its twentieth anniversary, is displaying the ALTAS Novus Cityline fully electric minibus to the public for the first time. This zero-emissions vehicle measures 7.6 metres in length and has seating for 22 passengers. It has a stated range of 270 kilometres and a battery capacity of 115 kWh.
Otokar: soon unveiled the e-Centro C
The Turkish manufacturer Otokar is also increasing its electric product range. At BUS2BUS the company is presenting the e-Centro C, an electric minibus and innovation. This zero-emissions vehicle impresses with its low noise output and straightforward design, and represents the latest addition to Otokar's large range of buses with alternative drive systems.
With MAN Lion's Intercity LE, MAN is presenting a new low-entry bus for urban transport at the fair. The tried and tested Efficient Hybrid Module from the new city bus generation makes this vehicle particularly eco-friendly.
Iveco Bus Streetway at BUS2BUS 2022
With the Streetway from IVECO BUS, another vehicle is making its Germany debut at this year's BUS2BUS. On show will be a 12-metre long low-floor city bus with an extremely fuel-efficient engine, which can be powered by diesel or CNG. It can be configured to a wide range of specifications to meet the various needs of urban transport.
The supply industry is also investing in electric drives. For the first time, ABB E-mobility GmbH is exhibiting at BUS2BUS. The Mannheim-based company supplies charging points for electric vehicles.
Thomas Hering, head of sales, says: "ABB E-mobility GmbH aims to demonstrate how sustainable mobility can function in the bus sector. That is why we are looking forward to our first appearance as an exhibitor at BUS2BUS this year. Most of all, we are looking forward to meeting people on the grounds again."