Bus2Bus 2024 toward a sold-out: half of the spaces are already booked. Between confirmations and novelties
The 2022 edition of Bus2Bus, the bus fair in Berlin, had recorded excellent results: more than two thousand trade visitors from 25 countries, about one hundred exhibitors of 16 different nationalities. The next event is more than a year away, but fever is already rising for the next Bus2Bus, scheduled for April 24-25, 2024: fifty […]

The 2022 edition of Bus2Bus, the bus fair in Berlin, had recorded excellent results: more than two thousand trade visitors from 25 countries, about one hundred exhibitors of 16 different nationalities. The next event is more than a year away, but fever is already rising for the next Bus2Bus, scheduled for April 24-25, 2024: fifty percent of the exhibition space at Messe Berlin has already been booked.
Towards Bus2Bus 2024
Numerous national and international bus manufacturers have confirmed their participation in the show, starting with the best-known Ebusco, VDL Bus & Coach, EvoBus/Daimler Buses, MAN Truck & Bus Deutschland, Iveco Magirus, Karsan Automotive, Otokar Europe, pepper motion and Anadolu Isuzu. They will be joined for the first time by companies such as MCV Germany, Van Hool and Elektrobus Europe (Ikarus Group) who will bring their buses to the fair.
Among the suppliers exhibiting at BUS2BUS 2024 will be: J.M. Voith, Munk, AMCON Software, ITCS Service Support, Valeo Thermal Commercial Vehicles Germany, Franz Kiel and, for the first time, the Italian companies Punginelli and Sermec.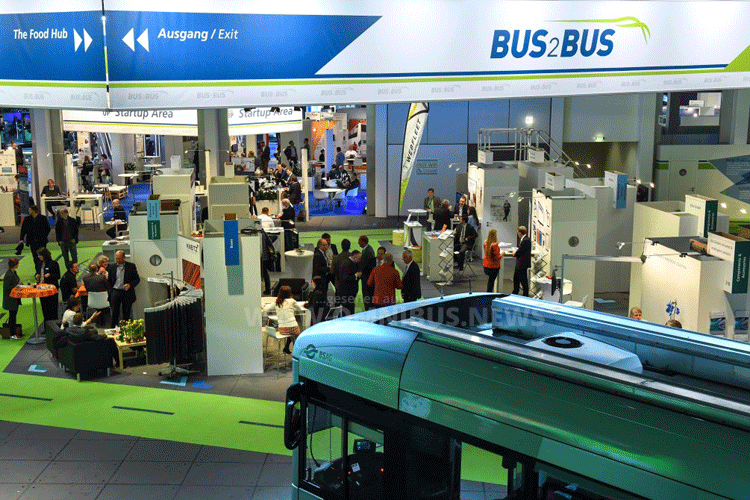 What's new in Bus2Bus 2024
Zoltán Sipos, CEO at Elektrobus Europe: "As representatives of the Ikarus brand, we believe that even a well-established manufacturer should regularly participate in the most prestigious industry trade shows. In addition to presenting the current product range, this also offers us the opportunity to build new market relationships and gain new industry insights. The BUS2BUS Team has successfully proven that it can provide such a platform for us with great expertise and sophistication."

Dirk Snauwaert, Public Relations Manager at Van Hool: "At BUS2BUS 2024, we will feature innovative city buses that are completely emission-free thanks to the operation with batteries, fuel cells and overhead lines. Our coach range also includes a new series that focuses on safety and comfort."