Busworld lands in North America on 4-6 February
The first time of Busworld in North America. Early February will see the very first edition of Busworld North America in Detroit (and Sustainable Bus editorial team will be attending!). The first edition of Busworld dates back in November 1971 in Kortrijk, Belgium. Today, Busworld organizes bus and coach exhibitions in Turkey, Southeast Asia, Latin […]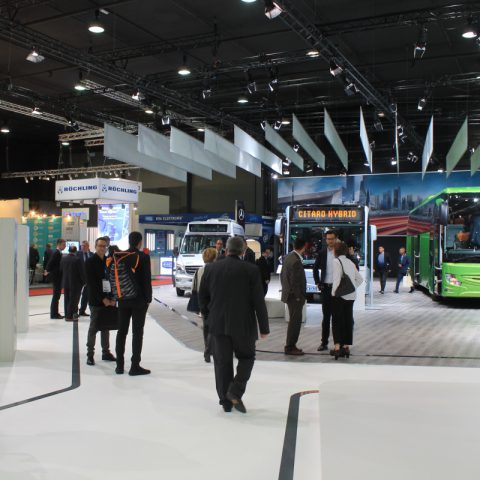 The first time of Busworld in North America. Early February will see the very first edition of Busworld North America in Detroit (and Sustainable Bus editorial team will be attending!). The first edition of Busworld dates back in November 1971 in Kortrijk, Belgium.
Today, Busworld organizes bus and coach exhibitions in Turkey, Southeast Asia, Latin America, Central Asia, beyond the main expo for the European market moved to Brussels in 2019 (and it'll be back this year on 7-12 October).
Busworld North America 2023 in Detroit, a first
This event aims to bring together all segments of passenger bus transportation for the first time in North America.
Busworld North America 2023 is organized in cooperation with the American Bus Association (ABA), and will consists of both a trade show and a conference. It'll take place in Detroit, Michigan. Being more specific, the trade show will take place from Feb. 4 to 6, and the conference from Feb. 5 to 7.
Busworld North America 2023 will be a first edition. And this should be taken into account when looking at the exhibitors' list, that so far features some big brands such as ABC Companies, MCI, Daimler Coaches, BYD, Prevost, Temsa, Marcopolo. Other attending companies will be Adastec (partner of Karsan in the autonomous Atak project), Bridgestone, Dafo, Heliox, Zenobe.
Busworld North America conference
Focus topics of the conference will be the transition to zero emission mobility and the digitalization trend. The conference will be supported by CTE (Center for Transportation and the Environment) and Endava and will spread over 3 days (5 to 7 February). 11 sessions are on the agenda.