Caetanobus will use Toyota fuel cell technology to build hydrogen buses
Toyota will provide its hydrogen fuel cell technology (including fuel cell stacks, hydrogen tanks and other key components) to Caetanobus SA in Portugal, to build hydrogen fuel cell city buses. The first zero emission fuel cell city buses will roll off the lines of Caetanobus in a little over a year, Toyota reports in a press release, […]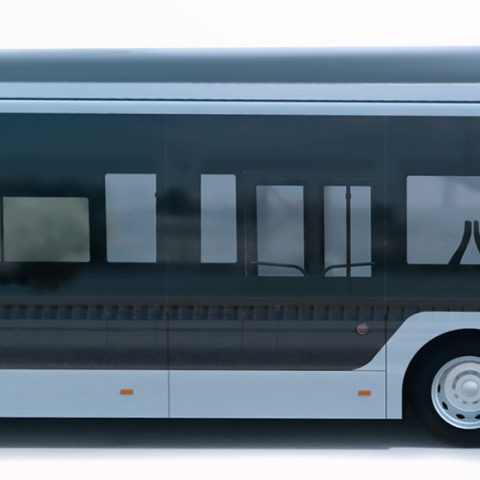 Toyota will provide its hydrogen fuel cell technology (including fuel cell stacks, hydrogen tanks and other key components) to Caetanobus SA in Portugal, to build hydrogen fuel cell city buses. The first zero emission fuel cell city buses will roll off the lines of Caetanobus in a little over a year, Toyota reports in a press release, and are to be operated as demonstration buses.

Project Sora: Toyota developing the fuel cell bus
Toyota has been working since some years on the development of a fuel cell bus, named Sora. The vehicle's concept has been approved and launched on the market a few months ago. Sora project will have its arrival point at 2020 Olympics in Tokyo, when one hundred fuel cell buses are expected to circulate in Japan capital city. The name Sora is the acronym for "Sky, ocean, river, air", and therefore recalls the water cycle. The vehicle represents Toyota's peculiar challenge in the world of zero-emission buses: in a context in which all the major manufacturers are looking to the electric field, which according to estimates will expand its market share disproportionately between now and 2030, the Japanese company is working on a fuel cell bus, a technology that experienced its moment of (apparent) glory a few years ago before being abandoned while waiting for technological advances.
Toyota  Sora, the bus based on Mirai car fuel cell system
The Toyota Sora, 10.5 metres long, is based on the Toyota fuel cell system (Tfcs), developed for the Mirai car. It can accommodate up to 79 people, 22 seated and 56 standing, and can be used as an electricity generator if required. A socket on the back of the bus can supply 9 kW of power for over 24 hours. In this way, the company points out, it can be used to evacuate schools and buildings or as a power supply to provide electricity for domestic use. The maximum power developed by the motor is 113 kW for two units.
Toyota and Caetanobus walk together
The announcement of the cooperation between Toyota and Caetanobus was made in Lisbon, in presence of some of the highest Portuguese government representatives for mobility and the environment, during the visit of the Energy Observer catamaran, the first hydrogen sea vessel powered purely by renewable solar and hydrogen energy. "Supplying our fuel cell systems to Caetanobus demonstrates the many practical uses and environmental benefits of hydrogen towards a carbon-free society. We're really excited by the prospect of seeing the first buses of our longstanding automotive partner in European cities." said Dr Johan van Zyl, President and CEO, Toyota Motor Europe. "Hydrogen buses have significant advantages compared to other zero emission buses, such as superior driving range and short refuelling time. These benefits allow hydrogen buses to be operated on longer routes and a higher utilisation".
José Ramos, President of Salvador Caetano Indústria holding, commented: "We are very proud to be the first company in Europe to benefit from Toyota's leading fuel cell technology and look forward to confirming our world-class bus development and manufacturing capabilities. We are convinced that hydrogen is a great solution for zero emission buses."
Fuel cell buses panorama
Actually, the main barrier of fuel cell bus adoption is, to date, their price. According to ZeEUS eBus Report #2 released by Uitp, fuel cell buses are expected to have a market share of 2 per cent in 2020 and 10 per cent in 2030, in the segment of urban buses and in European area. Still a little "slice" compared to the 52 per cent forecast of battery electric… but the multiplication for five is anyway impressing and opens up interesting scenarios for after 2030 years. In 2019, European manufacturer Solaris Bus & Coach (recently taken over by Spanish group CAF) will unveil the Solaris Urbino 12 hydrogen, a new generation vehicle deriving power from a hydrogen fuel cell. In the United States, a fuel cell electric bus manufactured by El Dorado National and powered by Ballard Power Systems FCveloCity Hd modules has successfully completed testing at The Altoona Bus Research and Testing Center under a program established by the Federal Transit Administration (FTA).