Safra to launch the fuel cell bus Hycity at European Mobility Expo in Paris
Safra is getting ready to launch a new fuel cell bus model called Hycity at the European Mobility Expo exhibition in Paris on 7th June, among the main public transport exhibitions scheduled in 2022. The bus is set to complete the company's portfolio of solutions for low-carbon mobility. Safra Hycity: the heritage of the Businova […]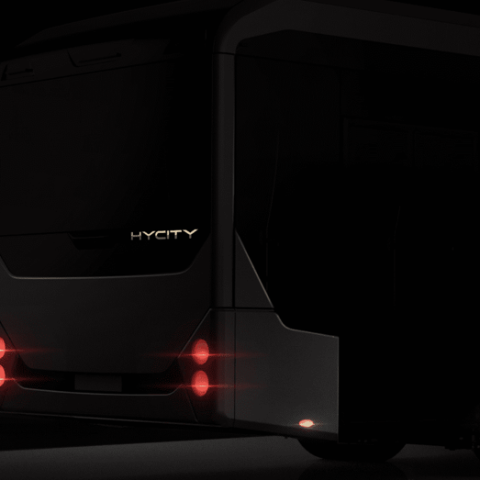 Safra is getting ready to launch a new fuel cell bus model called Hycity at the European Mobility Expo exhibition in Paris on 7th June, among the main public transport exhibitions scheduled in 2022. The bus is set to complete the company's portfolio of solutions for low-carbon mobility.
Safra Hycity: the heritage of the Businova
The Safra Hycity will make its official debut in June at the European Mobility Expo in Paris, Porte de Versailles. The vehicle benefits from the experience of its predecessor, the Businova, the first hydrogen bus manufactured in France by Safra, and launched since 2018 in five French cities.
The Safra Hycity incorporates shared components and standardised equipment, and has benefited from a complete restyling of interior and exterior design. The vehicle is currently available in 12-metre lengths and is offered in a 3-door version with a full flat floor. The 18-metre version is planned for 2023 (it is worth mentioning that Solaris announced for late 2022 the launch of its articulated hydrogen bus).
18-meter Safra Hycity expected in 2023
Eric Baleviez, since early 2022 Marketing and Sales Director, says: "The decision to focus our range and expertise on hydrogen mobility (Hycity range and retrofit service) has enabled us to mobilize all our development teams on this new 12-metre platform. Businova's feedback on electric drivetrain and hydrogen energy management, standardisation of the vehicle structure and integration of components were all elements that were integrated from the very first design inputs. We have set up a progressive industrialization plan that integrates new assembly, logistics, test and trial processes. Our ongoing work in the field of partnerships with maintenance and spare parts dealers at national level is also one of the cornerstones which will be announced shortly and will fully contribute to the deployment and operation of our vehicles".