ABB will be powering 1,000 e-buses in Qatar
ABB has won a contract to design, supply, test and commission a new high-power charging infrastructure for one of the world's largest fleet of electric buses, that is bound to be in operation during FIFA World Cup 2022. ABB will supply over 125 MW of charging capacity, 1,300 connectors for destination charging and 89 opportunity chargers. […]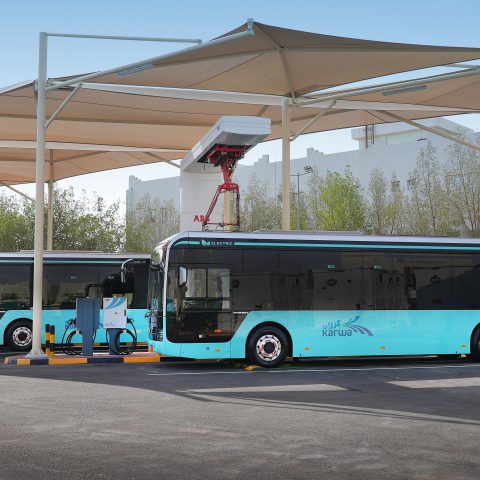 ABB has won a contract to design, supply, test and commission a new high-power charging infrastructure for one of the world's largest fleet of electric buses, that is bound to be in operation during FIFA World Cup 2022. ABB will supply over 125 MW of charging capacity, 1,300 connectors for destination charging and 89 opportunity chargers. A contract for 741 battery-electric buses has been awarded to Yutong in late 2020.
The project will see ABB provide high power charging infrastructure for the fleet, which is expected to have 1,000 electric buses operating across the country and with a capacity to transport 50,000 passengers a day.
ABB to realize four e-bus depots in Qatar
Partnering with Mannai Trading Company, Public Works Authority 'Ashghal' and fleet operator, Mowasalat, ABB will design and deploy Heavy Vehicle Charging equipment across multiple locations in Qatar, including four bus depots, eight bus stations and 12 metro stations. The project scope also includes a three-year service level agreement.
For the project, ABB will supply over 125 MW of charging capacity, 1,300 connectors for destination charging and 89 opportunity chargers, four of which will be mobile. With this charging solution, the complete Mowasalat electric bus fleet can be charged overnight at the depots and while in use without impacting regular operations, ensuring a fast and convenient charging experience for operators and passengers.
ABB in Qatar: charging infrastructures for Yutong e-buses
ABB will also provide the data connection and interfaces to connect and integrate the charging infrastructure operation into the Mowasalat Fleet Management System for 24/7 fleet optimization. Besides integration with the Fleet Management System, chargers will also be connected to the ABB Ability cloud to remotely monitor and diagnose the infrastructure by using more than 400 parameters. This complete solution maximizes uptime and efficiency and ensures reliable infrastructure for the public.
Frank Muehlon, President of ABB's E-mobility division said: "As part of ABB's 2030 sustainability strategy, we are focused on helping fleets to unlock the potential of e-mobility with state of the art and intelligent charging solutions. As the world moves towards green bus fleets, our solutions are at the leading edge to help cities and regions around the world discover the value of electrification and how it can help us all transition to cleaner and greener transport solutions."
Saad Ahmed Ibrahim Al Mohannadi, the President of the Public Works Authority 'Ashghal', said: "Qatar has taken impactful steps to combat climate change and promote sustainability. This includes a variety of local programs and initiatives, including the introduction of green public transport solutions. In Qatar, we have set ambitious goals to reduce CO2 emissions and make a valuable global contribution to mitigate and adapt to climate change. The installation of e-mobility infrastructure in Qatar supports these global efforts. ABB was selected as a partner because it shares our vision for a greener future and has the expertise to support Qatar's environmental and public transport targets. We look forward to the collaboration".