Hitachi – Arrival: a partnership to deliver e-buses and infrastructures in Europe
Hitachi Europe and Arrival have partnered to deliver new bus and infrastructure solutions to the European bus industry. The non-exclusive partnership combines Hitachi's digital and operational capabilities with Arrival's products, which have the goal of being competitive in price with fossil fuel alternatives. The UK-based startup has recently debuted on Nasdaq. First trials of the Arrival […]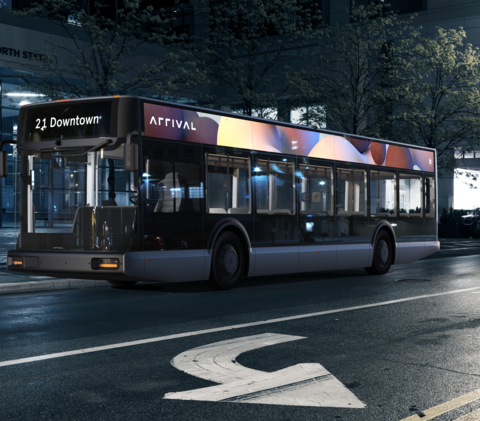 Hitachi Europe and Arrival have partnered to deliver new bus and infrastructure solutions to the European bus industry.
The non-exclusive partnership combines Hitachi's digital and operational capabilities with Arrival's products, which have the goal of being competitive in price with fossil fuel alternatives. The UK-based startup has recently debuted on Nasdaq. First trials of the Arrival electric bus will be held in the UK by First Bus.
Together, Hitachi and Arrival say, «both companies will work with operators to deploy integrated end to end solutions that incorporate all aspects of owning and operating Arrival vehicles; this includes items such as charging infrastructure and digital tools. The deployment of these solutions not only simplifies the transition to electric but when combined with the lower total cost of ownership that Arrival's vehicles and technologies provide, creates an extremely compelling finance model that will accelerate the transition to electric vehicles for businesses across the UK, Germany, Italy, Spain, the Nordics and the EMEA region».
As governments look to phase out petrol and diesel vehicles in the next decade, providing the wide range of necessary solutions and technologies in an integrated, streamlined and operationally-manageable way will be vital for bus operators and municipalities across Europe

Mike Nugent, Head of EV, at Hitachi Europe
Hitachi – Arrival: data collection to improve operations
Arrival electric bus project was unveiled in summer 2020. Lightness, software development and user experience are in the spotlight of such project, as explained by Ben Jardine, Chief of Product, in an interview with Sustainable Bus. The single-deck Arrival Bus for First bus features a single front door with a passenger seating capacity of 36 across the entire flat floor. It is equipped with up to 310.8 kWh of energy storage capacity with the option of both an AC and DC charge.
Advanced integrated solutions from Hitachi will also enable data collection from the many sensors within the Arrival Bus to further optimize customer operations as part of the relationship.
Arrival joins forces with Hitachi
Arrival's vehicles represent the next generation of EVs having been developed from the ground up using the company's radical new method of design and production. This vertically integrated approach using in-house developed hardware, software and robotics enables production in decentralised Microfactories.  These Microfactories can be deployed around the world to service demand and supercharge local communities by hiring local talent, utilising local supply chains and paying local taxes, Arrival underlines.
The two companies share a commitment to reducing CO2 emissions and making cities more sustainable. Hitachi, a climate change innovator, has recently become a Principal Partner for COP26 and is a member of the UN's Race to Zero campaign through the Business Ambition for 1.5°C.
Arrival opts for Hitachi as bus charging infrastructures provider
"We're delighted to join forces with Arrival as we become the partner of choice for municipalities and bus operators to deliver end to end and integrated estate wide rollouts of electric vehicles and infrastructure," said Mike Nugent, Head of EV, at Hitachi Europe. "As governments look to phase out petrol and diesel vehicles in the next decade, providing the wide range of necessary solutions and technologies in an integrated, streamlined and operationally-manageable way will be vital for bus operators and municipalities across Europe." 
"We are pleased to work with Hitachi to bring bus operators yet another way to accelerate their transition to electric, bringing cleaner air to our cities and better experiences to passengers across Europe," said Hamish Phillips, Head of Sales, UK, at Arrival. "Arrival's vehicles already provide a much lower total cost of ownership for customers, and when incorporated into Hitachi's business model we can see an even more compelling business case for companies to transition their fleets to electric more rapidly."
Ram Ramachander, Chief Commercial Officer for Social Innovation Business, Hitachi Europe said: "Hitachi is creating an ecosystem of partners and solutions across the EV value chain to help our customers navigate the transition to electric mobility. Our partnership with Arrival is another important step in delivering this strategy."