First fast charging stations for e-buses started operations in Milan
Four fast charging stations in Milan have started operation a few days ago. They are installed in viale Zara and Piazza 4 Novembre (close to Central Station). Thanks to the new devices, route 82 is set to become 100% electric. These first four charging stations are to be followed by further four, already installed, shortly, […]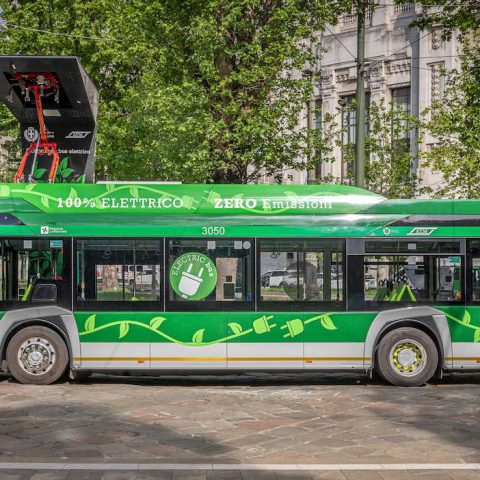 Four fast charging stations in Milan have started operation a few days ago. They are installed in viale Zara and Piazza 4 Novembre (close to Central Station). Thanks to the new devices, route 82 is set to become 100% electric. These first four charging stations are to be followed by further four, already installed, shortly, in order to serve routes 51 and 60.
The installation of these facilities in the city is essential to allow the necessary range for 170 electric buses by the end of 2021 (now there are 85 e-buses in operation, and Solaris is continuing the deliveries). The chargers have an instantaneous power of 200 kW.
The supplier of the infrastructures is not mentioned. ATM Milano has the target of having 1,200 e-buses in operation by 2030.
Another electric bus depot in preparation
In the meanwhile, ATM is adapting Sarca depot to battery-electric bus operations. 50 plug-in stations have already been installed, other 25 will be operational by summer 2021, the public transport company made public. These new stations are equipped with a dedicated smart charging system which makes it possible to adjust the power according to the time available for recharging, the number of buses and the state of charge of the vehicles. Adding up to the 67 charging stations already installed in San Donato depot, the city will have a total of 142 plug-in chargers by the end of 2021.
1,200 e-buses in Milan by 2030
Already today, 70% of the overall service on the ATM transport network is carried out using electrically-powered vehicles. According to plans, by 2030 the fleet will be completely renewed with 1,200 electric buses. This will lead to a reduction in diesel consumption of 30 million litres and CO2 emissions of 75,000 tonnes per year, according to ATM's calculations. The plan includes an investment of €1.5 billion for vehicles and infrastructures. Four depots are to be converted, and three new depots will be built for the battery-electric bus fleet.