Navya's autonomous shuttles launched in Turin
Navya's autonomous shuttles have been launched in Turin. On the morning of Thursday 14 July, at GTT Nizza depot, two driverless vehicles were presented. They will be the protagonists of the first driverless public transport pilot in Italy. It'll involve a regular city line with passengers on board. The trial will formally start on 26 […]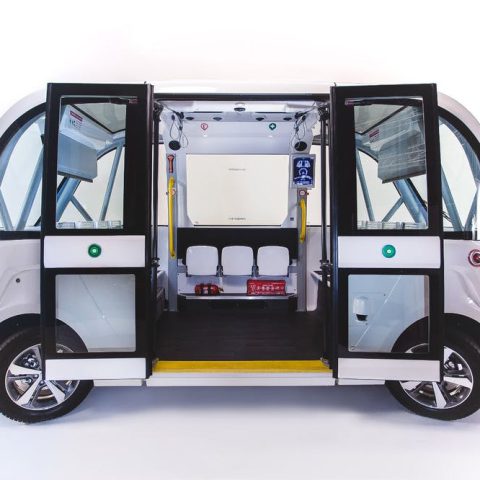 Navya's autonomous shuttles have been launched in Turin. On the morning of Thursday 14 July, at GTT Nizza depot, two driverless vehicles were presented. They will be the protagonists of the first driverless public transport pilot in Italy. It'll involve a regular city line with passengers on board.
The trial will formally start on 26 July. The vehicles will circulate on a pilot route of about 2 km in the area of the city hospitals.
Navya driverless shuttles in Turin
The pilot project in Turin, coordinated by the Links Foundation and managed by GTT, offers flexible on-demand public transport (the route is predefined but not fixed, just as the timetables are not fixed) with autonomous vehicles. The service will be provided by two driverless shuttles capable of moving in normal urban traffic and detecting obstacles, whether cars, bicycles or pedestrians, quickly and reliably in real time, partner says. Each vehicle, which is also accessible to people with disabilities, can accommodate up to 14 passengers (11 seated and 3 standing). Four metres and 75 centimetres long, 2.11 metres wide and 2.65 metres high, Navya shuttle feature 4 steering wheels, a maximum speed of 25 kilometres per hour and an average range of 9 hours.
The official presentation of the driverless vehicles was attended by the Turin City Council's Councillor for Transport and Digital and Ecological Transition Chiara Foglietta, representatives of GTT, the Links Foundation and all the many partners in this pilot project, implemented using European funds from the Show project. The partners are: GTT (operator), Fondazione Links (coordinator of the Turin trial), Navya, Ioki, Swarco and 5T (technology/research and development partners), City of Turin, City of Health and Science, Reale Group, TIM, Iren and TTS Italia (institutional partners/supporters).
About public acceptance of autonomous driving
In accordance with regulations, a GTT operator will always be on board to provide the necessary assistance. The service, in this experimental phase, will be free of charge.
"It is a source of pride for us to be partners and managers of this initiative, which is one of the most significant for the future of autonomous driving," comments Guido Nicolello, head of GTT's Strategies. "The auTOnomo GTT project will make it possible to test the new technology in real traffic conditions on safe and efficient means of transport. In addition to technical aspects such as driving behaviour and the impact on traffic and safety, the service will also be an important test to assess users' acceptance of such technology. Participation in the trial also confirms GTT's vocation for innovation and development".