IAV autonomous shuttle in Hamburg. HEAT project gets into gear
Autonomous shuttle programme approaches the regular operation phase in Hamburg. A new minibus, electric and driverless, is going to be on the road by mid-2020 in the framework of HEAT (Hamburg Electric Autonomous Transportation) R&D programme, whose goal is to prove that autonomous shuttles can be fully and safely integrated into street traffic and a city's […]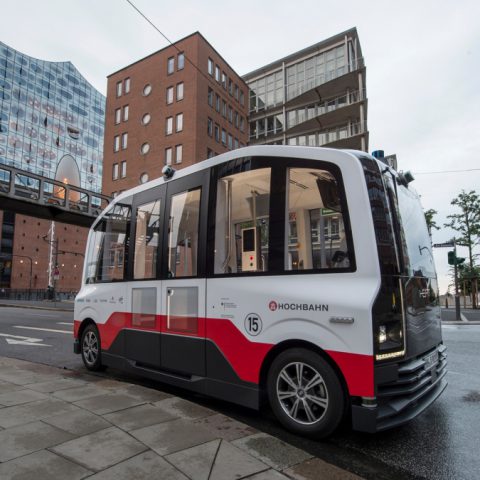 Autonomous shuttle programme approaches the regular operation phase in Hamburg. A new minibus, electric and driverless, is going to be on the road by mid-2020 in the framework of HEAT (Hamburg Electric Autonomous Transportation) R&D programme, whose goal is to prove that autonomous shuttles can be fully and safely integrated into street traffic and a city's public transport system. The pilot phase is beginning this August.
While driverless shuttle pilots are becoming increasingly widespread, standard size autonomous buses are now approaching the launch moment and several manufacturers already announced autonomous bus fleets launch within a couple years from now.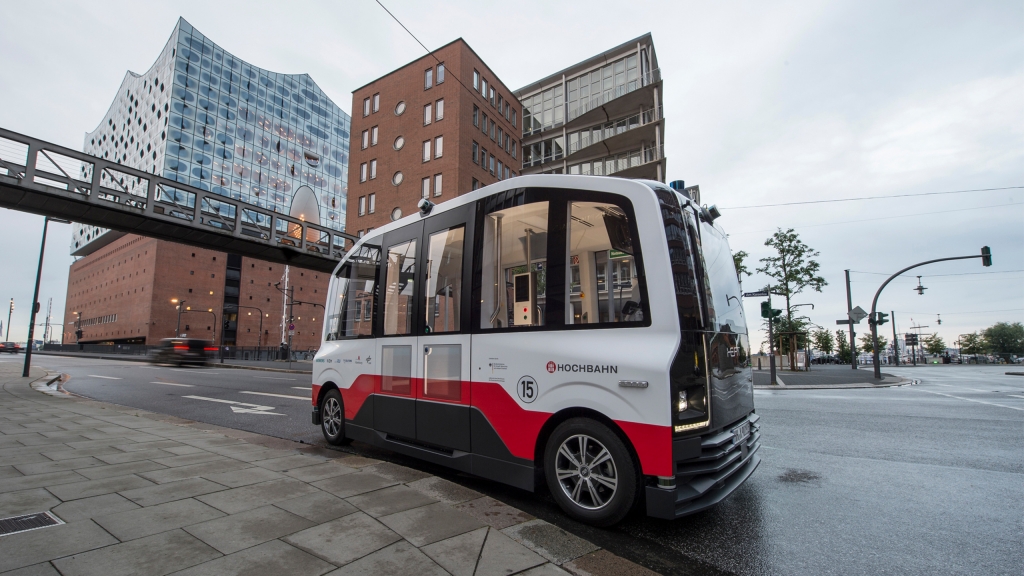 IAV-made shuttle for Hamburg
The partner involved in the project are Siemens, the Institute for Climate Protection, Energy and Mobility (IKEM), the German Aerospace Center (DLR) and the public transport company Hamburger Hochbahn. In the first phase the vehicle, manufactured by the German company IAV, will operate without passengers on a specified route. This will enable the AI system of the autonomous shuttle to 'learn' information about the tasks to carry out. As pointed out by Electrive, the start of trial operations has been delayed: it was already planned for spring 2019.
By the time the ITS World Congress opens in October 2021 (it'll be held in Hamburg), the minibus should be operating autonomously (without an attendant) according to SAE Level 4 specifications, IAV points out.
Ten passengers and an attendant on board
The HEAT minibus will be tested under real conditions in public streets and should, as planned, be capable of autonomous driving at speeds up to 50 km/h. Five meters long, weighing just under three tons, powered with electricity, the minibus will provide space for up to ten passengers traveling through Hamburg's HafenCity as of mid-2020. The autonomous minibus will communicate continuously with sensors installed along the route and with the central Hochbahn control center. Of course an attendant will always be on board to ensure respect of safety standards.
The City of Hamburg has commitments for a total of €3.7 million in funding for the HEAT project. Hamburg's Ministry  for Economics, Transport and Innovation (BWVI), the city's Department of Roads, Bridges and Water (LSBG) and Hamburg Verkehrsanlagen GmbH (HHVA) account for €2.7 million of this sum. Hochbahn is receiving around €1 million for the project management and is bearing a further €1.5 million from its own budget.
A unique project on autonomous shuttles
Michael Westhagemann, Hamburg's Senator for Economics, Transport and Innovation, emphasized at the vehicle's presentation: "HEAT offers the city the opportunity to explore all aspects of automated and driving. For us, of course, the rule is: Safety first! Public acceptance is critically important for the future use of autonomous vehicles. We try out new mobility offerings in Hamburg and provide industry and researchers optimal conditions for doing just that. At the ITS World Congress in 2021, we will use HEAT and many other projects to demonstrate that Hamburg is a pioneer in innovative mobility solutions."
Henrik Falk, CEO of Hamburger Hochbahn, which is responsible for project management, operational implementation and integration of the control center, said: "In the future, mobility will be emission-free and always made to measure for the needs of customers. Autonomous driving offers us a perspective for creating and providing highly  attractive new mobility services. Especially for times of the day or parts of the city where today's conventional public transport solutions are reaching their limits and thus aren't attractive enough to motivate people to switch from private cars."
Matthias Kratzsch, Managing Director of IAV: "The HEAT project is a prime example of how one can successfully shape the future of mobility: With the close coordination and interaction of cities, public transport systems and companies with complementary strengths. The IAV has been working since 1995 on a wide variety of technologies related to autonomous driving. We are bringing this pool of experience to the HEAT consortium. The self-driving minibus is introducing an environmentally friendly means of transport to Hamburg's streets that sets technological standards. IAV is responsible for the development, delivery and maintenance of the minibus in the project."